15 Zoom Games To Make Your Virtual V-Day Party Even Better
Including a romantic twist on charades!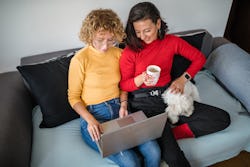 Kosijerphotography/E+/Getty Images
Is there anything less romantic than the words "Zoom call"? Maybe the words "Valentine's Day in a pandemic." If this Feb. 14 doesn't have you feeling the love, you are far from alone. Fortunately, the day doesn't have to be complete devoid of celebration if you plan a virtual Valentine's Day party with your friends — single, cuffed, or otherwise. And there are plenty of Valentine's Day games to play on Zoom so it'll feel a little less like you put streamers in the office conference room and a little more like the kind of love-centric celebration you're used to.
On the bright side, planning a Zoom party can be a lot less stressful. Instead of sending out invites, you can just email a link to your Valentine's Day Zoom party. No need for full-out decor. Just pick out which Valentine's Day Zoom background you want to use. And while you probably can't make dinner reservations, you can absolutely create a romantic dinner menu based entirely on TikTok recipes. From there, all that's left is deciding how you'll entertain your guests, aka which games will keep the Zoom fatigue at bay.
Whether you'll be celebrating with other couples or are planning a group call with all your single besties, here are 15 games you'll actually want to play on Zoom this Valentine's Day.
If all else fails, you can't go wrong with a Rom-Com watch party. Turn it into a drinking game for an extremely low-stakes, high-inebriation activity.