11 Chandelier Earrings For Weddings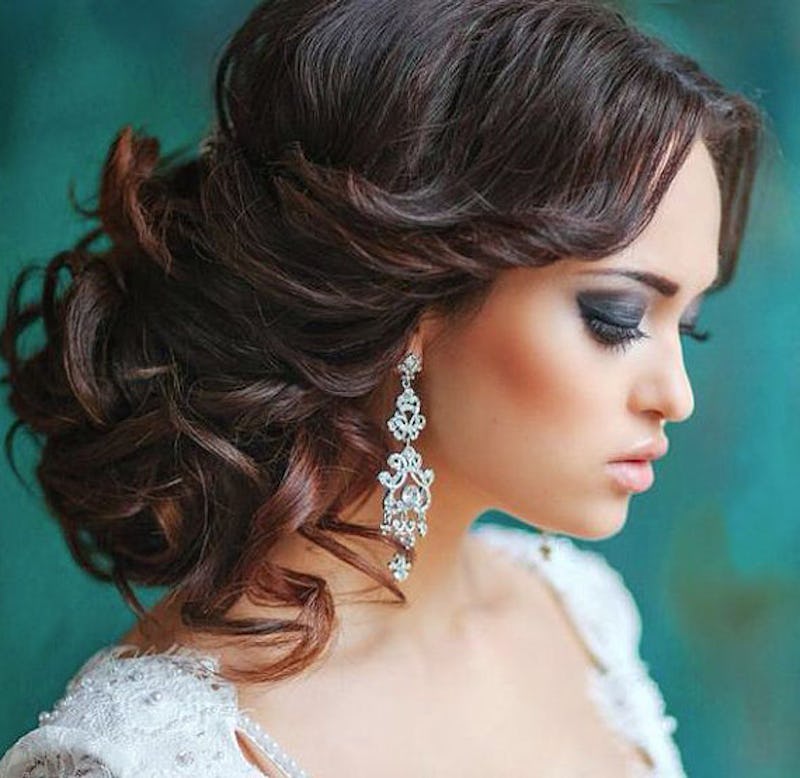 Brides-to-be will understand the difficulty in deciding on a wedding dress, but compiling an entire bridal ensemble can seem super overwhelming. If you're undecided about ear embellishments you might want to think about chandelier earrings for weddings, as these showstoppers are truly luxurious.
If you're in the dark about different types of ear jewelry, chandelier earrings might sound a little strange; I mean, light fixtures for your ears? However, the label "chandelier earrings" refers to any earrings that are tiered and opulent in appearance, just like mini chandeliers, so you don't have to worry about your ears becoming shining beacons of light anytime soon.
Chandelier earrings have an aura of grandeur about them that's reminiscent of ballrooms, high society, and decades passed. Gals who are planning a decadent day will certainly require a pair of chandelier earrings to go with their more is more theme. Oddly enough, these ear embellishments also work for minimalist wedding celebrations too. Ladies opting for a modest bridal ensemble can easily give their outfit a dose of ultra glamour, without going OTT, with a pair of chandelier earrings.
Although chandelier earrings are a niche all of their own, there are a myriad of styles to suit a range of tastes. Here are a selection of chandelier earrings for all kinds of brides.
1. The Classic Chandelier Earrings
Vintage Bridal Earrings, $59, Etsy
A traditional pair of chandelier earrings are timeless and will suit an array of wedding dresses and outfits.
2. The Dazzling Pair
DesignB London Rhinestone Chandelier Earrings, $18, ASOS
Folks looking to bedazzle their guests with their bridal accessories can do just that with this sparkly pair.
3. The Geometric Earrings
Strange Ways Dangle Earrings, $28, Free People
If bling isn't your thing, this pair of geometric style earrings could be right down your aisle!
4. The Heavy Metal Ones
J.W. Anderson Hammered Gold-Plated, Silver-Tone And Rose Gold-Tone Earrings, $595, Net-A-Porter
Why choose just one type of metal when you can wear three different shades?
5. The Blushing Bride Earrings
Blush Chandelier Earrings, $93, Etsy
These Swarovski crystal earrings will add a hint of color to your attire, making them a perfect choice for those with a pink color scheme.
6. The Waterfall Pair
Waterfall Chandeliers, $220, Anthropologie
These luxe waterfall style chandelier earrings scream sophistication.
7. The Mermaid Princess Earrings
Asos Mermaid Chandelier Earrings, $9, ASOS
Quirky brides with a nautical theme or those who are planning a fantasy themed wedding will need these mermaid inspired earrings.
8. The Boho Style
Rihanne Earrings, $295, Anthropologie
Carefree brides will love these boho style, white earrings that have "wedding" written all over them.
9. The Nature Inspired Pair
Gulicx Elegant Silver Tone Leaf Cluster Cubic Zirconia CZ Flawless Drop Bride White Dangle Earrings, $21, Amazon
Mother Nature never ceases to amaze, especially when she's used as a muse to create beautiful adornments.
10. The Something Blue
Chandelier Earrings Wedding Jewelry Bridal Earrings Gold Earrings Something Blue (ER028,), $34, Etsy
Kill two birds with one stone by incorporating your "something blue" into a pair of stunning earrings.
11. The Designer Pair
Ippolita Rock Candy 18-Karat Gold Multi-Stone Earrings, $3,695, Net-A-Porter
If you're going to go for a pair of chandelier earrings, you might as well go all out with these lavish moonstone, quartz, and mother-of-pearl earrings. When in Rome...
Take your bridal ensemble to the next level and feel like an absolute queen on your wedding day with a pair of extravagant chandelier earrings!
Images: Courtesy Brands