11 Exceedingly Extra Moments I Experienced At A Private Dinner For Kim K's Fragrance Launch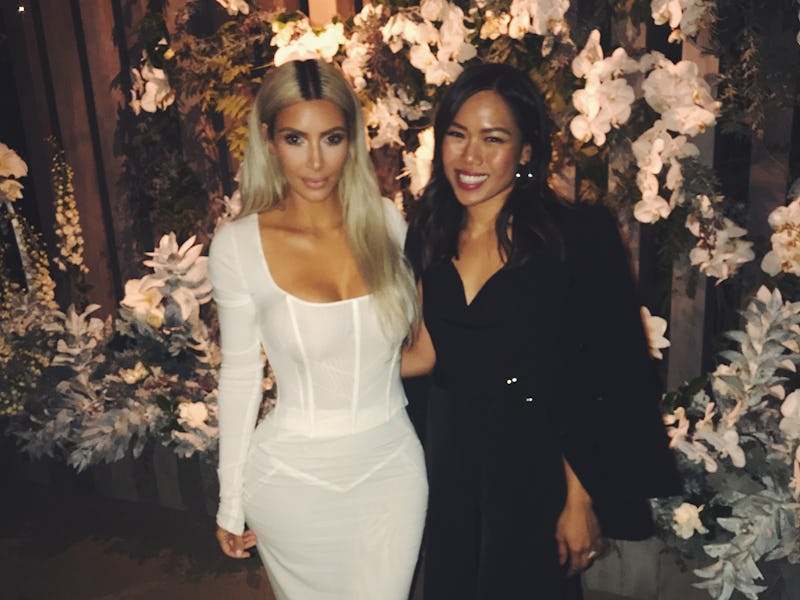 April Uchitel
On Tuesday night, I found myself in a gorgeous living room of a Bel-Air estate, standing across from Kim Kardashian... again.
Last time, we were at her own home — the very one she shares with Ye, North, and Saint — for the launch of her KKW Creme Contour & Highlight Kit in June. I waited with a bunch of beauty editors until it was my turn to interview her for five minutes, snapped a quick photo booth pic with her, and was escorted out to my Uber. It was thrilling.
If you would've told me that I'd spend another Tuesday night with the mega-star-turned-beauty-mogul six months later, I would've kindly replied, "lol, gtfo." It's like an unspoken golden rule — unless you're part of Hollywood's upper echelon, you only get one intimate moment with Kim Kardashian West per lifetime, let alone year. You can imagine my surprise (and anxiety) then when I was invited to attend a dinner with 23 of her closest friends and family (aka other celebrities) to celebrate KKW Fragrance and her new cover story on Violet Grey at its founder, Cassandra Grey's private home. I was, as the kids call it, shook.
And so, there I was, sipping nervously on a vintage Dom Perignon from a crystal goblet (as one does when you find yourself in a celeb-studded event) standing across from Kris Jenner, Khloe Kardashian, January Jones, Jen Atkin, Emily Weiss, and yes, Kim Kardashian West herself. If this sounds like the most extra event you've ever heard of in your life, believe me when I say it was. After only a few minutes of being there, I had concluded it to be true.
Over the course of the next few hours, I'd speak with Kim about how much we both love her Crystal Gardenia Citrus scent, have my energy read on a couch across from Kris Jenner, and enjoy a dinner surrounded by a group of some of the most successful female entrepreneurs and leaders in the biz.
Here were some of the other most extra moments of the night.
1. There Were Crystal Healers
Crystal healers dressed in white linen and turbans sat around the coffee table, which was decorated with crystals of all kinds. My healer, named Sia, told me that I needed to slow down and meditate more. That's all that I remember because I was too distracted by the fact that Kris Jenner was having her energy read directly across from me and truthfully, I was really more interested in knowing how her energy was doing versus mine.
2. The Signature Cocktail Of The Evening Was Called "Crystal Essence"
They were topped with rock candy — because, #CrystalGardenia — and served on silver platters by very handsome young male waiters. Natch.
3. The KKW Fragrances Were Also Presented On A Silver Platter
One gentleman was tasked with showcasing the new KKW fragrances around the party. I overheard many of the guests sharing they loved the signature Crystal Gardenia scent, as well as the deeper Crystal Gardenia Oud. I personally preferred the citrus variation, and — gasp — Kim agreed with me. She tells me that she usually doesn't like grapefruit scents, but really loves how bright and fresh it makes this particular fragrance smell. Twinsies, I definitely screamed inside.
4. The House Was Covered In Fresh Gardenias
Themed parties can be hard to pull off successfully, especially if you're trying to make it a chic one. Cassandra Grey did not let this challenge stop her. Immediately upon walking in, it smelled like a garden of fresh gardenias. There were stems in vases around the living room, on the dining table, and most impressively, hanging delicately in strands from the awning above the outdoor table.
5. ... And Massive Crystals
I'm no crystal expert, but if I had to guesstimate how much the hunks of crystals scattered around the room cost, I would say in the thousands. #Wealth.
6. I Had To Sign A Waiver
In case you were wondering, yes, the cameras are always rolling for Keeping Up With The Kardashians. In the event I am featured in a future episode, I had to sign a waiver. Fingers crossed.
7. Kim Invited Some Of Her Favorite Fellow Fashion & Beauty Bosses
Violet Grey's cover story featuring Kim is part of their larger #WomanMade series, which highlights women who are changing the beauty industry through their businesses. As a result, the guest list — all women — consisted mostly of successful business owners and leaders, like Kim. Glossier's Emily Weiss, Ouai's Jen Atkin, jewelry designer Jennifer Meyer, KNC Lip Mask creator Kristen Noel Crawley, Juicy Couture Creative Director Jamie Mizrahi, and Good American founder/sister Khloe Kardashian (ofc) were all there to support Kim.
8. All Of Kim's "Moms" Were There
Legendary singer Carole Bayer Sager, who considers herself Kim's third mom (she shared with the guests), was one of the hosts of the evening. Sitting next to Melanie Griffith (casual) was Kim's "second mom" Shelli Azoff, wife of music executive Irving Azoff and Kris Jenner's longtime bestie. I guess when you're one of six kids, you need some back-up parenting, and when you're Kris Jenner, you need some back-up assistance.
9. We Dined On Fancy Cheese, Rib Eye, & Gold-Leaf Topped Chocolate Cake
Say what you will about Hollywood actresses and fashion folk noshing exclusively on kale and green juice — this menu was not messing around. Foie gras, Humboldt cheese, hazelnut ice cream all made an appearance on our plates before they quickly disappeared.
10. Each Guest Received A Crystal Gardenia Fragrance In A Box With Like, 100 Tiny Clear Quartz Crystals
After dessert, servers brought the final course around: a small box which housed Kim's Crystal Gardenia fragrance surrounded by what seems like a hundred tiny little quartz crystals. It came with a card that said clear quartz awakens and brings balance and alignment to all areas of the mind and body. TYSM for the good vibes, Kim!
11. Kris Jenner Let Me Take A Selfie With Her
OK, so this wasn't the most extra moment of the evening, but meeting Queen Kris Jenner was definitely a highlight. This selfie occurred seconds after I confessed to her that she was my favorite Kardashian Jenner. (P.S. I think she liked the compliment.)
I'd say this dinner was a once-in-a-lifetime event, but I guess you never really know where you're going to find yourself in six months. Let's hope it's another celebration for one of Kim K's future launches — concealer, maybe? Invited or not, it'll be unquestionably extra — but hopefully I'll be there to confirm.