'RHOC' Moments That Make You Miss Heather Already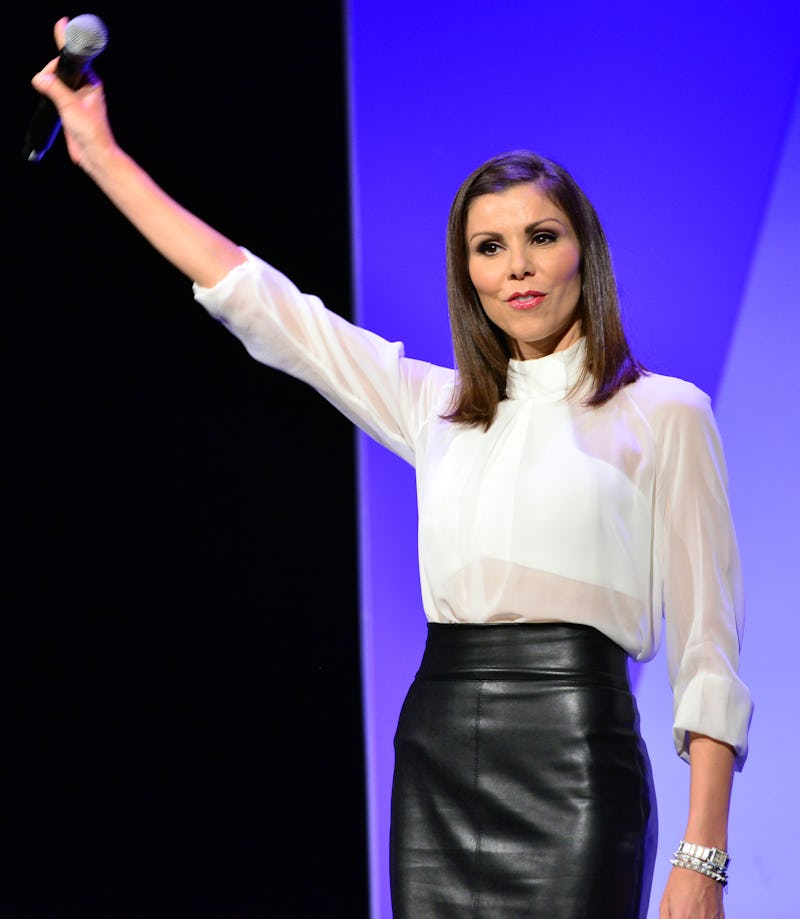 Joshua Blanchard/Getty Images Entertainment/Getty Images
Now that she's officially turned in her orange, I've got to admit that I'm really going to miss Heather Dubrow's presence on Real Housewives of Orange County. So, I felt it was only right to share a few of my favorite Heather RHOC moments that have brought many of us so much joy over the past five seasons.
Since joining the cast of RHOC back in Season 7, Heather has no doubt brought a her own element of "fancy pants" class to the wildly popular reality series. Her one-of-a-kind wit and charm has been a central focus on the program ever since 2012. An open book, Heather has certainly gifted us with the joy of watching the (sometimes outlandish) intricacies of her life — from her relationship with husband Dr. Terry Dubrow, to her daily life as the mother of her four rapidly growing children, to the chronicles of her career as a talented actor. All the while, she just somehow managed to always seem to have it all together. There's certainly no doubt that some of Heather's O.C. moments will forever be etched in the archives of reality show history.
In case you missed it, Heather surprisingly announced her decision to leave the reality series back in January, leaving many viewers immediately feeling the void of her impending absence. As Heather prepares to embark on a new journey in life, which I certainly have no doubt will be absolutely amazing, let's reminisce on a few moments that'll help us all cope with our looming feelings of Heather FOMO.
1. The Great Cake Conflict
Heather was at her best when she freaked out on Sarah Winchester for eating the bow off her cake during her name change party, which was in celebration of taking on hubby, Terry's last name. The mother of four totally shaded Winchester calling her "classless and disgusting," which would ultimately become the icing on the cake of this episode.
2. The Major Ice Queen Moment
Speaking of ice... I mean, who could ever forget the time when Heather introduced us to the fanciness of hexagonal ice? I think we were all a bit confused and amused at the same damn time, as we watched her explain that it was essentially like jewelry for your glass. Yup, that really happened, people.
3. The Night Enough Was Enough
After sitting by while Kelly Dodd completely went H.A.M. on some of the other ladies during a dinner party, Heather had decided that she had seen just about enough and stood up to confront her combative costar. After a heated exchange, Heather sternly demanded that Kelly exit the soirée, but ultimately decided to remove herself from the situation when Kelly refused.
4. The Musical Chair Incident
Heather famously fought with Shannon Beador over a seat during a dinner party. The pair bickered back and forth over the chair, causing most of the other ladies in the group to become highly annoyed with the odd display. Awwkward.
5. The Time She Tried Leech Therapy
One of the most insane moments during Heather's RHOC stint was undoubtedly the moment that she tried leech therapy, and Vicki Gunvalson noticed blood seeping through her clothing while they were out at an event. It was somehow both gross and disgustingly fascinating at the same time. I remember watching in horror, while squeamishly listening to her and Dr. Dubrow's explanation of the treatment to a more than grossed-out Vicki.
6. The "Fancy Pants" Actor Announcement
Heather most certainly solidified her "fancy pants" title with the ladies of the O.C. when she made the grand announcement that she had been offered a starring guest role in a sitcom.
7. The Chateau Dubrow Tour
Housewives are certainly know for building lavish homes and giving them fancy, schmancy names, but Heather's not-so-humble abode definitely takes the cake. Complete with a lighted, floating staircase; movie theater; and beauty salon, Heather's guided tour of the flamboyant, yet still under construction digs was close to nauseating for both viewers and fellow wives.
The best part of the tour comes when Heather explains to her castmates that the home will feature four different types of ice and Tamra Judge nearly loses it.
8. The Irate In Ireland Incident
Heather would, unfortunately, have another nasty run-in with Kelly during her housewife tenure in an on-screen showdown. Heather flat-out accuses Kelly of being "racist" during a group trip to Ireland. Yikes!
9. The Shannon Showdown
During another episode, Heather would butt heads with Shannon, once again, giving her the boot from a party after when Shannon showed up to her house in the midst of a dramatic breakdown.
Note to self: Don't ever get on Heather's bad side.
10. The "Glamping" Drama
Heather notoriously gave co-star Alexis Bellino complete hell during their "glamping" vacation and snootily accused her of faking rich after she learned that Alexis and her husband, Jim, had been renting their home for the past two years. But wait, the shade doesn't stop there — Heather, once again, scoffs at Alexis' finances after learning that she's currently rocking a cubic zirconia in place of her wedding ring, which Alexis reveals as something that she often does when on vacation without Jim.
11. The Snooty Sommelier Session
During a trip to Hawaii, where Heather was filming an episode for Hawaii-Five-0, she received a visit from housewives friends, Vicki and Tamra. The actor has a major know-it-all moment when she begins to obnoxiously educate the ladies on the temperature at which wine should be kept.
Oh, Heather... you surely will be missed.