11 Small Sex Toys To Bring When You're On-The-Go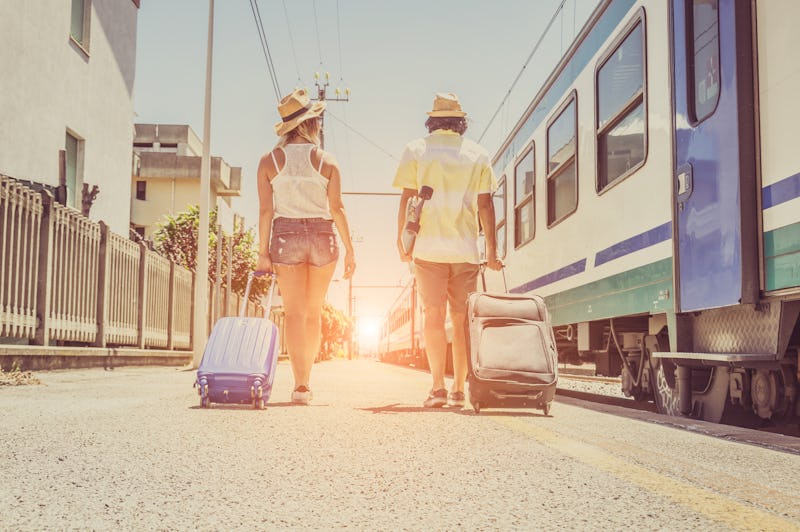 Kar Tr/Fotolia
Summer is the season for traveling — but just because you're globe-trotting doesn't mean you should have to give up your other ~pleasure-filled~ pursuits. Being on-the-go doesn't eliminate your sexual urges, and that's where discreet, travel-sized sex toys come in. No matter where in the world you find yourself, you should never be without the means to get yourself off, because masturbation is a wonderful, healthy thing that you should embrace, whether you're at home at not.
"There are an endless number of reasons to masturbate. Learning how to make yourself orgasm is the most empowering experience you will ever have," Vanessa Marin, sex therapist and founder of Finishing School, tells Bustle. "You'll also learn how to teach a partner how to bring you pleasure."
While a lot of traditional dildos might not be the most suitcase- or weekend bag-friendly (they tend to be large and in-your-face, though I'm not exactly complaining), there's no reason to write them off your packing list. Or, if you and your partner are taking a trip together, there are plenty of more discreet couple-friendly sex toys you can bring along to make sure that extra stimulation is always an option.
It might sound silly, but if you want to pack a little something sexy with you while you explore the world, then you should be equipped with the right tools for the job. Just in time for all your summer traveling plans, here are 11 small sex toys to bring with you when you're on-the-go (but still horny AF).
We-Vibe Wish, $119, Babeland
This sleek silicone vibrator has two motors to deliver double the intense vibrations. It's small enough to fit in the palm of your hand, but has 10 vibration patterns to satisfy all your on-the-go needs (or make your own custom vibration via the We-Vibe app).
Crave Vesper, $69, Babeland
The best part about this pint-sized sex toy is that it doubles as a super cute piece of jewelry. A button on the side turns this slim, discreet necklace vibe on — the most intense vibrations will be felt at the tip, but the entire three-inch pendant will vibrate, too.
LELO Siri 2, $159, Babeland
If you're a music lover, this mini vibrator is the one for you. The Siri 2 works by responding to music or voices, so the sensations align with whatever sounds you're surrounded by. Or, if you prefer, switch it into non-sound mode and pick from one of eight preset vibration patterns, each designed to mimic the sound of a different musical genre.
Rianne S. Heart Vibe, $34, Babeland
This adorable heart-shaped vibrator boasts 10 different speeds, is made of super soft silicone, and can be recharged via USB — perfect for on-the-go action.
Crave Flex, $89, Babeland
This slim, flexible vibrator is made of waterproof silicone, and can be recharged via USB. Its four vibration patterns and four intensity setting ensure that you can use it in whatever way *you* find hottest.
iVibe Rocket, $56, Babeland
This sleek black vibe has seven vibration patterns to choose from, and also has textured silicone massage beads on the tip for added stimulation. If being on-the-go means you don't have access to a USB charging port, don't fret: the iVibe takes only two AAA batteries.
Jimmyjane Iconic Bullet, $16, Babeland
This super affordable and very compact vibrator might not look impressive, but it actually packs plenty of punch. It has three speed settings, all of which will make your clitoris *very* happy (trust me — this was the first bullet vibe that I ever bought as a broke college student).
We-Vibe Sync, $150, Amazon
This sex toy is like two vibrators in one: the top of the toy rests on and stimulates the clitoris, while the slimmer bottom half inserts into the vagina and delivers some intense vibrations to both the G-spot as well as the penis (which can easily slip in underneath the Sync). The variety of pulse patterns and speeds — which you can adjust via a handy-dandy app on your phone — are just an added bonus to this travel-sized vibrator.
Lovehoney Desire Egg Vibrator, $90, Lovehoney
This remote-controlled vibrator is small enough to fit in your pocket, but has eight patterns and 12 levels of intensity, so you can control your orgasm in *so many* ways.
Tenga VI-BO Cock Ring, $24, Babeland
If you and a male partner are on a romantic vacation and want a toy that will do the trick for both of, this super affordable vibrating cock ring should do the trick. It's simple (there's only one speed), but this cock ring can be adjusted to stimulate either the clitoris or balls — depending on which way you flip it while it's around the penis — so everyone can have a good time.
Lovehoney Micro Wand Vibrator, $23, Lovehoney
This mini version of more intense wand vibrators is mega-cute, but can still get the job done on-the-go. It has three speeds and a flexible neck (for those hard to reach erogenous zones), so no matter where you are, you can bring a little pleasure with you.
No matter where this summer takes you, there are plenty of travel-sized sex toys that you can bring alone for the ride to ensure that you have a good time. (Or just stock up on these purse-friendly vibes for your everyday life, too).