11 Things Experts Say You Should Never Do When You Can't Sleep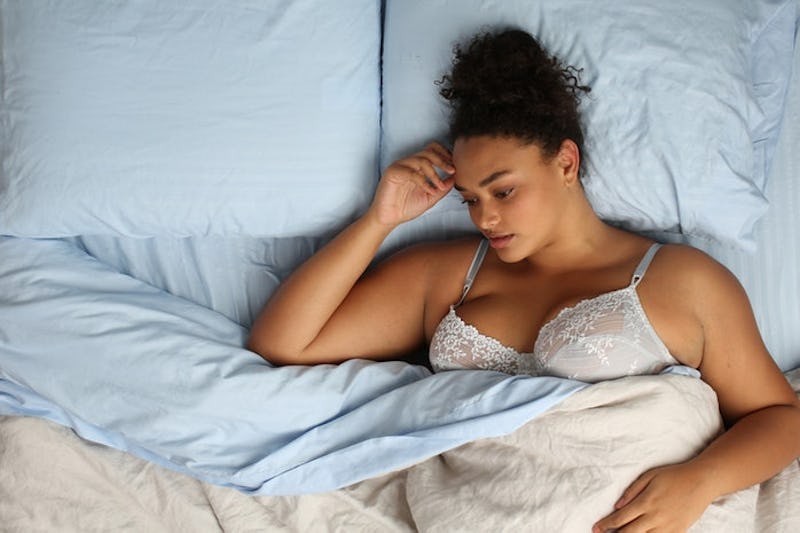 Ashley Batz/Bustle
As tempting as it may be to reach for your phone or Kindle when you can't sleep it's the last thing you should be doing, according to several sleep experts. As you can imagine, the light from these devices suppresses melatonin, the hormone that promotes sleep, so they usually keep you awake even longer. In actuality, there are several things not to do when you can't sleep. Yes, you may have been raised on old wives' tales of drinking some warm milk or chamomile tea to help you sleep, which still may be legit for some. But as far as the new rules of sleep go, there are plenty of things to know about what to do — and what not to do — before bed. After all, getting enough sleep has major benefits.
"A well-rested brain results in a person with better coping skills, improved learning and attention and better immune function," Dr. Lynelle Schneeberg, PsyD, a board-certified sleep psychologist at Yale, tells Bustle. "If a person has obtained adequate sleep, [they] will feel alert and in a good mood shortly after arising."
Navya Mysore, MD, Family Physician & Office Medical Director at One Medical — Tribeca, believes that practicing good sleep hygiene is key to battling insomnia. As an insomnia sufferer, she practiced what she preaches. "This includes reworking any bad sleep habits, weaning off sleep aids, meditation, increasing exercise, and the book the helped me the most was Say Good Night to Insomnia by Gregg D. Jacobs," she tells Bustle.
Along the same lines, below, sleep experts weigh in on what NOT to do when you can't sleep, so the next time you are tossing and turning, keep them in mind.