11 Ways Being On The 'Real Housewives' TOTALLY Changed The Cast Members' Lives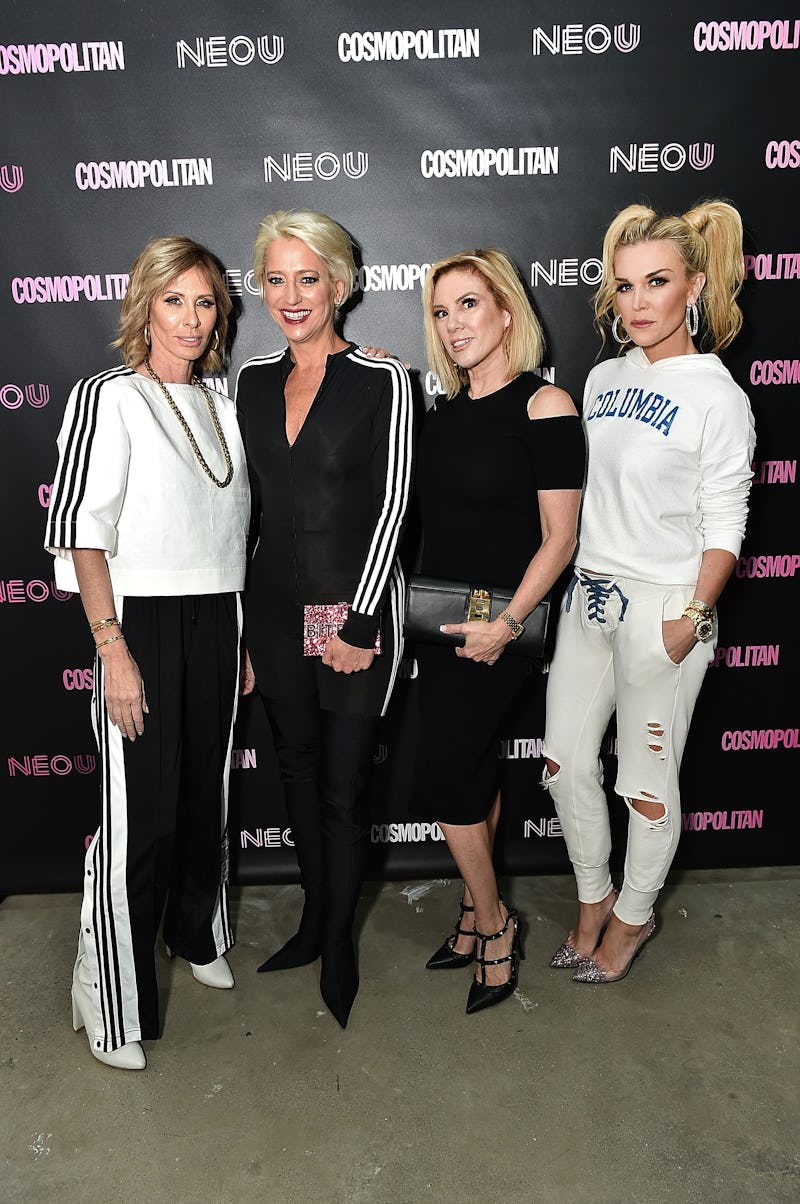 Mike Coppola/Getty Images Entertainment/Getty Images
It goes without saying that starring in a reality television series can be a grueling job. Opening up every aspect of your life for public scrutiny on TV comes with a lot of stress that can often make, break, or even change a person in ways that you could never imagine. Many Real Housewives lives have changed drastically since appearing on the show.
While evolution in life is pretty inevitable, appearing on Real Housewives has helped to jumpstart the careers of many who have attempted to use the platform as a means to boost their visibility in business. Being on a nationally televised show has certainly proven to be an effective marketing tool for many who have used it as a way to thrust their brands and personas into the spotlight. And although appearing on TV can seem like all glitz and glamour at times, it should be noted that all things that glitter aren't gold for these ladies as there are often many sacrifices that come along with sharing your entire life with TV-viewing audiences around the world.
That being said, here are some ways that being on Real Housewives has been a life-changing experience for many of its stars.
1. Some Have Become Successful Businesswomen
Many of the multi-hyphenate women from the Bravo reality series hold down several business and endeavors while also being awesome mothers and wives at the same time. Although she was a successful restauranteur long before appearing on Real Housewives of Beverly Hills, Lisa Vanderpump used the reality platform to grow and launch other bars and restaurants such as the recently opened Tom Tom.
2. They Become Total Glam Queens
There's definitely no denying that the women of Real Housewives know how to keep themselves looking good – just about every minute of every day. While their lifestyles were pretty fancy beforehand, it seems that appearing on television has made these women even more into keeping themselves in tip top shape.
3. Many Marriages Have Been Strained
According to a 2017 calculation from E!', which analyzed each branch of the conglomeration as well as the franchise as a whole, the overall failure rate of RH marriages currently stands at a whopping 35 percent, indicating that over a third of Real Housewives unions ends in divorce. It goes without saying that sharing your relationship with the world can put a major strain on a couples' union.
4. Their Families Are Immediately Thrusted Into The Spotlight
On top of being 'Wives, many of the women on the show are also mothers who have to make the difficult decision of whether or not to share aspects of their children's lives on television. Many of the women, such as Kim Zolciak, have come under fire for some of their parental choices.
5. Their Bank Accounts Have Increased Exponentially
While many had strong finances before appearing on reality TV, many Housewives came into more wealth after joining the show through salary and other endorsement and businesses. Madame Noire points out that Kenya Moore was given a $100,000 raise to make $1.5 million for her participation in Season 10 of Real Housewives of Atlanta.
6. Shady Jargon Becomes Second Nature
The stars of Real Housewives are notoriously known for their banter with one another. Knowing the proper terminology to use seems to be an important factor of participating in their discussions. Many of the women's have become iconic in the world of reality television. From Bethenny Frankel's "Get Off My Jock" to Nene Leake's "Bye, Wig!," the shady convo just doesn't get any better.
7. Some Close Friendships Have Been Ruined
There are many women who were good friends long before the show started only to become worst enemies during its run. Take for example, the demise of RHOBH's Vicki Gunvalson and Tamara Judge's on-again off-again friendship or RHOA's Kandi Burruss and Phaedra Parks non-stop drama that completely ripped their relationship apart. Friendships are definitely a hard thing to hold onto on reality TV.
8. Girls' Trips Have Turned Into Wild Adventures
It goes without saying that the Real Housewives vacations have become some of the most memorable moments in reality television history. The ladies definitely spare no expense when it comes to their girl-time getaways, traveling to some of the most luxurious locales on earth. But while their vacation hotspots always come with an air of sophistication, their behavior during those trips often turns out to be quite the opposite.
Case in point: the ladies' of RHONY's wild Scary Island getaway which provided fans with unforgettable moments such as Ramona's "turtle time" and Bethenny Frankel yelling, "Go to sleep!" The vacation from hell also saw Kelly Bensimon have a major meltdown resulting in her being sent home for her erratic behavior.
9. Their Dinner Parties Get Really Over The Top
The Real Housewives throw some of the most lavish dinner parties known to man. Despite the amazing gatherings, many turn into complete disasters for the ladies and their friends and frenemies alike.
Like, remember the cringe-worthy RHOBH moment when Brandi Glanville threw wine in Eileen Davidson's face? Right. That being said, some of the Housewives' dinner etiquette often goes out the window when drinks get to flowing... and flying.
10. Their Houses Get Major Upgrades
While many were living lavishly before appearing on the show, many have upgraded their homes since appearing on the series and have moved into even more posh and luxurious living spaces. Kenya Moore (Moore Manor) and Sheree Whitfield (Chateau Sheree) found themselves in a seasons-long competition over who was going to build the more luxurious home.
11. They Live Life Under A Microscope
When they agree to appear on the show, Real Housewives quickly go from having an unassuming and sometime quiet life to living under a microscope, making everything they do up for public scrutiny. Many were quick to attack RHOA's Kenya when she attempted to keep her marriage a secret for that very reason.
Being on reality TV definitely has some perks, however, it always comes with the price of major change.