Travel Experts Tell Us How To Pack Light For Winter Trips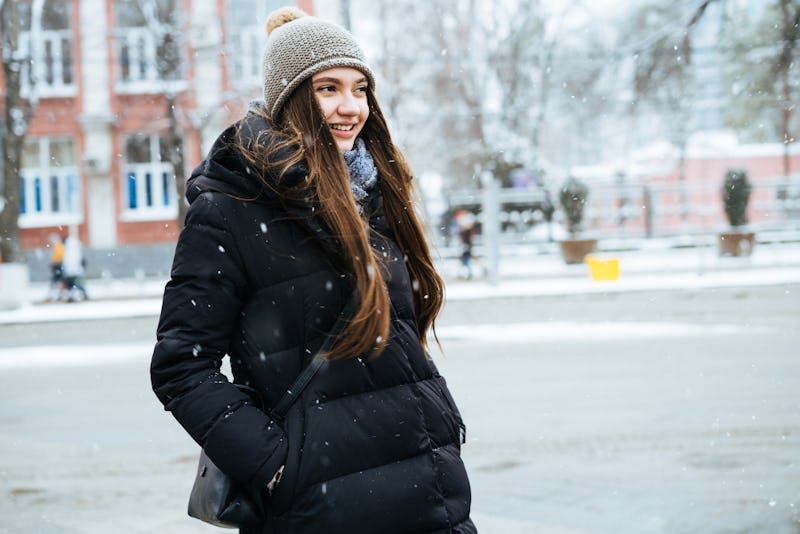 ShutterStock
Traveling light seems to come easier for some people more than others. Even if you think it's impossible to, there are ways to pack light — even in the winter. Maybe you learned the hard way: On one trip, your overstuffed bag literally ripped at the seams and you vowed to never overpack again. (Just me?) Plus, you tended to wear the same few outfits anyway — and in most photos, you're bundled up in your coat, hat, and scarf, so it turned out that it really didn't matter how many outfit changes you brought along.
This winter, sure, you may want to bring along your super cute wool coat, but your inner voice knows that you'll save space to bring your foldable down jacket instead. But if you're not used to packing light — and only traveling with a carry-on, for instance — it may seem like an overwhelming concept. Once you try it, however, you may just become a convert. You'll see.
Rick Steves, guidebook author and public television host, tells Bustle that his tour company takes tens of thousands of people of all ages and styles to Europe — and tells each of them that they can only bring one carry-on bag. For many, this is a radical concept, Steves says. But in the end, the mobility and freedom of packing light wins people over, and most travelers who try it once will never go any other way.
Stefanie Michaels, founder of Adventure Girl, is also a pro when it comes to traveling light. "One winter, I arrived in Switzerland with just a carry-on," she tells Bustle. "The hotel staff was baffled, because they knew I had a day trip to the Alps in mind," she tells Bustle. "But I had packed for two weeks and had everything in my small bag." Below, Steves, Michaels, and other travel experts share their best advice on how to pack light for winter trips — even if you're bringing along some bulky items of clothing.