13 Amazingly Dirty Jokes From 'Santa Clarita Diet'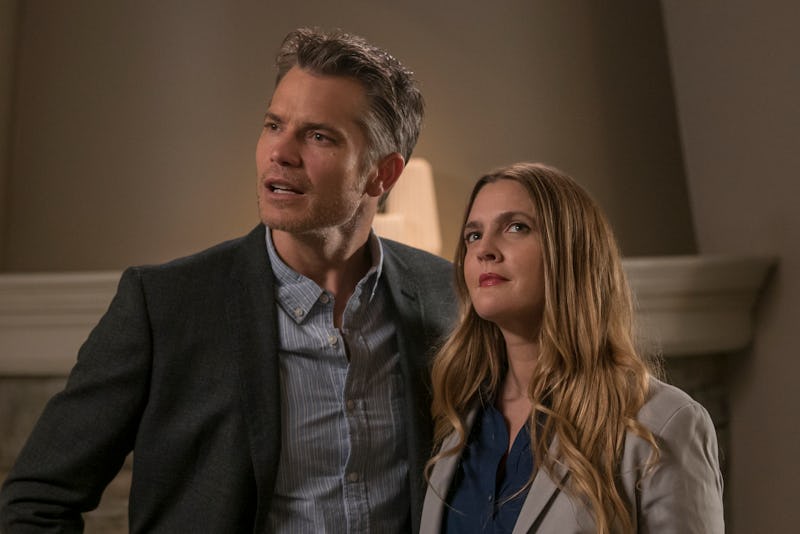 Saeed Adyani/Netflix
While you wouldn't think that your libido would increase while your body is decaying, Santa Clarita Diet proves otherwise. When Drew Barrymore's character Sheila becomes a zombie, her appetite for human flesh increases in more ways than one. Thanks to her zombie sex drive — and the freedom that comes with being on Netflix — there are plenty of dirty jokes in Santa Clarita Diet. Although the zombie comedy (zomedy, if you will) from Netflix isn't sexually graphic, Santa Clarita Diet still has sex jokes for all the alive and undead viewers out there.
Sheila and her husband Joel (played by Timothy Olyphant) sure enjoy much more sex after she becomes a zombie in Season 1 of Santa Clarita Diet, but they aren't the only characters who are getting it on. Sheila and Joel's neighbor Lisa (played by It's Always Sunny in Philadelphia actress Mary Elizabeth Ellis) is also getting busy and is full of bawdy humor. And even if other characters aren't doing the nasty on Santa Clarita Diet like Sheila, Joel, and Lisa, there is enough sexual innuendo to go around for everyone.
Sheila explains to Joel that she gets a tingle in her vagina when she kills people in her zombie state. As she says, the feeling is "not not sexual" — and that's a pretty perfect way to describe the series. In honor of that, here are 13 of the dirtiest jokes in Santa Clarita Diet because becoming undead makes you have a whole new appreciation for sex. Spoilers for Season 1 of Santa Clarita Diet follow.