13 Theories About Jane's Fate On 'Jane The Virgin' That Are Straight Out Of A Telenovela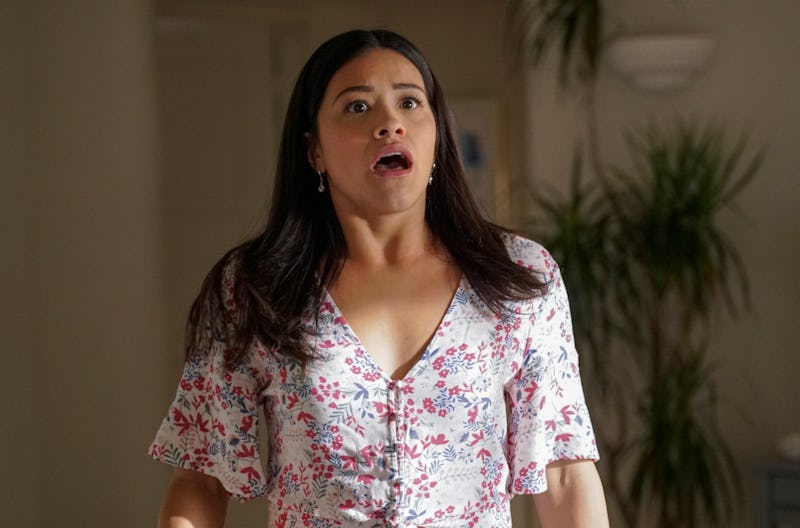 Kevin Estrada/The CW
In the pilot episode of Jane the Virgin, Jane Gloriana Villanueva became engaged to her boyfriend Michael and was accidentally artificially inseminated with another man's sperm. So you know Jane's fate in the Jane the Virgin finale is guaranteed to be equally dramatic. While viewers don't want anything bad to befall our heroine, the telenovela-inspired series will blend happiness with a bit of heartache when the final chapter drops on July 31. Jane's story coming to an end will be the last opportunity for those classic twists, so fans have got some "straight out of a telenovela" theories on what will happen to her by the end of Jane the Virgin.
Jane is a pretty normal person and doesn't have quite the flair for the dramatic as her father Rogelio does. But she is the epicenter of all the outrageousness that goes down in Jane the Virgin and is placed in unusual situations based on the people in her inner circle. So while Jane doesn't have a long-lost twin sister, isn't in a romantic relationship with her stepmother, and wasn't given amnesia, these telenovela events revolve around her. And the finale will be no exception.
Ahead of "Chapter 96," Jane is happily with Rafael and planning their wedding as she works on her novel. So what's in store for her in the Jane the Virgin series finale? Here are just some of the possibilities.