16 National Ice Cream Day Instagram Caption Ideas That Are In-Cone-Cievably Funny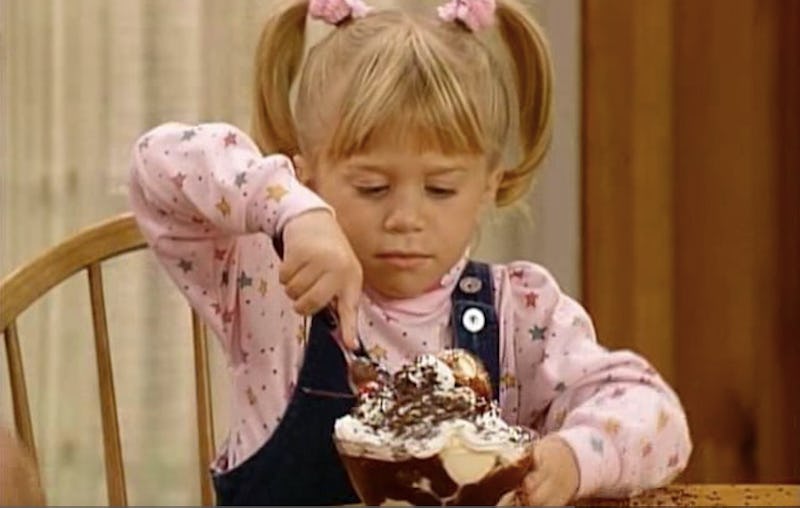 Jeff Franklin Productions
July 15 happens to be one of the greatest days of the year, coming in fourth after Christmas, Halloween, and my birthday. It's National Ice Cream Day — the best unofficial holiday we ever randomly came up with for no real reason other than it give us an excuse to eat more ice cream, even though we don't need one. As you likely already know, nothing really exists without being posted on social media, so here are 16 creative National Ice Cream Day 2018 Instagram captions you can impress your friends with as you treat yoself to another scoop.
Our love of ice cream continues to blossom. Our obsession knows no boundaries, and these days, flavors extend far beyond the traditional chocolate and vanilla. Halo top has peanut butter and jelly. Ben & Jerry's had a (limited edition) "One Love" flavor, which was banana ice cream with caramel, graham crackers, and fudge peace signs. Then, there was that time Angry Orchard teamed up with Davey's Ice Cream to create Pine-Apple Hibiscus Rosé Sorbet and Rosé Cream Cider.
It's not just the inventive flavors, either. Nowadays, everyone can enjoy the frozen treat — even those who prefer to eat dairy-free. Just look at Halo Top, the high protein ice cream that includes a variety of vegan options. Same goes for Haagen-Dazs, who also has dairy-free flavors.
If you scream for ice cream, jazz up your Instagram with these clever captions.