A Definitive List Of Rick's Best 'TWD' Moments, From "Stuff & Things" To Richonne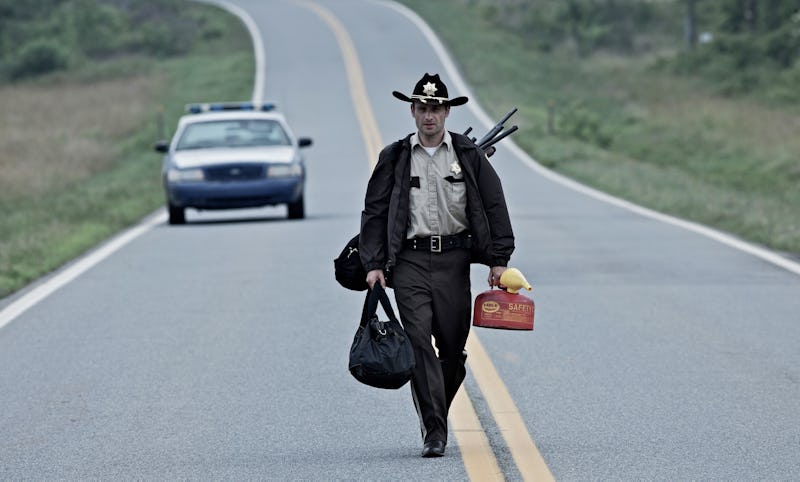 AMC
Even with AMC's warnings that The Walking Dead Season 9 has been Rick Grimes' final episodes, you might still not believe that Andrew Lincoln is really leaving the show. But in honor of his final appearance in "What Comes After," it's only right to relive Rick Grimes' most memorable moments from The Walking Dead. Whether he was saving the day, kicking ass, hanging with his son Carl (or, "Coral," in Rick speak), or simply doing very important stuff and thangs, Rick Grimes has given The Walking Dead fans years of cherished — and totally bonkers — memories.
While there's no denying that The Walking Dead is an ensemble show, Rick has always been the lead. Just like in Robert Kirkman's comics, viewers of the TV show first experienced the zombie apocalypse through Rick's eyes. Even though a coma meant he was months late in experiencing the epidemic that turned most of the world into walkers, he is (was??) a natural leader. Every place Rick went to, he almost instantly became the person in charge.
Because even when he wasn't on his A game — like when he was seeing ghost Lori all over the prison — he was the best humanity had. That's why this author has been placing the words, "Rick Grimes for president" into Walking Dead articles for more than four years now.
So while you may be feeling as disoriented as Rick did when he woke up in the hospital, it's time accept the reality of the situation: Lincoln is leaving The Walking Dead. But rather than look back in anger, prepare yourself for Rick's final episode with some of his greatest moments over the years.