Phoebe Robinson Listens To A Voicemail From Oprah On Repeat & Let's Be Real, So Would You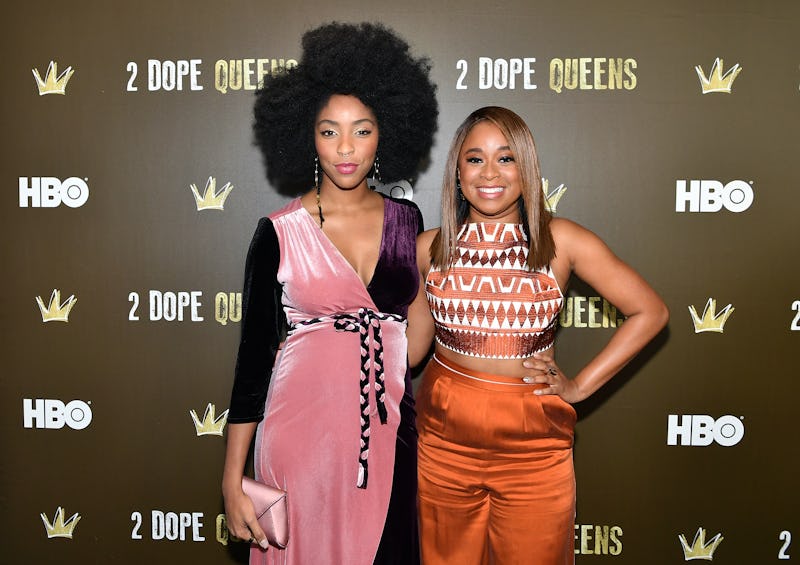 Slaven Vlasic/Getty Images for HBO
There are probably a few women in your life you'd consider "dope queens" — and if you named your mom, sister, or niece among them, you'd share some answers with Phoebe Robinson. The standup comedian is now one half of 2 Dope Queens, an HBO four-part special premiering Feb 2 that comes from the the podcast of the same name hosted by Robinson and Jessica Williams. At the New York City premiere for the HBO series, Robinson tells Bustle that along with the women close to her, there's one particular icon she'd give a "dope queen" title as well.
"I feel like Oprah's a dope queen," says Robinson, speaking on the red carpet. "I have a voicemail from her that I replay from time to do and I'm like, she hit up my voicemail! She cared enough for that, so that was cool." Her reaction is very understandable; honestly, you're lying if you think you wouldn't freak out every time you opened your voicemails and saw that the Queen of TV had left one, too.
Oprah isn't the only "dope queen" on Robinson's left. On the red carpet, the comedian also mentions Solange, while Williams notes that Oprah would also obviously be up there for her, too. On top of real-life inspirations like her mom and grandma, Williams also adds Sarah Michelle Gellar and Hermione Granger — hey, fictional women count — to the honorary list.
"Hermione Granger is a dope queen. Super important," says Williams. It's true — Harry Potter definitely would not have survived the first book without his pal, which Williams wholeheartedly supports. "Oh no! Hermione pulled everybody together, she pulled everybody's edges back, like, she corrected everything," Williams says. With such passion for the series, it's fitting that Williams is actually going to be a part of Potter's world in the second installment of Fantastic Beasts And Where To Find Them.
For now, though, she's busy with 2 Dope Queens. To promote the premiere of their HBO specials, Robinson and Williams hosted a 2 Dope Queens tour, stopping in New York, Los Angeles, Atlanta, and Chicago. Fans everywhere are excited; debuting in April 2016, the podcast saw Williams and Robinson do standup that revolved around sex, race, love and so much else, while also chatting with a few comedic guests each episode. The HBO special has almost the same formula, with some big names as guest stars like Jon Stewart, Sarah Jessica Parker, Tituss Burgess, and Uzo Aduba.
Williams and Robinson have known each other for almost five years now, and it's clear to anyone who follows their bond that they have clicked since the beginning. Whether it's Williams putting Robinson on blast for trying to drag her on stage on their podcast (all in good fun, of course) or the duo slinging constant praises at one another, these two always keep us entertained while also giving an inside look into their friendship.
And they have so much respect for each other's work. "She really went for her dreams," says Robinson on the red carpet about her Williams, who became The Daily Show's youngest correspondent ever when she was in her early 20s. "I think a lot of time — especially when you're younger ' you're like, 'I like certain things but I'm just gonna stay in my lane because I'm afraid.' So the fact that she decided at such a young age that she wanted to be a performer and went for it, that's great."
Williams, meanwhile compliments Robinson's business sense, on top of many other things about her friend and co-host. "She's always business-minded. Super efficient at getting stuff done. I like that," Williams explains. The amazing connection between the two women is so clear, and it makes for some great comedy — whether in your earbuds or on your TV screen.