The Screenplay Categories At The Oscars Are Packed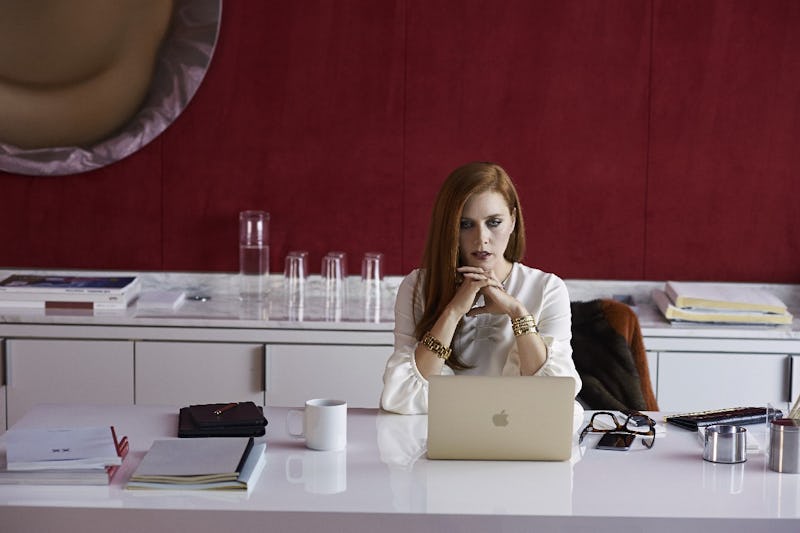 Focus Features
Some people have the playoffs and the Super Bowl to look forward to every year; other (perhaps less athletically-inclined) people have awards season and the Academy Awards, making a sport out of the science of prognostication. The 2017 Oscar predictions have been particularly tricky; while the enchanting musical La La Land seems poised to take the cake, it's facing heated competition from indie dramas Moonlight and Manchester By The Sea, with a bevy of diverse offerings — from sci-fi (Arrival) to Western (Hell Or High Water), from crowd-pleaser (Hidden Figures) to artsy thriller (Nocturnal Animals) — jockeying for their own positions in the annual Oscar race.
For members of the Academy of Motion Picture Arts and Sciences, ballots for nominations were officially due this past Friday; the nominees won't be announced until Tuesday, Jan. 24 — but the votes have already been cast, so the results are written in stone, whether we know them or not. With only one week left to go before the announcement, it's time to solidify your own predictions, so you can win your office Oscar pool and look smart in front of all your coworkers. We've already analyzed most of the top categories — including Best Actor, Best Actress, Best Supporting Actor, and Best Supporting Actress — so let's take a look at the two Screenplay races, shall we?
So far, three major awards ceremonies have announced their screenplay nominees: the Golden Globes, the BAFTAS (basically the British Oscars), and the WGA Awards for the Writers Guild of America. There are only five scripts that have been honored by all three precursors; surprising no one, those five include the three frontrunners for Best Picture: La La Land, Manchester By The Sea, and Moonlight. This means especially good things for the two other triple-crown nominees, Hell Or High Water and Nocturnal Animals, since they'll almost assuredly show up in the respective categories at the Oscars now alongside those frontrunners.
But which other screenplays will join them on Oscar Sunday? Let's break it down by category.
Best Adapted Screenplay
Given that many members of the Writers Guild are also members of the Academy, looking at the WGA nominees is usually a good place to start. This year, the guild nominated Arrival, Deadpool, Fences, Hidden Figures, and Nocturnal Animals for its Adapted Screenplay prize. But that line-up will have a hard time translating directly to the Oscars for a couple of reasons. First of all, the adapted script for Lion (based on the autobiography of its protagonist, Saroo Brierley) was ineligible for consideration at the WGA Awards, since its writer (Luke Davies) isn't a member of the guild. Secondly, there are two screenplays that competed in the original category at WGA that the Academy has decided will instead compete in the adapted category at the Oscars: Moonlight and Loving.
With this influx of three new contenders, the overcrowded Adapted category is very much in flux. Moonlight is a no-brainer, as is fellow triple-crown nominee Nocturnal Animals; Arrival and Lion are also both safe bets, given their films' prominent status in the Best Picture race. That leaves only one slot left over for the likes of Deadpool, Fences, Hidden Figures, and Loving. Of these, Deadpool will obviously be the first to go, given our knowledge of the Academy's taste in movies. Sadly, Loving seems like it will be a casualty of its categorization, as there just doesn't seem to be room for it alongside the Best Picture heavyweights in this category.
That leaves Fences and Hidden Figures to duke it out for that final spot. While there will be a contingent that wants to posthumously honor playwright August Wilson for his classic script (which won both a Tony and a Pulitzer when it premiered in 1983), there are others who may find the adaptation too verbatim to really be considered "adapted" at all. And Hidden Figures was peaking at just the right time — overtaking Rogue One to become the #1 movie last week, just as the voting deadline was approaching — that I have a hunch it may sneak past its competitor to earn that coveted fifth slot.
And the predicted nominees are…
Arrival (Eric Heisserer)
Hidden Figures (Theodore Melfi, Allison Schroeder)
Lion (Luke Davies)
Moonlight (Barry Jenkins)
Nocturnal Animals (Tom Ford)
Alternate: Fences (August Wilson)
Best Original Screenplay
Funnily enough, the Original category actually has the opposite problem from the Adapted category's overcrowding issues. The Writers Guild nominated Hell Or High Water, La La Land, Loving, Manchester By The Sea, and Moonlight; and while three of those films are virtual locks at the Oscars, the other two will be shifting categories, leaving a sudden vacuum behind in their wake. Which scripts will earn the honor of sitting alongside Best Picture heavyweights La La Land, Manchester, and Hell Or High Water?
This is great news for The Lobster, an exceedingly odd indie dramedy by Greek filmmaker Yorgos Lanthimos, starring Colin Farrell as a man who needs to find a lover within 45 days, lest he be turned into the titular crustacean. This seems to perfectly fit the "weird and unique" niche previously filled in the Original Screenplay category by movies like Her, Lars And The Real Girl, and Eternal Sunshine Of The Spotless Mind.
But what about that fifth slot? There doesn't seem to be a clear consensus pick yet, although titles like Captain Fantastic, Jackie, and Zootopia are probably in consideration. The latter film is helped by the fact that it's the current frontrunner for Best Animated Feature, and the Academy has been known to nominate animated movies in this category before. However, those movies have always been made by Pixar (Up, WALL-E, Ratatouille, The Incredibles, Finding Nemo, Toy Story), and it's unclear if voters are ready to welcome a non-Pixar cartoon into this prestigious club.
Both Captain Fantastic and Jackie star performers who are very likely to be nominated in Lead Acting categories (Viggo Mortensen and Natalie Portman, respectively), which makes them attractive choices for the fifth slot. But while Jackie has surprisingly been snubbed across the board by the major guilds (Producers, Directors, Actors, Writers, Editors), Captain Fantastic showed surprising strength when it earned a shocking Best Ensemble nod at the Screen Actors Guild Awards alongside such major contenders as Manchester By The Sea and Moonlight. That probably gives it the edge in this race.
And the predicted nominees are…
Captain Fantastic (Matt Ross)
Hell Or High Water (Taylor Sheridan)
La La Land (Damien Chazelle)
The Lobster (Efthymis Filippou, Yorgos Lanthimos)
Manchester By The Sea (Kenneth Lonergan)
Alternate: Zootopia (Jared Bush, Phil Johnston)
Find out who made the cut and who got snubbed when the nominations for the 89th annual Academy Awards are announced on Tuesday, Jan. 24!