21 Hilarious Old Taylor Swift Tweets That Will Make You Laugh & Then Cry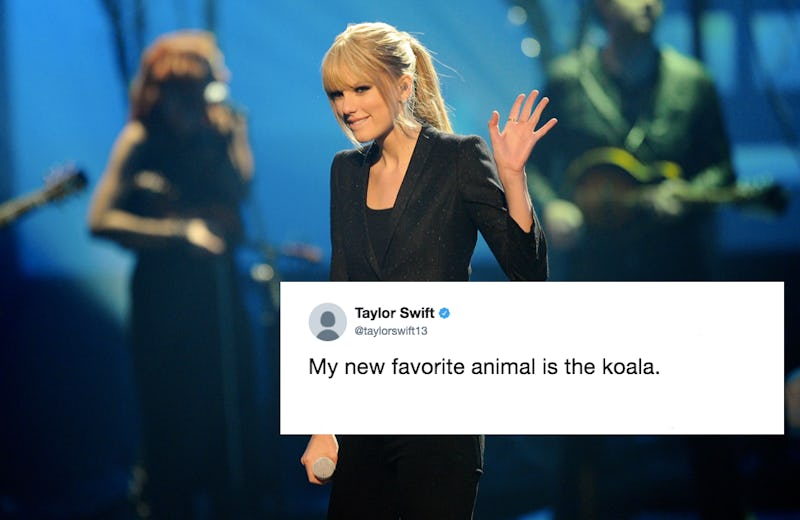 Getty Images/Bustle
The moment everyone noticed that she was seemingly deleting her social media presence, fans started to pore through Taylor Swift's old tweets. The 1989 singer has already erased years of Twitter content, but looking at some of her earlier posts will make you laugh until there are tears in your eyes, remembering the good old days. Whether she's getting excited about fellow artists, tweeting thank yous to her fans, or just sharing mundane details about life on tour, there's an eagerness in the now-27-year-old tweets that's impossible to resist.
There was a time when she shared all of that, so take a walk down memory lane before it's too late. It's possible, of course, that Swift will make her triumphant return to social media with more content than ever before, once she has a clean slate or if she has been hacked. But this erasure could also signal the blonde's intent to take a step back from her more public persona, and these tweets might be your only opportunity to say goodbye.
As it is, the only tweets we could get our hot little hands on were from 2010 and earlier, and they might not even be live on her feed anymore. So take a gander at them here and remember the good old days when our girl Taylor Swift still wanted us to know what she was up to.
1. This Miranda Lambert Shoutout
So cute.
2. This Truth Bomb
Celebrities, they're just like us.
3. A Blast From The Past
Remember back in the day when Taylor Swift only had three albums out? We were so young.
4. So Relatable
We all make mistakes when it comes to fancy hotel curtains, amirite?
5. The Throwbacks
Once upon a time, Selena Gomez and Justin Bieber were still together, and Taylor Swift was a big fan of the now-tattooed crooner.
6. The Early Cat Lady Warning Signs
The young star was a fan of cats before Meredith Grey and Olivia Benson ever entered her life.
7. The Important Updates
Did you know? Bet you didn't.
8. The Peek Behind-The-Scenes
Watching our nail polish dry while on the phone with a fellow superstar? We've all been there...
9. The Big Wins
You can keep your swag bags; 2009 Taylor Swift is psyched over free floss.
10. The Adorable Confessions
No one's judging. I hope that she savored this downtime, because her future self doesn't get a whole lot of it.
11. The Early Friendships
Turns out it was Swift who got her friend and American Idol alum Kellie Pickler set up on Twitter back in the day. Who knew?
12. The Pep Talks
They both have so much life experiences ahead of you.
13. The Original Squad
Represent.
14. The Family Love
She's never forgotten where she came from.
15. The Unsolved Mysteries
We may never know.
16. The Statements We'll Never Hear Again
Um, 1989 came out in 2014 and it's 2017, and we're all more than ready.
17. The Excellent Advice
Always looking out for her friends, this one.
18. The Holiday Traditions
Just more proof that you'd fit right into Taylor Swift's life.
19. The Reassurances
I assume that Swifties panicked.
20. The Besties
You think these two still hit up each others' birthday parties these days?
21. The Cryptic Texts
And this was before they even got together.
So you see? These tweets are hilarious, heart-warming, nostalgic, and exactly what you need to make you smile through the pain after the social media shakeup on Friday.