25 Rachel Green Outfits That Are Totally Back In Style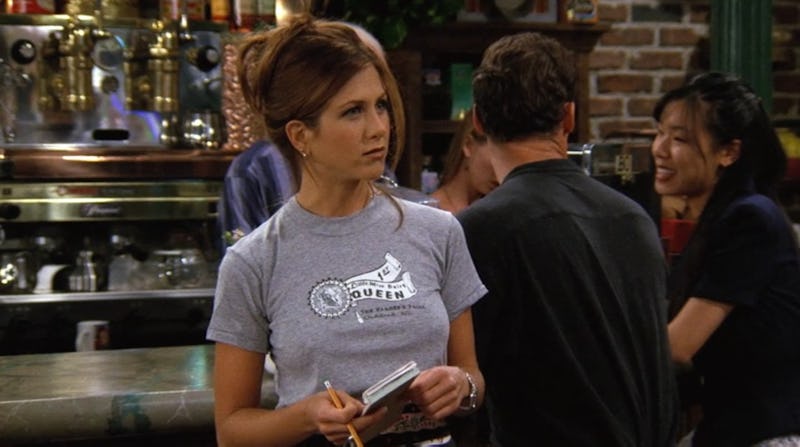 Friends/NBC
As much as we all love Friends, it's chock-full of '90s and '00s trends we left behind, from Phoebe's endless supply of peasant skirts to Ross' equally endless supply of hair gel. Still, there are a surprising amount of Rachel Green outfits that are totally back in style today. Whether it comes down to timeless looks like the LBDs her character (and indeed, Jennifer Aniston herself) are best known for, her kitschy leisurewear for around the apartment, her sassy office ensembles, or her cutesy waitress outfits, Rachel Karen Green actually wears a lot of looks that would work just as well in 2017 as they did back in 1994-2004 (RIP Friends).
Some of the looks are timeless, and some of them are back in style thanks to all the '90s/early '00s nostalgia that's been making the rounds. Either way, if you take the time to sift through all 703 outfits Rachel wore over the course of Friends, you'll find a decent number of ensembles that are still trendy today. Some of them were epic fails, of course, but we're here to focus on the positive today — and maybe even scoop up some fashion inspiration along the way.
1. This School Girl Ensemble
Everything from the slightly cropped marled funnel neck sweater to the plaid pleated skirt to the striped knee socks is pitch-perfect.
2. This T-Shirt / High-Waisted Jeans Combo
A cropped graphic T with a pair of high-waisted mom jeans? Totally in.
3. This Black Slip Dress
Rachel wears countless slinky black slip dresses throughout the series, but this one gets extra points for being the one she wore to flirt with a handsome doctor while Susan was literally giving birth.
4. This Patterned Slip Dress
All her patterned slip dresses were pretty darned cute as well.
5. This ACTUAL Slip
Remember The One Where She Wore an Actual Slip and Passed It Off As High Fashion?
6. This Striped Bardot Top
The tie is a bit much, but the voluminous ponytail and striped off-the-shoulder top are about as 2017 as it gets.
7. This Yellow Bardot Top
This slinky Bardot top is also very now — and bonus points for the adoring Bruce Willis!
8. This Punky Plaid Look
Kitschy graphic T with fitted red plaid pants and a matching matte lip? YES.
9. This Shorterall Minidress
Shorterall minidresses are definitely in circa 2017.
10. This Lace-Up Top
Like something right out of the Selena Gomez / Bella Hadid / Kylie Jenner / etc closet!
11. This Vest/Miniskirt Combo
So the boxy denim vest is a little out of date, but just picture swapping it out for a sleeveless chambray top and you're golden. And bonus points for the newly trendy again minimalist clog-mules.
12. This Oversized Chambray Top
Speaking of chambray, this oversized button-down is pretty much adorable.
13. This Fuzzy Sweater
Who doesn't love a good fuzzy cropped sweater these days? Okay, so maybe the Christmas-themed apron is a bit much, but we'll give her a pass on it since it's part of her work uniform.
14. This Sheer Black Top
Ah, the long-suffering look that comes along with explaining to Ross that condoms are only 97 percent effective. At least she got to look stylish while doing so.
15. This Heart T-Shirt
High-waisted jeans and a cutesy cropped graphic T? It totally fits into the 2017 style lexicon.
16. This Plaid Shirt
It doesn't get much more laidback cool than a plaid shirt with the sleeves rolled up.
17. This Adorable T-Shirt
Out of all of Rachel's adorable graphic Ts, this might just be the best.
18. This Floral Dress
As Phoebe said of this cleavage-baring number, "Girls night out indeed!" Jokes aside, this is quite the cute dress — it's perfect for summer, no matter what the decade.
19. This Zip-Up Top
Tops with zipper details are everywhere right now.
20. These Boots
Those shiny white ankle boots look like something you could grab at Zara today (minus the square toe, maybe).
21. This Embroidered Gown
Floral embroidery is about as on-trend as it gets these days, right?
22. This Mock Turtleneck
The button detailing on the shoulder of Rachel's top is super cute. (Mindy's pink suit can stay back in the '90s where it belongs, though).
23. This Sporty Skirt Ensemble
The barrette is very '00s, but the rest of this outfit would work very well in 2017!
24. This Sheer Dress
This whole sheer black dress look is still going strong, 10 years after this dress was featured on Friends.
25. This Name Tag Shirt
Kitschy personalized patches are pretty much a staple for all the baristas at all the trendy coffee shops right now.
What do you think? Would you take any of the above 25 outfits out for a spin in the post-Friends era? Most of these pieces look like something you could find at your local Urban Outfitters right this minute.