26 Uplifting "Trans Rights Are Human Rights" Tweets Determined To Emanate Inclusivity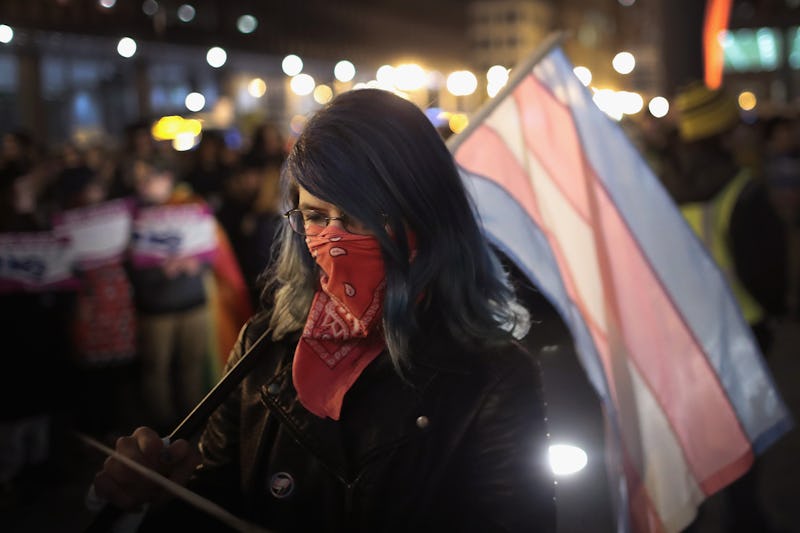 Scott Olson/Getty Images News/Getty Images
Following President Donald Trump's announcement on Wednesday (via Twitter, no less) that transgender people would no longer be allowed to openly serve in the U.S. Military, there was immediate pushback from within the LGBT community and beyond. With the powerful and self-explanatory hash-tag "Trans Rights Are Human Rights," the Internet took aim at the ban and a culture and society that too often fails its most vulnerable.
In his series of tweets, Trump claimed that the reason for the ban was due to the costs of transgender military members' healthcare — and alleged (pretty baselessly) that transgender individuals somehow both "burdened" the military and kept them from being "focused" on their jobs:
[P]lease be advised that the United States Government will not accept or allow Transgender individuals to serve in any capacity in the U.S. Military. Our military must be focused on decisive and overwhelming victory and cannot be burdened with the tremendous medical costs and disruption that transgender in the military would entail.
Transgender activists, everyday people, celebrities, politicians, and allies were not having it, though, and took to the hash-tag with messages of support for their trans siblings reeling from the news.
And one thing is clear: Trans allies don't have time for people who fail to see the importance of standing and fighting with transgender Americans for their rights.