5 Eco-Friendly Tips To Help You Have Your Most Sustainable Festival Season Yet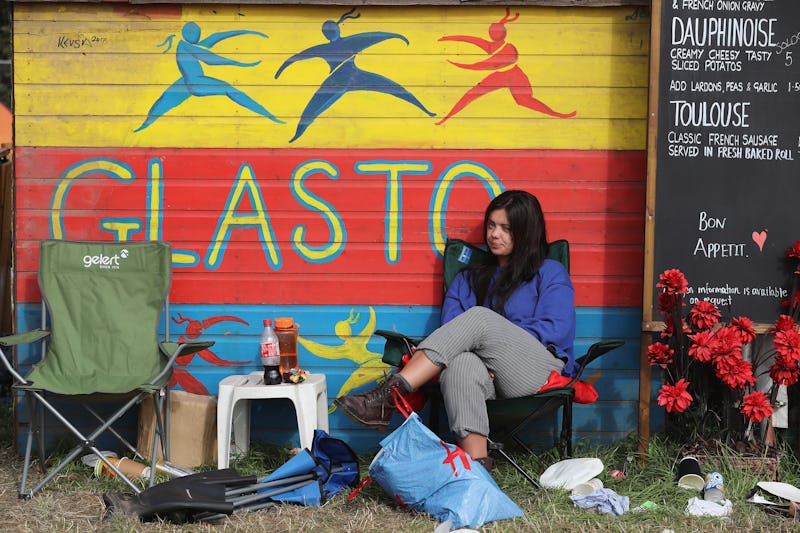 Matt Cardy/Getty Images News/Getty Images
With Glastonbury around the corner, it's easy to get carried away with the amazing line-ups, and all the logistics that comes with living in a muddy field for half a week. Unfortunately, thinking of sustainability and your carbon footprint can kind of take a back seat among all the festival excitement. But considering how to be eco-friendly at festivals while still having a ton of fun should really be just as big of a priority as packing wellies.
This year, festivals are stepping up and taking responsibility for their impact on the environment. The BBC estimates that around 23,500 tonnes of waste is produced at UK music festivals each year. And according to the Guardian, visitors to Glastonbury used 1.3 million plastic bottles in 2017, leading to the festival declaring war on single-use plastic this year. And Live Nation Festivals including Parklife, Reading, Leeds, Latitude, Download, and Wireless have pledged to eliminate single use plastics by 2021.
Yes, festivals are now making steps to use reusable cups, paper straws and plates, but there's still loads visitors can do to make sure these events stay eco-friendly. Of course, there's fun to be had, but it doesn't mean you should become a litter bug, irresponsible about plastic use, and wasteful. So here are some tips to make sure your festival experience is as eco-friendly at possible.