7 Questions You Should Never Ask Your Partner When You Feel Like They're Checking Out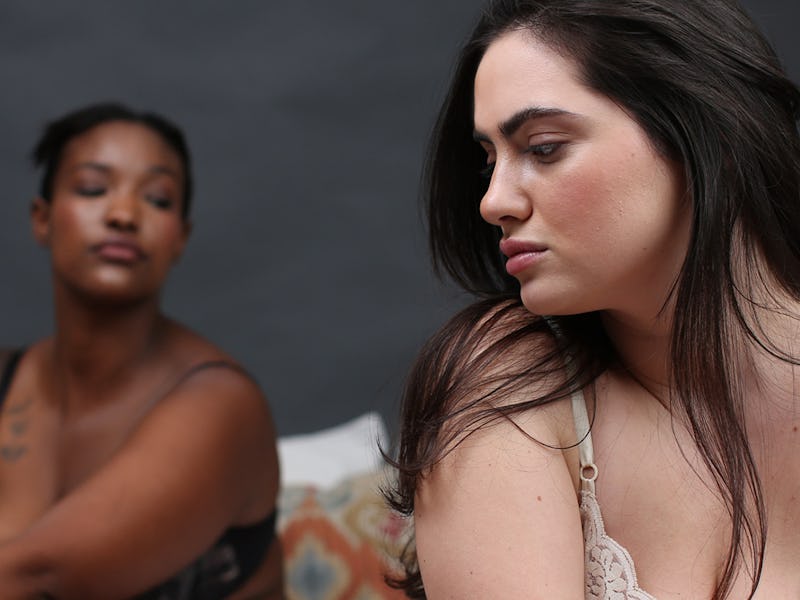 Ashley Batz/Bustle
You can be the very calm, collected, and playful version of yourself when everything in your relationship is going well. But all of that calm and positivity can go out the door once you feel your partner drifting away. If you're really into someone and you want it work long-term, it can put you into a major panic-mode. But according to experts, there are some things you should never do when you feel like your partner is checking out.
There are two major mistakes people tend to make when their partner becomes distant. Trying to get even closer by forcing it to happen is the first one. "When a partner pulls away, people tend to get physically close to them, cling on to them, or try to over-insert themselves in their partners lives out of fear that they will lose them," relationship coach Jenna Ponaman, CPC, ELI-MP tells Bustle. Unsurprisingly, doing so can have the opposite effect and may actually push your partner even further away.
Besides that, it's also easy to assume and accuse your partner of doing things that may not be true. "Many people have reported to me that just before a partner makes a big commitment or decides to take the relationship to the next level, they tend to take more time to themselves to really try to think things through, before taking that leap," Jane Reardon, licensed therapist and founder of RxBreakup, tells Bustle.
When you force closeness or automatically assume things are going wrong, it will change the way you communicate with your partner. Instead of approaching the issue in a level-headed way, you may resort to things like blaming. If you want to close the distance, blaming your partner is obviously not the way to go. So here are some examples of questions you should never ask your partner if you feel like they're checking out.