7 Seemingly Gross Things Couples Do That Help Them Get Closer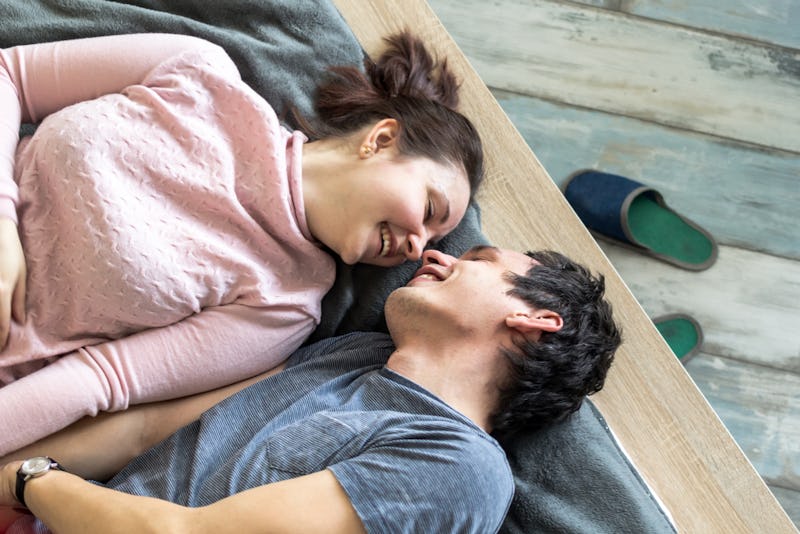 Alexander Ishchenko/Shutterstock
Everyone's different when it comes to whether or not they like to do gross things with a partner, so it'll be up to you to decide what feels right for your relationship — and what crosses the line. You and your partner might like to keep a little mystery alive, and that's perfectly fine and understandable. But for some folks, the gross side of life ends up being a great way to bond.
If you two decide to let your guards down a bit, it doesn't mean you need to be gross on purpose. (Unless, of course, you want to.) But instead, that you've chosen to relax, be more open, and let the less savory sides of life shine through.
After all, "being human involves a lot of 'gross' moments," Jonathan Bennett, relationship and dating expert at Double Trust Dating, tells Bustle. You might witness each other in the midst of a harrowing cold. Or you might live in a small space, and become well-acquainted with each other's bodily functions. And the more OK you are with all that, the better.
Sometimes, it's these very things that bring a couple together. "By bonding over the gross moments, you're strengthening your relationship by proving that you don't always have to be at your [...] best around your partner," Bennett says. "You can still love each other even in the smelly, sweaty, sick, and gross moments!" Here, a few gross things you might want to embrace in order to feel closer, according to experts.