7 Signs That Ben & Lauren From 'The Bachelor' Could Get Back Together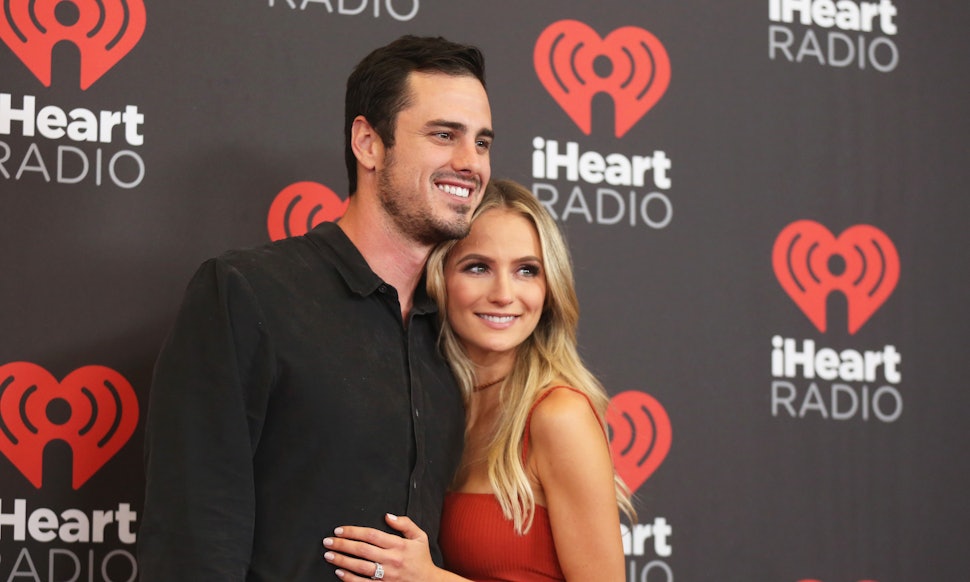 Isaac Brekken/Getty Images Entertainment/Getty Images
The collective hearts of Bachelor Nation broke when Ben Higgins and Lauren Bushnell called off their engagement recently. But if there's anything I've learned about this franchise, it's that anything can happen, so Ben and Lauren could get back together. You never know when it comes to The Bachelor universe. Ben and Lauren first charmed fans when they fell in love during his season of the show and their chemistry was off the charts. After their Bachelor finale engagement, they starred in Freeform's Ben and Lauren: Happily Ever After? and then announced their break up in May.
"It is with heavy hearts that we announce our decision to go our separate ways," the couple told People in an exclusive statement on May 15. "We feel fortunate for the time we had together, and will remain friends with much love and respect for one another. We wish nothing but the best for each other, and ask for your support and understanding at this time." Since then, Ben and Lauren have each stated that living life apart has not been easy. "The last few months have not gone the way I would have preferred," Ben wrote on Instagram on May 30. "My relationships have changed drastically and what I envisioned my life was going to be has been redirected." In June, Lauren told People: "At the end of the day, there was a lot of hurt and pain. It was a rocky road from the start. It just didn't feel right anymore."
But it's totally possible that these two lovebirds could find their way back to each other and here's how.
1

They Hang Out In The Same Circle Of 'Bachelor' Alums
As evidence by many Bachelor Nation IG accounts, alums of the franchise tend to hang out together in various ways — trips, weddings, or just chilling. The Washington Post reported in 2016 that the franchise leads many of its contestants to nurture close friendships and that's why they tend to stick together, even if they weren't on the show to make friends.
This is true for Ben and Lauren, too. Ben is currently starring in an iHeartRadio podcast with Bachelor alum Ashley Iaconetti, called Ben and Ashley: Almost Famous. In May, Lauren announced that she's starting an online boutique with fellow newly single Bachelor alum Amanda Stanton, according to Entertainment Tonight.
All that to say even though Ben and Lauren are broken up, they are still socialize within the same circle of friends — and they could one day find their way back to one another.
2

They Really Seemed To Love Each Other
You can't deny it — there really seemed to be love between Ben and Lauren, on-screen during The Bachelor and off-screen. "[Lauren] continues to spread love while some feel it is their responsibility to spread hate, she is a light in this world," Ben wrote on Instagram on May 4, a little over a week before they announced their engagement was off.
Lauren showed some love for Ben in an IG post on his birthday, March 23, writing in the caption: "I'm so thankful for this life together Although sometimes rocky you always hold my hand and support me through it, always with a smile on your face. You deserve the world, especially today."
3

They Are Still Friendly With Each Other
In June, Lauren told Us Weekly said that she and Ben still on speaking terms. 'We check in on each other occasionally. Obviously some things that we need to talk about like if he gets a package to our house or mail. So, friendly terms — yes," she told the publication. "It's not like talking everyday or not a lot of small talk. It's just checking in and making sure we're OK, but then we also are giving each other the space that we both need to move forward."
That's definitely a good sign, in that Ben and Lauren and still somewhat in each others' lives. Who knows? One day, that spark could return over some snail mail.
4

They Are Hurting Without Each Other
It's just a fact of life: it hurts when you break off a relationship. Ben and Lauren have told several media outlets that the break up hasn't been easy on them.
In June, Ben opened up on his iHeartRadio podcast about how the break up has been for him personally. "When you really care about somebody and you really love somebody and that has to end — for whatever reason, even for reasons that either person can't really explain, it's just a feeling and you have to go your separate ways — it hurts," he said. "It hurts bad."
Lauren told People in June that she was still hurt from seeing Ben say "I love you" to JoJo Fletcher on The Bachelor. JoJo finished as runner-up on the show and went onto get engaged to Jordan Rodgers on The Bachelorette. "I always try to be really strong because I wanted to move forward from it," she told the publication. "But because I wanted to move forward from it, I don't think I ever really opened up about how hard that was just in terms of, like, I wanted to make that decision to get engaged one time in my life and I felt like I wasn't told everything that had happened."
Perhaps once the past hurts are gone, these two may find their way to one another again.
5

They're Young & Figuring Things Out
Lauren is 27 years old and Ben is 29. As you know, your 20s are a time of growth and figuring out what you want, because you don't always know what you want. Ben and Lauren could be in the midst of figuring out what they want right now — and maybe, down the road they may realizing that it's being together again.
6

They're Away From The Cameras (For Now)
In June, Lauren told People that filming their Freeform spinoff put a lot of stress on their relationship. "I remember during filming Happily Ever After, I was so stressed out, we couldn't even communicate with one another when we were filming Happily Ever After," she told the publication. "We were just stressed and tired physically. Emotionally, I just felt like it wasn't there anymore."
But now that Ben and Lauren are no longer being filmed, perhaps they can find love again in private.
7

There Is Always 'Bachelor In Paradise'
As Bachelor Nation knows, former contestants can always get a second (or third) chance at finding love on Bachelor in Paradise. Who knows — Ben and Lauren could show up at the Mexican resort and rekindle their love for each other on camera once again.
Like I said before, you never know what'll happen in the Bachelor universe. Ben and Lauren just might find their way back to each other.