Like It Or Not, These Are 9 Very Clear Signs Jed Wins 'The Bachelorette'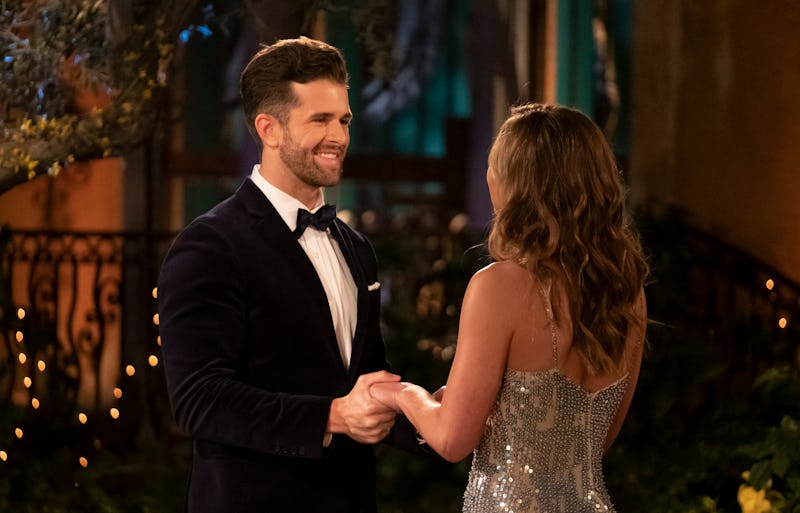 John Fleenor/ABC
As The Bachelorette heads into hometowns, only Jed, Luke P., Peter, and Tyler C. remain. Hannah clearly has a strong connection with each of them if she chose to go to their homes, but the signs that Jed wins The Bachelorette are there and they're pretty strong. Even Hannah said so.
During her one-on-one date with Jed in Amsterdam, Hannah told the camera, "I can see a life with Jed after this, like a good life with Jed. There's a bunch of signs pointing to it being written in the stars." And even though she has admitted to falling for multiple men, it seems that Jed may be the frontrunner of this competition. He hasn't been causing issues with the other men like Luke and she has consistently been drawn to him. Of course, viewers at home may have already turned on the possible frontrunner.
While the villain of Hannah's season has been Luke P., People reported that Jed reportedly had a girlfriend while filming The Bachelorette. Nashville-based musician Haley Stevens told the outlet that they had been seeing each other up until filming and that Jed told her they would be "stronger" after the experience. Bustle reached out to Jed for comment, but has not yet heard back.
Update: Jed addressed his Bachelorette controversy on Instagram, writing:
"Hi ya'll. Several of you have reached out with messages and questions. Please know I'm not able to answer right now, but as soon as I'm able to, I will. •Until then, I ask that you please understand how much the actions being taken towards myself, my family, the men on the show, and above all, Hannah, are affecting all of our mental and physical health. •It goes beyond what is said online. Threatening letters and phone calls have been sent to our homes. My parents and sister are being verbally attacked in public. I beg you to remember what seems like a harmless action is damaging to real people. •I want to thank all of you who have reached out or reserved judgement until I am able to speak openly and I can only ask for your patience and kindness until then."
Earlier: Possible girlfriend or not, Jed does seem to be the strongest contender for Hannah's heart yet. Here are some of the signs that Jed wins The Bachelorette so far.