You Can Actually Expect An *NSYNC Reunion VERY Soon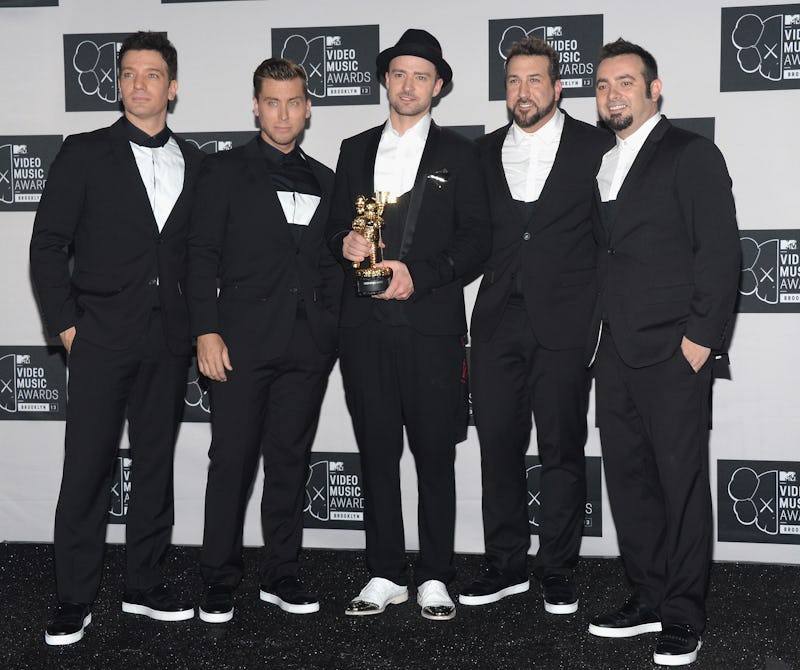 Jamie McCarthy/Getty Images Entertainment/Getty Images
The Super Bowl left two distinct fan groups disappointed: Patriots fans, and *NSYNC fans. During Justin Timberlake's halftime performance, the crowd waited with bated breath for their favorite boy-band members to join JT on stage, but alas, it didn't happen. Don't worry though, here's when you can expect an *NSYNC reunion — it's very, very soon, don't worry. Before you sing "yippie-yi-yay" though, you must know that the boys aren't going on tour, at least not yet.
The upcoming *NSYNC reunion instead will take place at the Hollywood Walk of Fame where the former boy-band singers will say "hi hi hi" to their honorary star, according to Lance Bass. When TMZ caught up with Bass, the former *NSYNC member hinted that a reunion of the band actually singing could be in the cards too. "There's always a possibility of course," Bass said. At least the singer knows that fans want a reunion — like, really badly — and he acknowledged their disappointment that an *NSYNC halftime show didn't happen. "Of course they're disappointed, they're *NSYNC fans," Bass said. Now the only question is, when are they going to un-disappoint their 2000s-obsessed fans?
Technically, if *NSYNC ever did perform again, it wouldn't be a reunion but rather an ending of their 16 years-long hiatus. That's right, as InStyle points out, the band never officially broke up but in 2002, they announced they were taking a break. That was all prompted by Timberlake leaving because he felt he was "growing out of it." Ouch, JT. Even though the band has gotten together as friends, they only reunited for a performance once, according to Billboard. That was five years ago, at the MTV VMAs when Timberlake performed a set before the rest of *NSYNC joined him for a quick performance of "Bye Bye Bye."
As Bass told Billboard, the Walk of Fame celebration will happen in March 2018, and it sounds like the band is gearing up to make it a big event. "We're all five gonna be together, we're gonna do the star ceremony, and then, of course, we're gonna have to throw a party to celebrate," Bass told Billboard. Hopefully that party includes a televised performance of arm-waving choreography set to "It's Gonna Be Me," or it's gonna be another big disappointment.
Even though Bass has remained adamant about the Walk of Fame star ceremony taking place this spring, fans have a right to be wary. That's because in 2017 the singer also promoted the ceremony, before he was corrected by the band's official Twitter account. Hopefully this time, it's actually going to happen.
Even without *NSYNC joining him, Timberlake's performance was nostalgic in all the right ways. Rather than opting for songs off his new album, Man of the Woods, Timberlake performed oldies-but-goodies, no, "greaties," like "Senorita," "Sexyback," and "Cry Me A River." Some viewers slammed Timberlake online for wearing a ridiculous outfit and others complained that it was too boring, but given the calamity that was Timberlake's last Super Bowl halftime show — you know, the one that arguably ruined Janet Jackson's career — it's probably for the best that JT kept it low-key.
The truth of the matter is that without an *NSYNC reunion, Timberlake's performance never stood a chance. It only seemed right that all five singers — JC Chasez, Joey Fatone, Bass and Chris Kirkpatrick — should get back on stage together at one of the most-watched TV events. After all, Destiny's Child reunited for Beyoncé's halftime performance, and that seeing as both bands come from the same era, it made sense that so many people expected to watch "Bye Bye Bye" performed live. Oh well, hopefully the Walk of Fame celebration will provide exciting reunion material for *NSYNC stans. They're definitely itching for it.