A Danity Kane Reunion Tour Is Happening, But Not Everyone Is Coming Back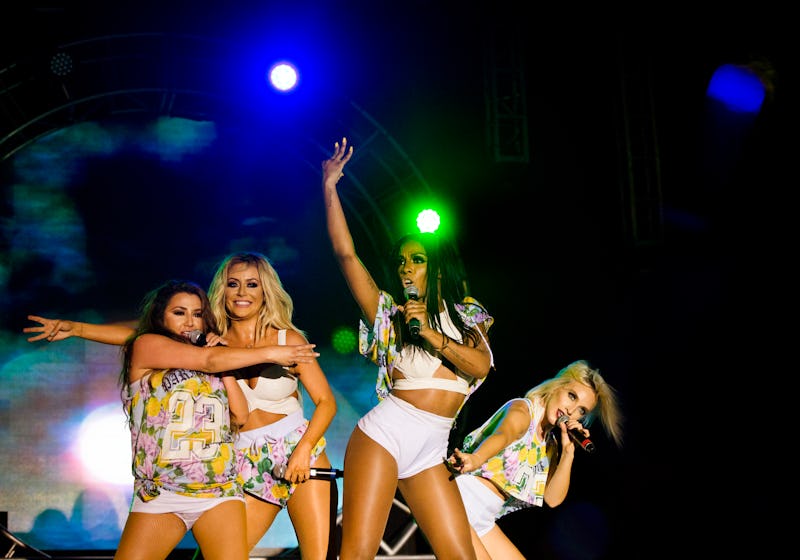 Chelsea Guglielmino/Getty Images Entertainment/Getty Images
Aubrey O'Day, Shannon Bex, and Dawn Richard are officially back to bring early aughts pop music back into our lives. The former Danity Kane members — now known as DK3 — are reuniting for a new tour, starting in September, and they're already teasing the possibility of releasing new music as a trio.
As reported by E! News, O'Day, Bex, and Richard will perform some of the music from their debut DK3 project on their The Universe is Undefeated tour, as well as music from Bex and O'Day's side project, dumblonde, and, of course, some Danity Kane classics. (To be fair, "Damaged" is still one of the greatest bangers of our time.)
The three songstresses first met on the MTV show Making the Band in 2005, when P. Diddy brought them together with D.Woods and Aundrea Fimbres to form Danity Kane. The group broke up in 2009, before reforming in 2013 without D.Woods. Fimbres left the band not long afterwards in order to start a family, and the three remaining members (also known as the current lineup of DK3) broke up once more in 2014 after an altercation between Richard and O'Day during a meeting with their record company.
However, the two told E! News that they have since reconciled: "We have been through a journey of a lot of ups and downs but on any journey, ya know, it requires the people involved to not be willing to let go of each other and that's what we're on so, we're super grateful to be back in each other's lives," O'Day explained. "To have survived the last round and truly come together as sisters and do it for ourselves and also for the fans."
DK3's fans have followed the band from its formation on MTV, where they got to watch everything from O'Day's very first audition for Diddy (in the TRL studios) to grueling dance lessons with legendary choreographer Laurieann Gibson, to the process of recording their first, self-titled album. Fans also got a front row seat to the band's ups and downs thanks to Making the Band — one of the biggest storylines in later seasons was the group's conflicts with Diddy and his frequent fights with O'Day and D.Woods.
Despite the drama with their mentor and with each other, when it came time to release music, Danity Kane (and later DK3) always came through for fans with clubby pop beats and sexy hip-hop inspired songs that wouldn't be totally out of place on the music charts right now. Sure, we as a society may have moved on from all of that frosted silver eyeshadow favored by the group in their early days, but the lyrics to "Damaged" will truly exist in a corner of the brain forever.
Thankfully the newly-reunited DK3 have promised to perform all of the songs that fans haven't heard since the early aughts, in order to ensure that their The Universe is Undefeated tour is truly the blast from the past that we all need right now. (As for those solo songs of O'Day's that are rumored to be about Donald Trump Jr., well, Danity Kane fans will simply have to buy a ticket and see.)
O'Day, Bex, and Richard have been through a lot in order to reach the top of the pop charts, both individually and as a group. Seeing them come together once more as one of the great, underrated girl groups of our generation proves that no matter what, DK3's fans will — in the words of the group itself — always ride for their favorites. Luckily for all of us, DK3 rides for them as well.