Fans Have THOUGHTS About The 'Lilo & Stitch' Live-Action Movie Reportedly In The Works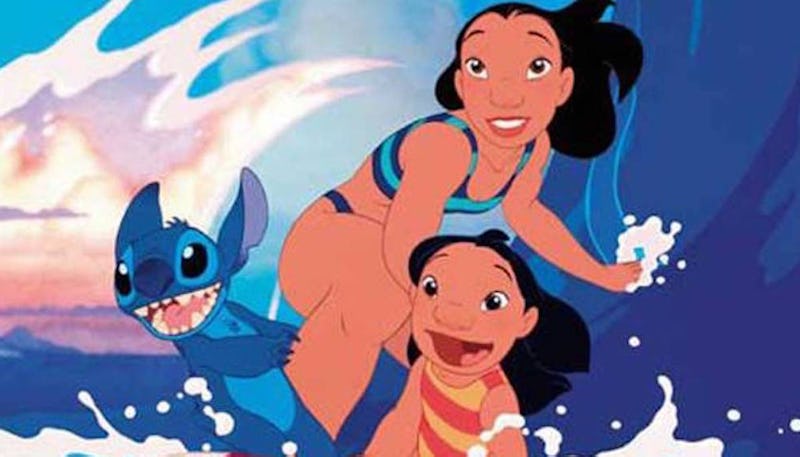 Disney
In the midst of all the Disney live-action remakes like Aladdin, Dumbo, Mulan, and The Lion King, it seems Lilo and her cute and fluffy pal aren't getting left behind. According to The Hollywood Reporter, Disney is working on a Lilo & Stitch live-action movie. While Disney has yet to confirm the news, it's certainly gotten fans on Twitter talking and it's safe to say they have a lot of feelings about this Lilo & Stitch remake. (Bustle has reached out to Disney for comment and confirmation, but has not yet received a response.)
THR reported that the new Lilo & Stitch would be a live-action/CGI hybrid, not unlike the upcoming live-action version of The Lion King, which features Beyoncé's voice as Nala. For now, there's no word on who will play Lilo or Stitch, but up and coming writer Mike Van Waes was hired to pen the script. It's also unclear whether the Lilo & Stitch live-action remake will be released in theaters or will end up on Disney's upcoming streaming service which is set to launch next year.
All of that uncertainty might be why some fans aren't sure how to feel about the news of another Lilo & Stitch movie. (There's already been five different official sequels to the movie and a TV series, which ran from 2003-2006.) It might be why so many voiced their concerns. "Lilo and Stitch is a perfect movie," a Twitter user named @SenorWoberto wrote. "There is, functionally, no way to improve it further, with its heartfelt characters and beautiful art. But it'll still make tons of money because nostalgia sells."
Others like user @Robert88UK just couldn't wrap their head around a live-action Lilo & Stitch since "half of the cast in the film are aliens," meaning it will likely be filled with CGI.
Some expected the worst from this live-action remake. "LILO AND STITCH IS FINE THE WAY IT IS," user @mcubrie tweeted. "WE DONT NEED REMAKES OF EVERYTHING."
"WOW I CAN'T WAIT FOR ONE OF MY FAVORITE MOVIES TO BE RUINED, COOL," user @CorgiSherbet wrote, adding an appropriate Lilo gif to make their point.
Others were worried about who might be cast in the movie, concerned that the character of Lilo, who is Hawaiian would be whitewashed and played by anyone from Chloë Grace Moretz to Scarlett Johansson, who previously caused controversy for starring in Ghost In The Shell in a role that was originally Japanese in the anime graphic novels the movie was based on. Later, she would sign on and then drop out of the movie Rub & Tug where she was set to play a transgender man after backlash from Twitter.
Not everyone was so doom and gloom, though. There were fans who were already excitedly thinking of who could star in the remake with one particular name coming up often: Moana's Auliʻi Cravalho.
"Pssst, @Disney! For your live action #liloandstitch I nominate @auliicravalho for Nani" — Lilo's older sister — "Don't screw this up!" @MissLeigh2 wrote.
For fans, "don't screw it up" seems to be the running theme. It's also the biggest worry, that Disney won't do right by the movie. Luckily, now until this movie comes out — that is, if it's even true — fans can keep voicing their concerns on Twitter in hopes that a Lilo & Stitch live-action movie will make them proud.