The 'Game Of Thrones' Series Finale Will Make Fans Scream, According to Emilia Clarke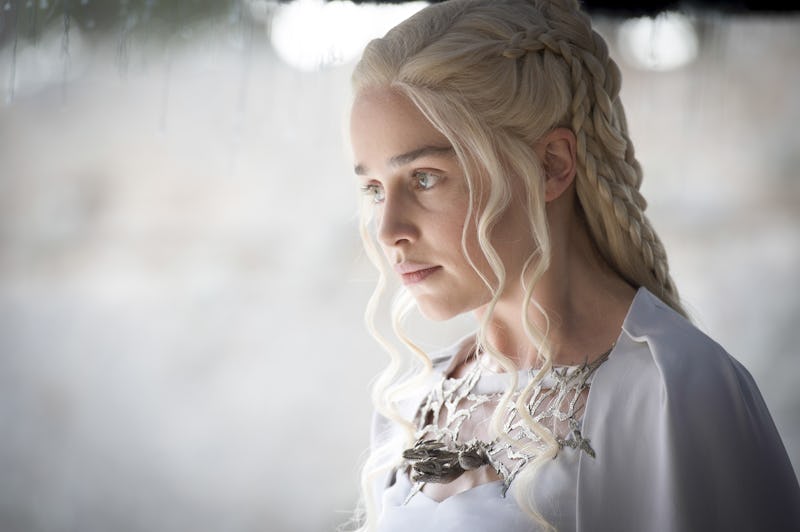 Macall B. Polay/HBO
HBO is desperately trying to keep the details of Game Of Thrones' final season under wraps, but the Khaleesi just gave a pretty interesting clue of what fans can expect from the GOT Season 8 finale. According to Emilia Clarke, it's going to be quite a divisive ending that will have fans feeling all the feels — and definitely not all good ones.
In an interview with The Herald Sun via Digital Spy, Clarke said she doesn't expect everyone to love the series finale. Instead, she expects the response to the last episode to be well, mixed. "People will scream and people will say, 'That's exactly what I wanted'," Clarke said. "And some people will go, 'Huh?' – my mum, probably."
Of course, everyone's now wondering why Clarke's mom is so confused. Perhaps, that's a subtle clue that the ending of Game Of Thrones won't be so cut and dry. Perhaps, it'll finally answer the "who is Azor Ahai?" question everyone's been asking for the last seven seasons. Or, it will leave room for some of those Game Of Thrones spin-offs that have been picked up by HBO. Either way, it's an intriguing tidbit that fans are bound to stress over until 2019.
Clarke isn't the only one who's hinted that there will be disagreements and likely some angry tweets after watching the series finale. Isaac Hempstead Wright, who plays Bran Stark, a.k.a. the Three-Eyed Raven, told The Hollywood Reporter in January that the Game of Thrones' finale won't please everyone, though it will "hit hard."
"We're all so confident in the way this story goes and the message it gives and how the whole story arc works," the actor told THR, but explained that it'd be impossible to get everything right for every person. Like Clarke, Hempstead Wright was quick to note that the ending "won't go the way some people want. It will be too happy for some people, or too sad, or too whatever. That's the nature of an ending."
But, as long as the creative team "does justice" to the story, Hempstead Wright said, they can take some so-so reviews of the episode. He for one, believes GOT Season 8 will be handled correctly, even going as far to say, "Overall, I think we're going to smash it."
Khaleesi's right-hand woman Missandei, played by Nathalie Emmanuel, agrees that Game Of Thrones' final season will be worth the wait. She told Metro.co.uk two months ago that the final table read for Game Of Thrones was "so emotional." She also said that the Season 8 finale is "so great" and will be worth the wait, adding that the show "finished so beautifully."
For those that are worried six episodes isn't enough time to tie up the loose ends of the show, Emmanuel assured everyone it was. "It definitely will not be rushed conclusion," she told Metro.co.uk. "They've taken the exact number of hours to tell the story they want to tell and it will be brilliant."
For now, the creators David Benioff and D.B. Weiss are staying mum about what is going on this season, which hasn't revealed it's release date yet. Though, it will be in 2019. HBO has revealed that basically, everyone is going to die in Game of Thrones' final season.
In March, Francesca Orsi, HBO's SVP of drama, said that "by the very end" of the all-cast table read of Season 8 "everyone looked down and looked up and tears were in their eyes." That's because over the course of the reading, "one by one, they started falling down to their deaths." It was also revealed that there will be a battle scene in Season 8 that took 55 days to shoot, meaning it's going to be epic and likely very sad since you know, lots of death is expected this season.
Unfortunately, fans will have to wait another year to actually see the finale that Clarke says will have us screaming at our televisions. But, think of it as time to get yourself centered for whatever ends up happening in Game Of Thrones' final episode ever.