This 'A Series Of Unfortunate Events' News Is Not Unfortunate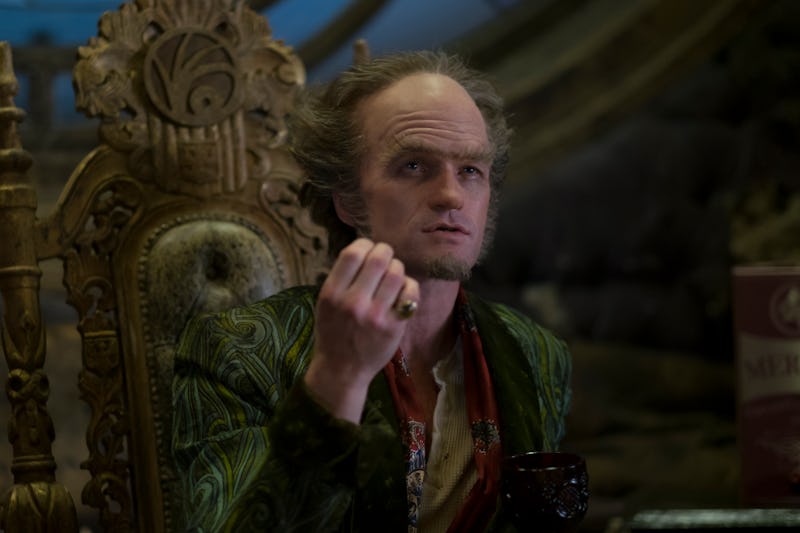 I've got to admit something to you. Though I loved Lemony Snicket's A Series of Unfortunate Events in the original book form, the only reason I stuck around for the Netflix series version was Neil Patrick Harris. Which is why The Hollywood Reporter's news that Netflix already announced a Season 3 renewal of A Series of Unfortunate Events makes me feel like today is a Very Fine Day — but again, mostly because of NPH. The singing, dancing blondie who plays Count Olaf always does it for me. I can certainly see why Netflix decided the world needs two more seasons of Harris-as-Olaf doing the "villainous nemesis of the Baudelaire orphans" thing.
For those people out there who never read the books, never watched the 2004 Jim Carey-as-Olaf film adaptation, and didn't even stream the eight-episode series that premiered on Friday the 13th in January, allow me to fill you in on the ghastly, but also kind of darkly funny backstory of the Baudelaire family. After a vicious fire decimates the family's mansion and kills the Baudelaire parents, their three children — Violet, Sunny, and Klaus — are forced to live with a distant and unappealing relative, Count Olaf. But Olaf isn't just a terrible guardian, he is also super evil and after the orphans' fortune. When he fails to get the money for himself and reveals himself as a baddie, the orphans are sent all over the place to escape the Count. At the same time, they attempt to figure out the connection between Olaf and their parents, which seems to be a secret organization of mysterious origins.
The series, which has been adapted from the original stories by the original writer Daniel Handler aka Lemony Snicket, has some extra shine with NPH rocking the sweet vocals every now and again. It's really no wonder the third season got picked up only a month after the second.
Plus, it makes sense that there would be at least two more seasons for the Paramount-Netflix collaboration, because at the end of Season 1, the series had only covered Unfortunate Events books one through four: The Bad Beginning, The Reptile Room, The Wide Window, and The Miserable Mill. As there are 13 books, it stands to reason that the next two seasons will cover the rest of the series. If that means two more seasons of Harris pretending to be Count Olaf pretending to take on various disguises, sign me up.
THR has even more news of the multi-talented actor appearing in televised content. Harris will also be hosting a NBC game show that will test the intelligence of the most brilliant children in the U.S. called Genius Junior.
Netflix, Paramount, and NBC, oh my! Acting, singing, and hosting, oh wow. Is there anything Harris can't do?