'A Series Of Unfortunate Events' Might Not End The Way Fans Of The Book Think It Will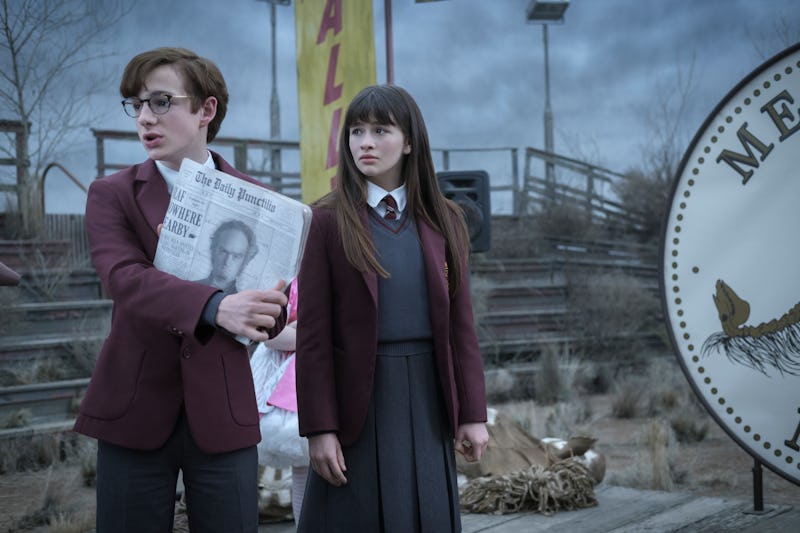 Netflix
Fans of Netflix's A Series of Unfortunate Events, it's time for some not-so-terrible news: Entertainment Weekly got a first look at the new (and final) season, and revealed that A Series of Unfortunate Events Season 3 might actually have a satisfying end after all. A Series of Unfortunate Events showrunner Barry Sonnenfeld spoke to EW ahead of the show's next season. Season 3 will be the last one, as it's based on the final installments of Lemony Snicket's book series. As a result, Sonnenfeld said fans should expect "the most emotional season yet!"
"It's got a lot of action, and the kids have become much more proactive and less victims", he told EW, adding:
"When you see 'The End,' you'll think that it's what Daniel [Handler, the author's real name] always had in mind, though it's not. It wraps up in such a strong way that you may think we came up with the idea at the beginning of the first season."
Sonnenfeld also told the magazine that he worked with his writers and Handler to "craft an ending that remained true to the final book," aptly titled The End, "but also expanded on it" as well. Admittedly, the showrunner was hesitant to call it flat-out enjoyable, but then, what is when it comes to these dark tales?
All in all, a finale that provides more closure than The End would be a lovely surprise for fans of the original series. And it's not often someone gets to use the phrase "lovely surprise" to describe A Series of Unfortunate Events, either.
The novels, film adaptation, and Netflix version of A Series of Unfortunate Events are often so bleak — it's in the name! — it seemed like optimism was never really in the cards for the Baudelaire kids. So the concept of an ending that out-satisfies the source material feels like a treat. Of course, "satisfying" doesn't necessarily mean "fun" or "the way you wanted it to go," but it's still more than fans are used to from the Snicket books and Netflix series.
Sonnenfeld also revealed details of Season 3 to EW, like Allison Williams' expanded role as Kit Snicket, the larger role Nathan Fillion's character's cab will have, Esme Squalor's sense of style, and what to expect from Count Olaf. Spoiler alert: He's even spookier than before. Per Sonnenfeld, Neil Patrick Harris' character will be "scarier, a little more unhinged, [and] a little bit harder to reason with" in Season 3. Kind of alarming, considering how deranged Count Olaf is already. But it's exciting, too!
As for Kit's significant role? Sonnenfeld credits Williams' natural Kit-ness with the inspiration:
"She plays a bigger role in the show than she did in the books [because] I just looked at [Williams] and I thought, 'She's Kit!' She's sporty, she's smart, she's sassy, she's self-confident, and she's beautiful, which are all the attributes Kit has."
Knowing how much effort Netflix put into the final season and getting the conclusion right should be enough of a relief to longtime fans. And when it comes to A Series of Unfortunate Events, just a little bit of that goes a long, long way.