Listen Up Marshmallows, More 'Veronica Mars' Is Headed Your Way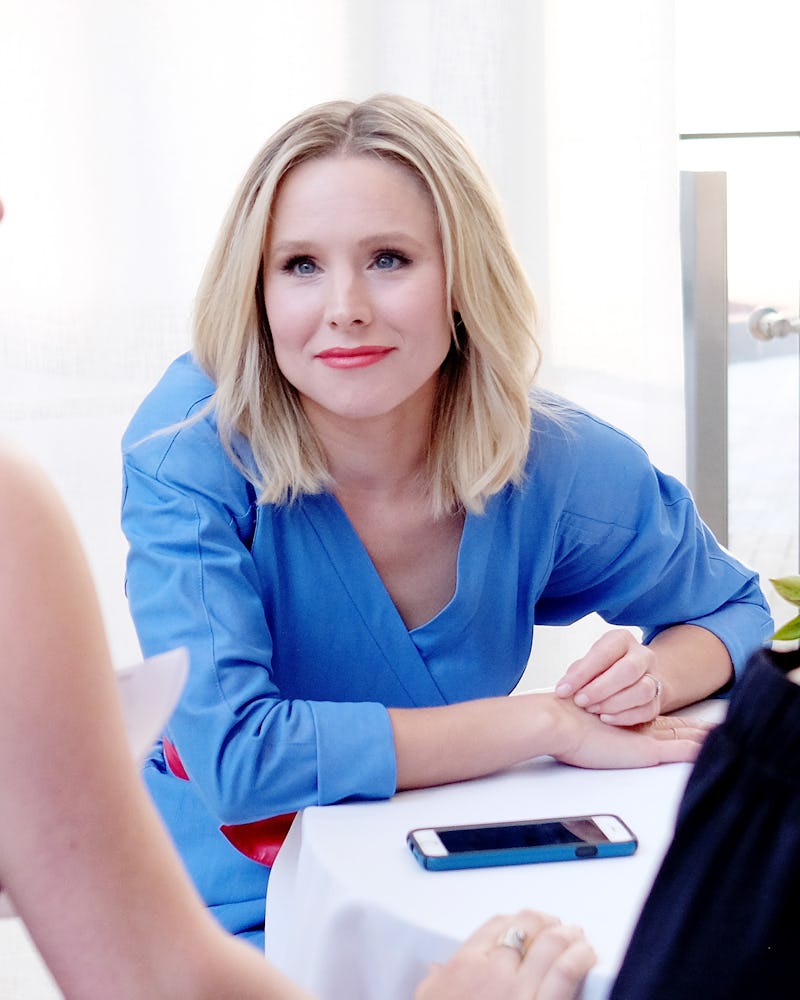 Nicholas Hunt/Getty Images Entertainment/Getty Images
Kristen Bell has something special in store for all of her loyal Marshmallows. The actor confirmed via an October 25 Facebook Live interview that a Veronica Mars miniseries is coming sooner than later. OK, so the news wasn't revealed in an actual Kristen Bell interview, per se — but, more like an interview where Ryan Hansen called the The Good Place star and placed her on speaker phone to share all of the deets. Here's how it all went down: while Hansen was chatting with Indiewire about his new YouTube Red series Ryan Hansen Solves Crimes on Television*, the former Veronica Mars star spent some time answering fan-questions via Facebook Live. Someone asked the actor whether or not he had any "Mars" updates, and instead of passing along word-of-mouth information, he decided to go directly to the source.
Lucky for fans, Bell answered the call while live, and starting at the 12 minute mark, revealed that she and the franchise's creator Rob Thomas "are sort of in constant contact about when we can do it again" — adding that "there's a lot of willingness and commitment to doing it again."
Oh, and that desire to have new Veronica Mars content floating around the inter-webs isn't the least bit one-sided. Marshmallows proved their undying loyalty to the franchise when they crowdfunded a successful Kickstarter campaign for the official Veronica Mars movie.
That's right — over 90,000 backers donated $5.7 million dollars for the 2014 production, written and produced by Thomas. The love and unrelenting support from long-time fans must've resonated well with Bell, because a "Mars" series is at top of mind — in spite of the many projects that she has coming down the pipeline. She continued, saying:
"We are willing to put the effort in — I mean, if I have to do it as Murder She Wrote at 80, we're going to do it. It's going to happen."
Bell, who is in the midst of filming multiple projects already, via her IMDB page, is also starring in NBC comedy The Good Place, notes however, "you can't do two television shows at the same time. So we'd have to do like a miniseries."
And when it comes to funding the upcoming miniseries, Bell makes it clear that fans won't need to dig deep into their pockets this time around. She says, "Rob and I email about it every couple of months or so. And personally I think, and I think Rob probably agrees, is that a) we'll never make the fans pay for it again and b) the format works better as an episodic [series]."
So where could a production like this live, you ask? YouTube, or the platform's newest addition, YouTube Red would be perfect places for the soon-come miniseries to thrive. Creators like Issa Rae have turned to the digital space to share viral and groundbreaking content. And a series with as big as a cult following as Veronica Mars has would totally be fitting.
As for when fans can expect the Veronica Mars miniseries to hit the airwaves? That's yet to be confirmed. But it's refreshing to know that Thomas, Bell, and the rest of the cast aren't ready to put Veronica's story to rest anytime soon. There's still so much that could be explored, and three seasons for the television series, and even the post-law school film, weren't enough to do it justice.
Hopefully, Bell and Thomas will have more of an update for fans in the coming months. But, in the meantime, fans can catch the Veronica Mars film streaming across the web, and can pick up digital copies of its television series on Amazon.