Adam's Bad Behaviour on 'Love Island' Is Actually Way More Serious Than You Think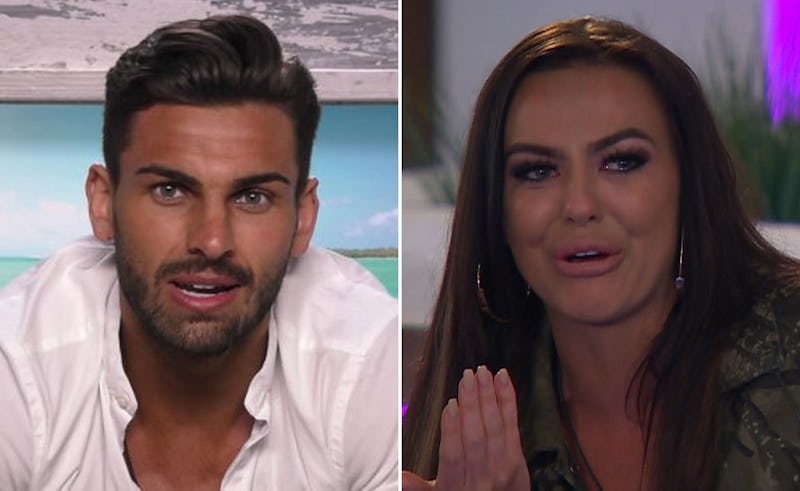 Love Island/ITV
Love Island fans are not happy with Adam Collard. Since he entered the villa a few weeks ago, he's coupled up with Kendall Rae-Knight, Rosie Williams, and now, he's quite literally been trying to get his hands on newbie Zara McDermott. Of course, he's allowed to crack on with who he likes — that's not the issue here. The problem is how he's been treating the female islanders. The Internet has been calling out his manipulative behaviour in the breakdown of Adam and Rosie's relationship on Love Island and let me tell you, I was so happy reading those tweets because this reaction is important AF.
Before I dive into that though, let me explain how it got to this point. Firstly, there were warning signs as soon as Adam entered the villa. Moments after arriving, he set his sights on Kendall and successfully convinced her to abandon a burgeoning romance with Niall Aslam to be with him. But days later, the Geordie completely changed his mind about Kendall, and criticised her for not giving him enough physical affection.
That alone was a huge red flag. Luckily, she didn't cave and stuck to her guns, telling Adam that she wasn't prepared to do anything she wasn't ready to do, even if it did cost her her place in the villa. He then brutally re-coupled with new arrival Rosie the first chance he got, resulting in Kendall being the first to get eliminated with a very sharp knife in her back.
For a while, Rosie looked like the cat that got the cream. But then, Megan Barton Hanson's arrival changed everything. The second he could, Adam pulled her to one side and began to ridicule Rosie in the hope that Megan would consider coupling up with him. She wasn't interested, thank goodness, and instead went straight over to Rosie to tell her everything. At first, Rosie was livid but somehow pretty much forgot all about Adam's betrayal a few hours later after she re-coupled with him for a second time. Fast-forward, what, let's say another 20 hours, and their relationship is in tatters again.
Remember Adam blaming his decision to dump Kendall on her refusing to, shall we say, satisfy him? Gross, I know. Well, one would then assume once Rosie agreed to take that step with Adam, he would be satiated and content to be stayed coupled up with Rosie, right? Sadly not.
After enjoying a date with Zara in Tuesday's episode, he avoided Rosie all day until demanding she give him back his cap. When Rosie finally confronted Adam, he reduced her to tears. "You haven't pushed Zara away, you've pushed me away," he told her with a huge grin on his face. Just like he did with Kendall, Adam then attempted to blame Rosie for her worries about him and tried to convince her that she was the reason their relationship wasn't working. News flash Adam hun, it's not her, it's you.
Although Rosie tried to stand up for herself, she was hurt. Indeed, watching a 26-year-old successful solicitor reduced to tears and laughed at by this dude was just wrong and super uncomfortable to witness. Thankfully, viewers on Twitter were equally disturbed. Here are just a few of their reactions:
Deliberately blaming someone else for your wrongdoings in a relationship is emotional abuse. In fact, this kind of behaviour even has a name, it's called "gaslighting," and it's more common than you may realise. Even though this is just a TV show, Adam has been emotionally hurting women in the villa. Trying to convince them that their personalities are wrong or that they their perfectly justified feelings are examples of paranoia driving him away is just wrong on so many levels.
Polly Neate, former chief executive of national domestic violence charity Women's Aid, told the Telegraph of emotionally abusive behaviour: "It can be very confusing. It can cause serious problems when a woman starts to doubt herself. That's very difficult to get your head around as a survivor. It takes a woman a long time to recognise that the nice behaviour and abusive behaviour are both a conscious decision on the behalf of the perpetrator."
Of course, the gaslighting of women by men on mainstream telly isn't anything new. In fact, reality TV history is littered with examples of cheating men blaming their respective partners for their betrayals. Remember when Made in Chelsea's Spencer Matthews told former girlfriend Louise Thompson it was her fault he cheated? Or how about when Mario Falcone tried to make his then fiancée Lucy Mecklenburgh believe she was delusional for thinking he was cheating, when he actually was? Grim.
While this might be a TV show, it's important that anyone watching at home is aware that is Adam's behaviour, quite frankly, is disgusting and is an example of emotional abuse. "Emotional abuse is anything that causes someone to second-guess themselves, develop concerns over their self-worth, or begin to feel insecure or unsafe in a relationship," Tamara Hill, national certified counselor & certified trauma professional, previously told Bustle. "Emotional abuse really starts out as psychological abuse in which the other person gains a position of dominance over the other. That position of dominance is projected (by the victim) to be a 'normal' response in the relationship. In a lot of ways, the victim minimises, normalises, or undercuts their own feelings and intuition on what the real problem is in the relationship."
Personally, I'm proud of Twitter for calling out Adam on his behaviour. Perhaps at least some good can come of this.
Love Island airs on ITV2, Sunday to Friday at 9 p.m.