These Photos Of Adrianne Curry's 'Game Of Thrones'-Themed Wedding Will Melt Your Heart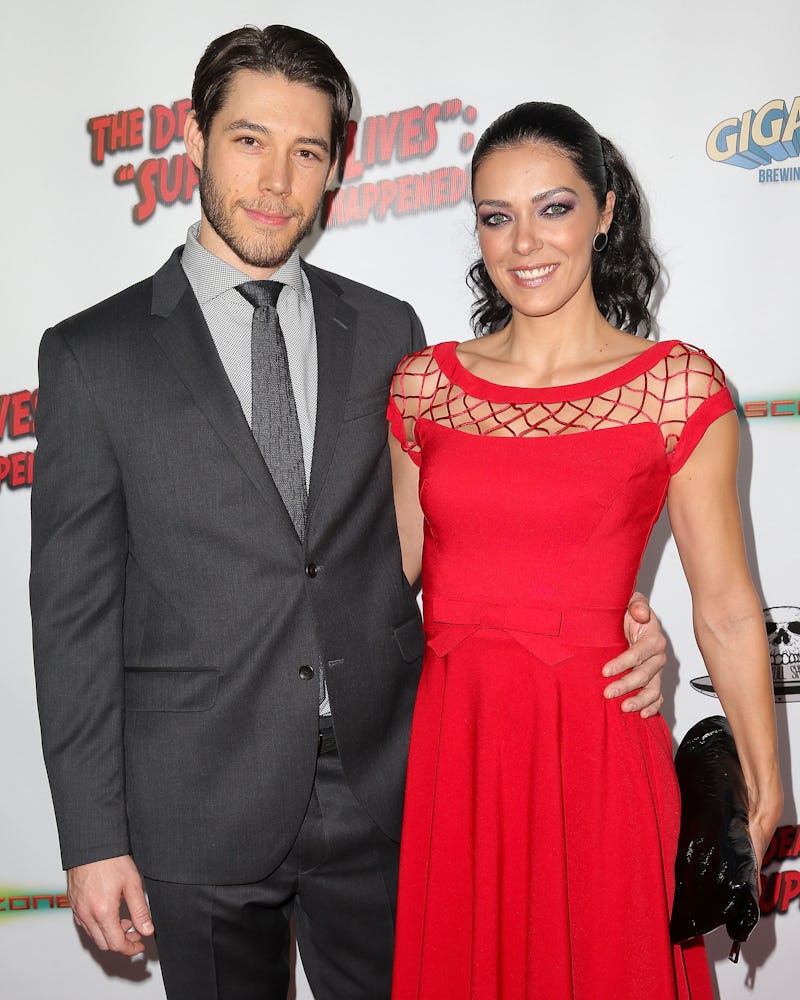 Imeh Akpanudosen/Getty Images Entertainment/Getty Images
America's Next Top Model Season 1 winner Adrianne Curry had a Game of Thrones-themed wedding earlier this month, and no, the Lannisters did not send their regards. (It was a Thrones-y wedding, but wasn't that kind of Thrones-y wedding.) As the reality TV personality revealed on her personal blog this week, she and voiceover actor Matthew Rhode wed on Sept. 15 in a guestless ceremony in Montana — or, as she called it in her wedding post, "Winterfell in America." And yes, there are lots and lots of photos of this gorgeous event. Photos that could probably melt a White Walker's heart.
A little over a year after they got engaged, Curry and Rhode tied the knot in Glacier National Park. The location looks like something out of a fantasy book series— no, make that two fantasy book series. "Basically, it is a hint of Rivendell in the middle of Winterfell," wrote Curry in her wedding blog post. This would not be the only GoT/LotR mashup of the day.
After the couple said "I do," they went out for dinner, and then tucked into their wedding cake. Curry and Rhode's cake, which was made by Flathead Valley bakery Miss Patticakes, was topped with a sigil of one of the Great Houses of Westeros. "Of course I wanted a STARK cake!" wrote Curry in her wedding blog post. "Armor and a dire wolf along with our house name is what I requested."
And do you know what pairs nicely with a House Stark wedding cake? Why, a set of Arwen and Aragorn champagne flutes. She wrote in her wedding blog post: "Who says you can't mix two of your favorite things, one inspired by the other…together?"
When it was time to figure out what she'd wear to her wedding, Curry reached out to Castle Corsetry's Lauren Matesic. She wanted to wear a dress that paid homage to Daenerys's iconic blue Qartheen dress, but make it wedding fashion. Curry explained on her blog,
"The blue of the Qarth gown simply isn't suitable for a wedding and NOT my color. The metal we decided would be laser cut brass. Yep, actual brass. Though I LOVE Cosplay, I wanted to take that Targaryen gown and make it my own. As I didn't want to compromise screen accuracy with the cut, the color and extended train would be tailored to me."
Call her the Mother of Go-Sees
Clearly, Rhode decided to take his look in a different direction. Curry recalled,
"I had asked if Boromir or Lord Stark clothes interested him to no avail … He said he was going to go Western. When it arrived in the mail, it all fit him. He looked like he had stepped right out of one of our favorite shows, Westworld. As I looked at him button up his vest, I couldn't help but think 'These Violent Delights Have Violent Ends.' Our two favorite HBO shows had come together for our wedding."
It was the Game of Thrones and Westworld crossover event you never saw coming.
But wait, that isn't the last of the pop culture references. Curry said of their vows,
"Without knowing it, we both quoted The Lord Of The Rings in our vows. Our exchange was perfectly nerdy. I also tossed in some Watchmen, Harry Potter and loads of Game Of Thrones quotes."
*Raises a Cersei Lannister-style goblet of Butterbeer to all of the references.*
Oh, and the breakout star of GoT Season 3 Episode 7 also made a cameo.
So nice of him to stop by before he goes into hibernation; as you might've heard once or twice, winter is coming.
Photos Courtesy of Brooke Photography and Adrianne Curry