Hailey Baldwin & Justin Bieber May Actually Be Married, According To Her Uncle Alec Baldwin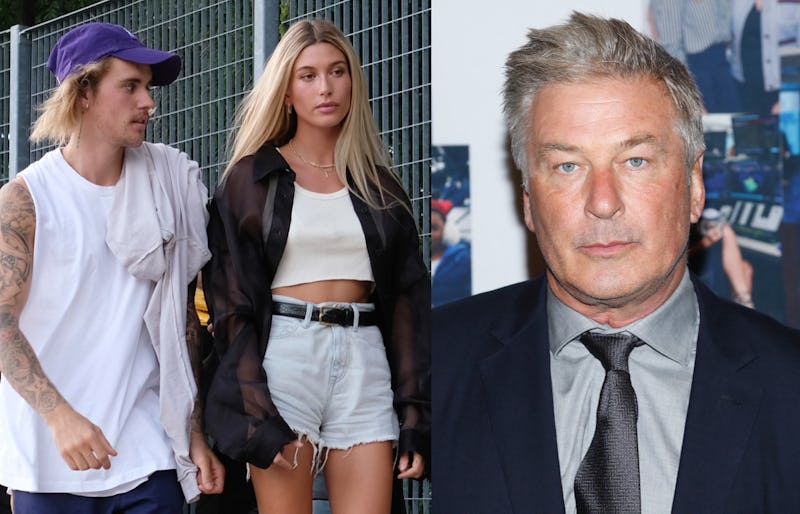 Nicholas Hunt/Getty Images Entertainment/Getty Images; Lars Niki/Getty Images Entertainment/Getty Images
After plenty of "did they?" or "didn't they?" back-and-forth, there may finally be some clarity on the whole Hailey Baldwin and Justin Bieber marriage situation. Just as fast as reports spread that the pair tied the knot on Friday, Hailey Baldwin shut down the wedding rumors in a since-deleted tweet, writing, "I understand where the speculation is coming from, but I'm not married yet!" But now, her uncle is saying the opposite. In an interview with Access, it appears that Alec Baldwin confirmed Hailey Baldwin and Justin Bieber are married after all.
While on the red carpet at the Emmys on Monday, Alec told Access about his niece:
"Well, they went off and got married. And I don't know what the deal is, because we text Hailey every now and then. We met him one time. But as I said, you know, when you get married, I think it works best if you can really be together."
Bustle reached out to reps for Hailey and Bieber regarding Alec's comments, but did not receive an immediate response.
Since Alec admitted he only texts his niece "every now and then," it's possible he was going off initial reports that they tied the knot without getting the full story. But then again, he is part of the family and seemed to know what he was talking about in the video below. It's only a matter of time before Bieber or Hailey post another update to fans, right?
Here's a brief recap of the whole situation: On Friday, a "religious source" claimed to People that Bieber and Baldwin legally got married, but hinted that a more celebratory ceremony with friends and family was on the way. The source told People, "They're going to have a big blowout, in front of God and everyone they love." (When that initial report broke, Bustle reached out to reps for the couple, but did not hear back.)
That announcement came just a day after TMZ reported Bieber and Baldwin were spotted at a courthouse together, potentially getting a marriage license. The publication also reported an eye witness supposedly heard Bieber say, "I can't wait to marry you, baby." (But, of course, that detail has not been confirmed and it remains unclear what they were actually doing at the courthouse.)
As mentioned above, Hailey appeared to shut down the wedding reports on her social media on Friday afternoon, but then deleted her own tweet. So that only further adds to the confusion. There's also been speculation that the pair wasn't counting being married at a courthouse as their actual wedding. A source claimed to People on Tuesday, "They didn't want anyone but their families to know they got married. This wasn't a wedding."
Even when the news of their engagement first spread, there was lots of speculation before the pair actually confirmed anything. Hailey had posted and deleted an Instagram back in July that was seemingly related to the proposal, and her dad Stephen Baldwin deleted a tweet also hinting at that news. Then, Bieber finally confirmed what everyone was thinking in a lengthy Instagram. He wrote, in part:
"Was gonna wait a while to say anything but word travels fast, listen plain and simple Hailey I am soooo in love with everything about you! So committed to spending my life getting to know every single part of you loving you patiently and kindLY. I promise to lead our family with honor and integrity letting Jesus through his Holy Spirit guide us in everything we do and every decision we make. My heart is COMPLETELY and FULLY YOURS and I will ALWAYS put you first! You are the love of my life Hailey Baldwin and I wouldn't want to spend it with anybody else."
Soon after, Hailey then tweeted, "Not sure what I did in life to deserve such happiness but I am so utterly grateful to God for giving me such an incredible person to share my life with! No words could ever express my gratitude."
So if there's any theme here, it's that Bieber and Hailey don't mind letting fans be super confused for a little while. Because it's only a matter of time before they spill their guts out and confirm any major news on Instagram — if history repeats itself, anyway.