Meghan & The Queen Have One Simple Style Rule For Their Outings And It Is So Real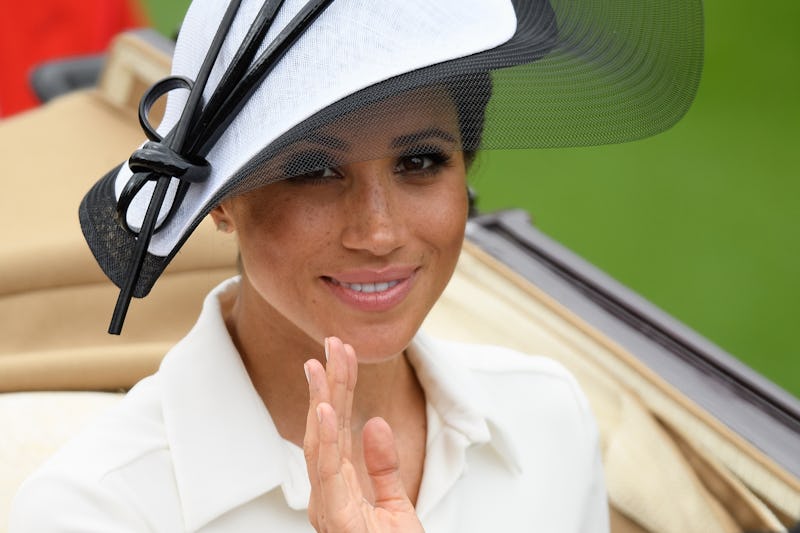 Leon Neal/Getty Images Entertainment/Getty Images
The Queen invited Meghan Markle on a solo royal outing last week, and the photos of them together suggest they have a great relationship. The former Suits actress even got to ride on the royal train, which is more of an honour than it sounds. In fact, the two of them seemed to be having a great time of it. The eagle-eyed among you will have noticed one additional detail: Meghan Markle and The Queen's fashion choices tend to follow a specific pattern when they're out and about together, and it turns out there's a reason.
As you may have noticed, on joint engagements, Markle tends to wear a muted palette of neutral tones, while the Queen goes for her signature brights. Let's look at some recent examples, starting with the Queen's birthday celebrations. Her Majesty wore a bold blue ensemble at Trooping the Colour, while Markle opted for a subtle blush pink Carolina Herrera dress, allowing the Queen's to be centre of attention. Next up, their solo outing together to Chester. Her Majesty wore a lime green number, while Markle wore a beautiful, nude Givenchy dress, again letting the Queen take centre stage.
Commenting on the pattern when it comes to Markle's wardrobe whenever she's out with the Queen, fashion commentator Lucas Armitage told the Daily Mail that there is an explanation. She said: "I feel this is a clever styling tactic as it will always work with the Queen's look; she is known and applauded for her use of bright fun colours." I guess at least this means that the two will never clash.
Fast-forward to Tuesday, when Markle attended her first Royal Ascot with husband Prince Harry and his grandmother the Queen, she was once again sporting a subtle colour. While Her Majesty was resplendent in yellow (one of her key shades), the newest member of the royal family opted for a simple white outfit designed by Givenchy, which she teamed up with a stylish Philip Treacy hat.
I mean, what's going on here? Does the Queen tell Markle what to wear, or is there a fashion style guide every member of the royal family must adhere to when out with the Queen? I spoke to etiquette expert William Hanson to get some more information. He tells me:
"The key really is that it isn't a rule solely for Meghan, it's for any ancillary member of the royal family. When you attend an event with the Queen, she is the star of the show and you don't want to upstage her too much. I don't think it will be an overly conscious effort on Meghan's part, but the Queen often wears bright, block colours deliberately, so people six deep in a crowd can see her, especially as she's not very tall. There is logic to the Queen's wardrobe."
Now, not only does this show that the Queen was rocking colour blocking long before Kim Kardashian, it also shows Markle is being incredibly modest. It suggests that she doesn't want to the steal the attention of the crowd and photographers in a bold colour. Perhaps she knows all eyes are currently on her, and is doing her bit to deflect attention away from this, to the matriarch of the family. By this measure, it's a mark of respect.
However, Hanson went on to explain that if Markle were to attend an event by herself, she probably would experiment with more daring colours and designs. For example, when she and Harry were spotted at the wedding of his cousin Celia McCorquodale on Sunday, she wore a floral print shirtdress from Oscar de la Renta's Resort 2019 collection. "If Meghan was doing an event alone, she would be more daring with the colours," added Hanson, "But in the company of Her Majesty, supporting her, as any other member of the royal family would do, it is better etiquette — not protocol, etiquette — to sightly tone down what you are wearing."
Since the royal wedding, Markle's wardrobe appears to have undergone some serious changes. Gone are the ripped jeans, replaced with pencil dresses, and more groomed hair 'dos than Markle was initially seen sporting. Enter clutch bags and nude tights. It's all part of the fact that she hasn't put a foot wrong: she's respectful of the Queen, has adjusted her posture and mannerisms in accordance with protocol, and has got on board with the many (many) royal rules.
It's a move that we're sure Her Majesty appreciates. In fact, Markle has been spotted wearing pearl and diamond earrings that were apparently a gift from her grandmother-in-law, so she's clearly doing something right.