Everything 'Big Little Lies' Fans Should Know About All The New Characters In Season 2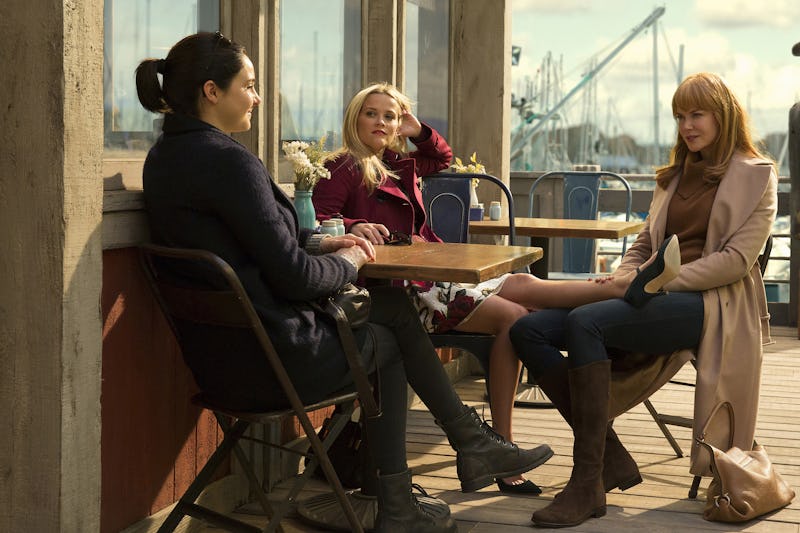 Hilary Bronwyn Gayle/courtesy of HBO
Filming is already underway on Season 2 of Big Little Lies, but the HBO show is still announcing new characters. On Monday, Deadline reported that Poorna Jagannathan will join the BLL cast as Katie Richmond. She's one of many new characters the series has announced recently, giving fans hints about what they can expect from the upcoming season.
While little else is known about the character of Katie, Jagannathan, who appeared on HBO's The Night Of, will be featured in a recurring capacity on the series. She will join the stars of the show — Reese Witherspoon as Madeline Martha Mackenzie, Nicole Kidman as Celeste Wright (who co-produces the show with Witherspoon), Shailene Woodley as Jane Chapman, Laura Dern as Renata Klein, and Zoë Kravitz as Bonnie Carlson — who are all set to return. According to The Hollywood Reporter, showrunner David E. Kelley will write the scripts based on a story by the author of the book that inspired the show, Liane Moriarty, while Oscar winner Andrea Arnold will take over directing duties from Jean-Marc Vallée.
Adam Scott is also set to reprise his role as Madeline's husband Ed Mackenzie, according to Variety, and it's rumored that Alexander Skarsgard, whose character died at the end of Season 1, might be back as well. "I don't even know if I'm really dead or not," the actor said at the Golden Globes in January, according to People. "I feel OK right now but we'll see."
According to Entertainment Weekly, Season 2 will find Kidman's Celeste "reeling from her husband Perry's death" and "adrift but determined to fight for her family and find the woman she once was." Meanwhile, Madeline is "finding that good intentions don't always yield good consequences," and she "confronts the truth of Perry's death, while coming to terms with her own marriage and traditional notions of family."
And with new storylines come new characters, which means Jagannathan is not the only new face fans will be seeing in Monterey. Here are all the new BLL characters that fans should know about so far.
Meryl Streep as Mary Louise Wright
In January, HBO announced that legendary actor Meryl Streep would be joining the show as Mary Louise Wright, mother of Perry and mother-in-law of Celeste, according to EW.
Bonnie's Parents
Theo Wargo/Getty Images Entertainment/Getty Images
Matt Winkelmeyer/Getty Images Entertainment/Getty Images
Fans will meet Bonnie's parents in Season 2. Bonnie seems to have a contentious relationship with her mother Elizabeth Howard, played by In the Heat of the Night actor Crystal Fox. The character is described as "controlling and emotionally abusive," according to TV Guide. Ant-Man actor Martin Donovan will play her father, Martin Howard, but little is known about his character.
Michael Perkins
Mo McRae, known for his work on Den of Thieves, will play Michael Perkins, Deadline reported. Perkins is a second-grade teacher that finds a formidable adversary in Renata when his lessons about global warming give her daughter Amabella a panic attack.
Corey Brockfield
According to Deadline, Corey Brockfield (played by Douglas Smith of The Alienist) is a surfer and aspiring marine biologist who works with Jane. He might even be a new love interest.
Kathryn Newton, Robin Weigert, Merrin Dungey, and Sarah Sokolovic will also return as Abigail Carlson, Dr. Amanda Reisman, Tori Bachman, and Detective Adrienne Quinland, respectively, TVLine reported.
HBO programming president Casey Bloys told THR in January that the second season of the hit show would likely not air until 2019, so fans will have to wait to meet the new characters. But if the past few months are any indication, there are sure to be plenty of new details before then.