The Sign You're Addicted To Dating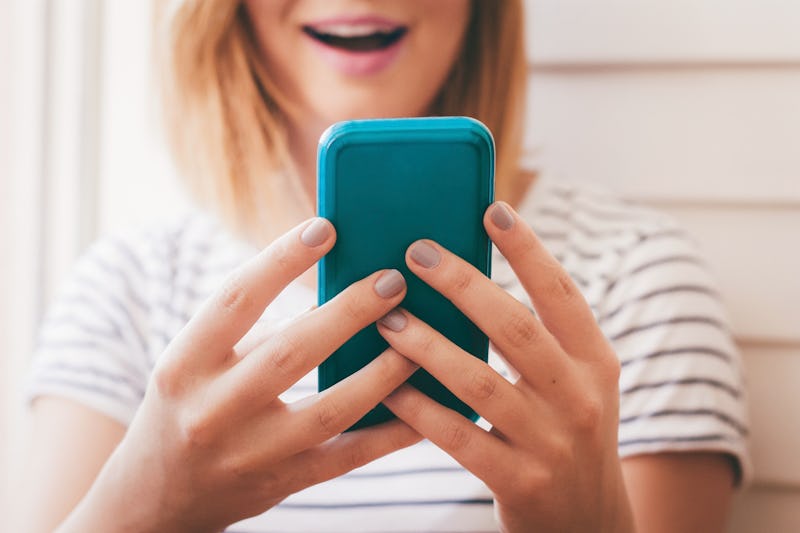 Fotolia
With the plethora of dating apps at our fingertips, it makes perfect sense that the process of online dating is so ingrained into our daily routine. During your morning commute, on your lunch break, right before bed... there's never a "bad" time to get your swipe on. But it's a slippery slope from 'I'll just download Tinder to see what the fuss is about' to waking up one day and realizing you have an entire folder full of dating apps. There's nothing wrong with being proactive about finding love (or hey, just a hookup) — but can you actually get addicted to dating?
According to Match's 2017 Singles in America study of more than 5,500 people, one in six singles said they felt addicted to the process of dating, and Millennials (the generation most likely to date online) are 125 percent more likely to admit they're addicted to the process of dating, which goes to show just how much we've all been affected by the innovation of dating apps. Swipe-based giants like Tinder and Bumble make it easy to turn dating into nothing more than a game, where the prize is, at worst, an inflated ego and, at best, a real relationship.
Although it might seem extreme to use the word 'addiction,' Melissa Scharf, a therapist at Los Angeles-based rehabilitation center Sober College, says the hyper-accessibility of dating apps can make it easy to develop an unhealthy relationship with online dating. "Years ago, I was an intern for J-Date, and [online dating] was very different then," Scharf tells Bustle. "You didn't have [apps] on your phone, you didn't obsess about it... sometimes, you'd have to wait a whole day just to check your messages. Our generation isn't going on those sites — they're going on [apps like] Bumble, where everything is quick, you're swiping away, so the obsession skyrockets."
Scharf definitely isn't wrong about the disparity between how Millennials and older generations date. The Singles in America study also found that Millennials are 125 percent more likely to say they feel 'addicted' to dating than their Generation X or Baby Boomer counterparts. Modern dating might be more convenient, but it's also plagued with everything from f*ckboys to ghosting to breadcrumbing. In spite of the drawbacks, Millennials are still relying on dating apps to connect them with potential partners. If you're a little trigger-happy with your swiping, here are five signs that your search for romance might have moved into addiction territory.