Amber Heard's New Interview Is All About Supporting Women Who Speak Out About Injustice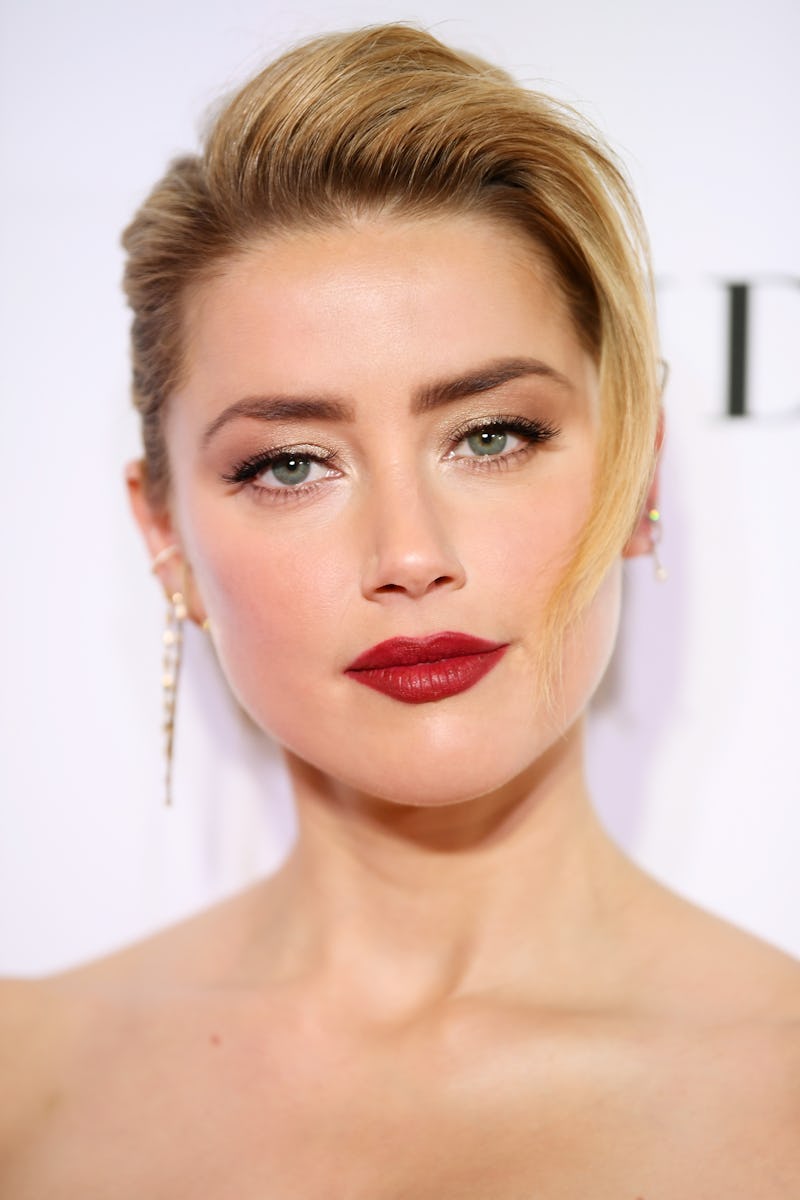 Dimitrios Kambouris/Getty Images Entertainment/Getty Images
More than two years after Amber Heard's domestic violence allegations against ex-husband Johnny Depp went public, she's speaking out in support of other women who have come forward in the #MeToo movement. (Depp has repeatedly denied Heard's claims.) In a new interview with Glamour, Heard said she wants to amplify women's voices who come forward about sexual assault and abuse, and her comments are proof that she's not giving up in this fight.
While talking to the magazine, Heard opened up about her own experience coming forward with allegations, taking the opportunity to point out that it can be hard for women to come forward based on the way they're treated when they share their stories. "When a woman comes forward, she will be met with skepticism, hostility, and shame," Heard said. "All a man has to do is point to an incentive. He will. Or society will."
She also said that as an actor, her job "provides me with a platform," which she intends to use to help women who have been assaulted. And according to what she told the magazine, it seems like her passion for this issue was only amplified after watching Christine Blasey Ford testify against Brett Kavanaugh in September, although Kavanaugh was later confirmed to the Supreme Court despite her testimony.
"I was in my hotel room in New York, and I was immediately nailed to the floor in a puddle of tears," Heard said. "We as women took a collective punch to the gut."
And when it comes to Ford and other women who have come forward — Glamour said that Heard also mentioned activist Yasmeen Mjalli and Michelle Dauber, a law professor at Stanford University who supported the woman who accused Brock Turner — Heard is hoping to work toward making sure those women's voices are heard.
"It's those women who deserve the spotlight," Heard said. "I am humbled just to amplify their voices."
When Heard filed for divorce from Depp in 2016, the allegations she made against him involving domestic abuse went public. Depp continues to deny her claims, and their divorce was finalized less than a year later in January 2017. After receiving a $7 million settlement from Depp, Heard donated more than $1 million to the Children's Hospital Los Angeles, a cause she'd volunteered with for 20 years.
In her Glamour interview, Heard also opened up about another issue that women face in Hollywood (and in many other industries all across the world): the gender pay gap. She said,
"We get paid less as women, and we end up spending more time on set, because of hair and makeup demands. . . I'm trying to elucidate a bigger point, which is that we're working in an inherently flawed system."
Although the #MeToo movement began over a year ago, stories like the ones women have been sharing are all too common — and they're still happening now. Hopefully, as more people like Heard come forward to voice support, more progress can be made to end sexual assault in Hollywood and everywhere else.
If you or someone you know has been sexually assaulted, call the National Sexual Assault Telephone Hotline at 800-656-HOPE (4673) or visit online.rainn.org.
If you or someone you know is experiencing domestic abuse, call 911 or the National Domestic Violence Hotline at 1(800) 799-SAFE (7233) or visit thehotline.org.