'The Office' Fans Will Love This Fun Fact Involving The Cast & A Certain Beyoncé Song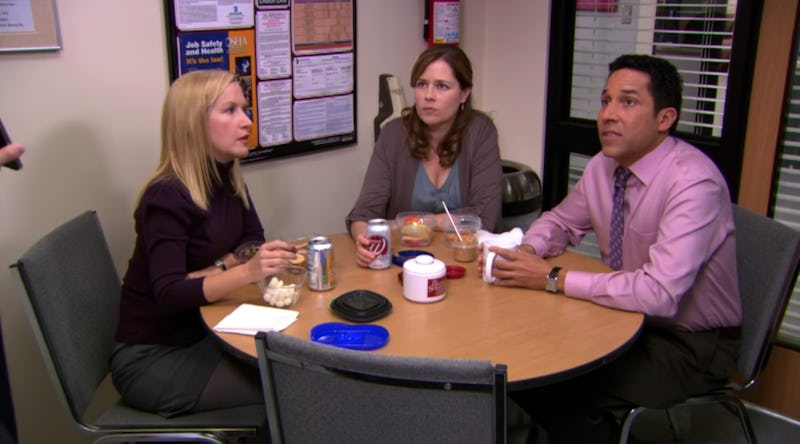 NBC
If you love The Office trivia, this one's for you. Did you know that Angela, Pam, and Oscar did the "Single Ladies" dance at every single awards show party they once attended together? Yes, Angela Kinsey, Jenna Fischer, and Oscar Nuñez never let a good opportunity pass when it came to channeling their inner Beyoncé. These three were clearly the celebrities you wanted to hang with after an awards show.
This fun Office fact came about thanks to Fischer asking her real-life best friend, Kinsey, if she wanted to start learning popular dances. On her Instagram Story Tuesday, the Splitting Up Together star proposed the following to her BFF:
"Angela, you and I were talking earlier today about how we want to get in shape, so I have an idea. It just came to me. I think for the month of December we should spend every day learning and recreating great dance pop videos."
First of all, that is a fantastic idea. This is how all best friends should stay active together. Fischer then gave her friend dance routine suggestions, which included "Vogue," "...Baby One More Time," and, of course, "Single Ladies." Fischer also informed her bestie, "I know a choreographer. We could do this."
Then, Fischer shared a video of herself doing the "Single Ladies" dance, and yeah, she was really good even though she captioned it, "Like this, but way better. @angelakinsey."
Thankfully, Kinsey is on board. On her Instagram Story on Wednesday, she responded to Fischer, "I'm not coordinated, Jenna. I would be a disaster in a dance class, but I got some more junk in my trunk, so maybe I would try it?" She then declared, "OK, December, dance class, let's do it. Let's do it!"
Fischer responded via Instagram Story, "Angela, let's do this. OK, December, I'm gonna book us a studio. I'm gonna find us a choreographer and we are gonna learn some dances." She then asked what they should start with, before pretty much coming to the conclusion "Single Ladies" should probably be their first dance.
Soon after, Kinsey revealed the fun Office fact about her, Fischer, and Oscar. She first said, "Jenna, if we do the 'Single Ladies' we have to invite Oscar." Then, she unearthed the unknown bit of trivia.
Kinsey said,
"So, something you may not know is that Jenna, Oscar, and I at every awards show party did all the 'Single Ladies' dance."
Who else is picturing the trio dancing it up to Queen Bey at an awards show party? Same, and it was most likely amazing.
Fischer agreed 100 percent with Kinsey, as she later posted on her Instagram Story, "Angela, I was thinking the same thing. We have to ask Oscar. I mean, I can't imagine doing all the 'Single Ladies' without him." She then asked with a huge hopeful smile on her face, "Is this gonna happen?"
When you know Nuñez dances like this, you, of course, have to include him. Can you imagine him doing "Single Ladies"?
Fischer and Kinsey are absolutely making the right choice by including their friend.
This "Single Ladies" dance reunion really needs to happen. They would make Office fans ridiculously happy. It's unclear if Nuñez is going to join his fellow costars, but seeing how many Dunder Mifflin reunions there have been lately, chances seem high. Let's keep those fingers crossed!