Applebee's Just Released Jolly Rancher Drinks For The Holidays You Can Get For A DOLLAR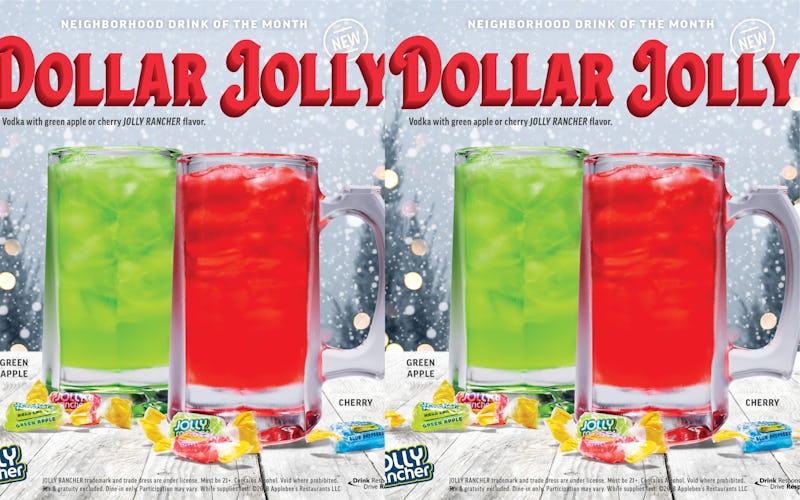 Applebee's
It's the hap-happiest season of all, but it's also, by virtue of that, the broke-brokiest one. If your bank account is a little less-than-pleased with the number of gifts you Prime'd to your abode over the last week, you're probably of the mindset that you should save a bit before you go back out into the world, where things cost money. Enter Applebee's, coming in with the save with yet another ridiculous drink deal: the Applebee's Dollar Jolly is the chain's Neighborhood Drink Of The Month for December, and true to its name, it is quite jolly, and only costs a dollar.
I'm truly burying the lede here, though, which is not just that it costs a dollar, but that it is Jolly Rancher-flavored. In fact, you can get them flavored like one of two Jolly Ranchers: the drink comes in both Green Apple or Cherry flavor, which are suitably bright green and bright red, making it ideal for all of your holiday Instagrams (it is basically the Rule Of Applebee's that you don't go there with your squad without at least one person deciding on an impromptu photoshoot). The drinks are both mixed with vodka to give it that little extra holiday ~kick~, and come served with a Jolly Rancher on the side for prime '90s kid enjoyment.
Bustle had the chance to try both of the Dollar Jolly flavors, and boy howdy, do they taste like the real thing. A word to the wise, y'all: these are so sweet and Jolly that you might not taste the vodka in them, so make sure you pace yourselves. That being said, if you can spare the extra dollar, it's definitely worth trying both of these flavors, which distinctly taste like the two Jolly Rancher flavors they are modeled after. If hard-pressed, I'd say Green Apple was my favorite (and seemed to be the consensus in the office), but if you're a fan of Cherry, that option is definitely your jam.
"We created a drink to help spread the cheer as friends and loved ones gather together during the holidays," said Patrick Kirk, vice president of beverage innovation at Applebee's, in a press release. "The DOLLAR JOLLY embodies the holiday spirit: joy, delight and good times. Oh, and vodka too."
And just in case that wasn't enough of a reason to initiate the holiday group text, there are other ways to save at Applebee's this year, too — for every $50 gift card you purchase at the chain right now, you'll receive a $10 gift card for yourself. Or, rather: if you buy yourself a $50 gift card because you're worth it, it comes with another $10. You can buy them online, and then be the proud purchaser of 50+ Dollar Jollys for your friends (accounting for tip, tax, and I'm assuming at least one party foul). Just be sure to make the magic happen while Santa is still in town — once 2019 rolls around, these beloved Dollar Jollys will be but a Christmas dream.