Hear Dolly Parton Leave A Voicemail For Miley Cyrus On "Rainbowland"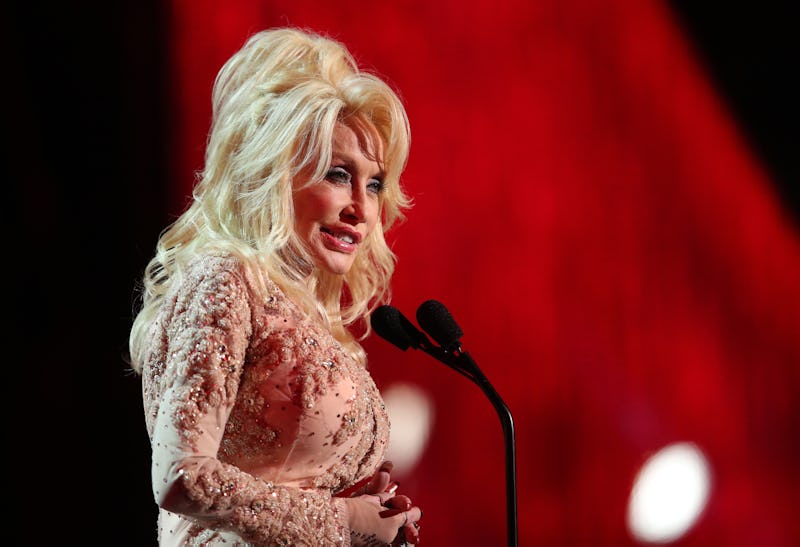 Christopher Polk/Getty Images Entertainment/Getty Images
Miley Cyrus is back to her country roots with the Sept. 29 release of her sixth studio album, Younger Now. And what better way to show off her country pedigree than by having Dolly Parton sing on "Rainbowland" with her? In case you didn't know, Parton is Cyrus' godmother (or "fairy godmother," as Cyrus often refers to her) and Cyrus told the Grammys that the legendary country singer-songwriter cowrote the new song with her. Along with featuring Parton's vocals and lyrics, "Rainbowland" starts and ends with recordings of Parton leaving voicemails for Cyrus. Even though neither Cyrus or Parton have gone on the record about the legitimacy of the voicemails, considering that these two artists go way back and that Parton is discussing the song, the recordings seem genuine. And it's an intimate listen into the special relationship that these two talented singers share.
In a May cover story for Billboard, Cyrus discussed her new sound at her colorful recording studio in Malibu, California, which she named "Rainbow Land." Yet, the irony of the first voicemail featured on the song "Rainbowland" is that it reveals that Parton didn't actually come to Cyrus' Rainbow Land to record her part. Instead, Parton stayed in Tennessee for her contributions, as she can be heard saying:
"Hey, Miley, it's me. I'm in Nashville. I'm on my way to Dollywood, busy as you are — can't get enough stuff to do, can we? But anyway, I'm excited about singing with you, so I'm just gonna turn my CD player on with you singing. I'm gonna put this on a cassette, sing along with it, then I'll run you off a CD later. Oh, I'm so high tech — I got a flip phone too. But anyhow, see what you think and here I go."
This voicemail has everything you'd expect from having someone as epic as Parton as your godmother. Although she's a musical queen, the down-to-earth 71-year-old Parton teases herself for not being incredibly tech savvy while simultaneously being generous with her time. The second part of the voicemail is a little harder to hear since the song is playing over it, but it still provides insight into Cyrus and Parton's relationship — and who Parton is as a person. Because even though Parton is obviously a highly-respected musical artist, she's almost uncharacteristically demure by deferring to her goddaughter's opinion — even (somewhat teasingly) saying that if Cyrus doesn't think "Rainbowland" is working, Parton will write a love song for her.
Beyond the seemingly authentic voicemails, the message behind "Rainbowland" is beautiful with the lyrics, "We are rainbows, me and you/Every color, every hue/Let's shine through/Together we can start livin' in a rainbowland." As Cyrus told People, "It's about all these different races and genders and religions, if we all did come together to create and said, 'Hey, we're different, that's awesome, let's not change to be the same, but let's come together anyway.' Because a rainbow's not a rainbow without all the different colors."
Cyrus also discussed the unifying meaning of the song she cowrote with her fairy godmother on The Ellen DeGeneres Show.
Parton's friendship with Miley's father Billy Ray Cyrus brought these two women together. And over the years, Parton and Cyrus have collaborated a few times — including Parton appearing on Hannah Montana and The Voice for her goddaughter. Cyrus has obviously learned a thing or two from her fairy godmother and on Younger Now, Cyrus is channeling Parton in the best way possible. Through "Rainbowland," these singers are preaching tolerance and positive change — and the finished song proves that Parton had no reason to doubt the radiating beauty that their forces combined could achieve.