Jackie Aina Just Proved How Important Shade Inclusivity Actually Is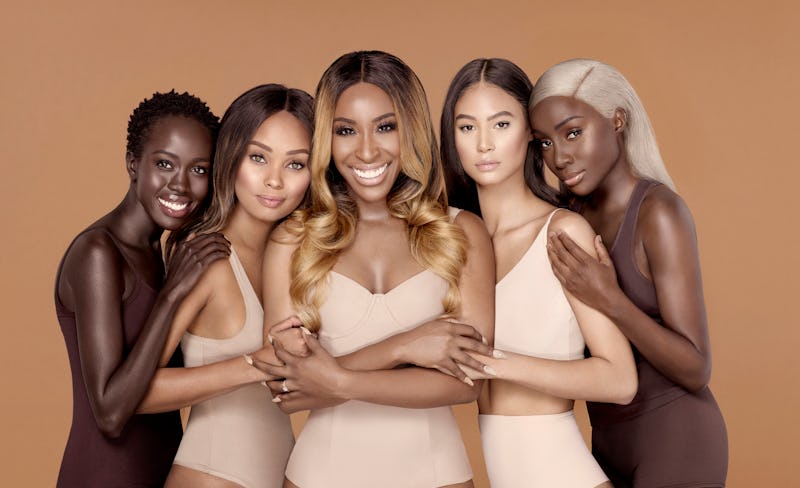 Courtesy of Too Faced
Inclusivity and diversity have not always been two words you could use to describe the beauty industry. Honestly, many brands still have a long way to go. However, they're getting some needed help from women of color, and the new Jackie Aina x Too Faced Born This Way expansion proves that customers are scrambling for more inclusive shades.
In case you don't know about Jackie Aina and Too Faced, here's how this partnership came about. Aina, a YouTube beauty guru with a hefty following who's long been a champion for diversity without the beauty space, was approached by Too Faced CEO Jerrod Blandino. Recognizing that their shade range in the brand's Born This Way foundation was inadequate, Blandino asked Aina to come on born to formulate, new, deeper shades for women of color. Thus, Too Faced x Jackie Aina was born.
Now, roughly a year after the announcement of the partnership, Aina's shades have been released, and from Twitter to Instagram, the reaction has been sheer excitement for another brand to grow in diversity.
Just how successful has the launch been? Well, one of the shades has already sold out, and it's just proof that customers want and need the beauty industry to do better.
According to a tweet from Aina last night, the first shade to sell out of the nine expanded colors is Ganache, the deepest shade in the entire range. Not only does this signal that Aina's work was much needed and must wanted, but that women of color are looking for brands to include them, to represent them within their shade ranges.
In an interview with Bustle, Aina explains why women of color should be involved in these types of launches and developments. She says it's all about letting women of color tell their own stories. She explains, "Brands will maybe get backlash for doing certain campaigns that maybe didn't resonate with women of color too nicely. You can avoid instances like that by giving us a seat at the table to make sure we are visible behind the scenes and making sure that everyone is represented fairly. I think if anything it just speaks to being represented fairly and we can't do that if someone else is writing the story for us."
Fans were quick to congratulate Aina on the success of the launch and the sell-out of ganache.
Fans were quick to dispel myths that women of color will not buy the products if they're created.
They also called out the myth that women of color just aren't buying makeup.
Some spoke directly to brands who may believe that whiteness sells products.
Of course, some simply took to Twitter to congratulate Aina on her success.
Aina's twitter basically erupted into a round of applause.
If you haven't been able to shop the Jackie Aina x Too Faced Born This Way expansion, don't worry. While Ganache is unfortunately sold out (though a restock seems likely given that it was so popular that it was gone in only a few days), all eight of the other shades that Aina created with Too Faced are still available on the brand's website. Simply head over there and stock up on your new holy grail foundation designed by Aina herself.
While Too Faced is not the only brand to expand their shade range as of late, their decision to bring Jackie Aina on as a member of their team shows an understanding that women of color should integral to the inclusivity moment. By letting Aina take the reins, Too Faced and the guru could just start a beauty revolution.