Khloé Kardashian Just Revealed Her Feelings About Marriage & They Have To Do With Her Past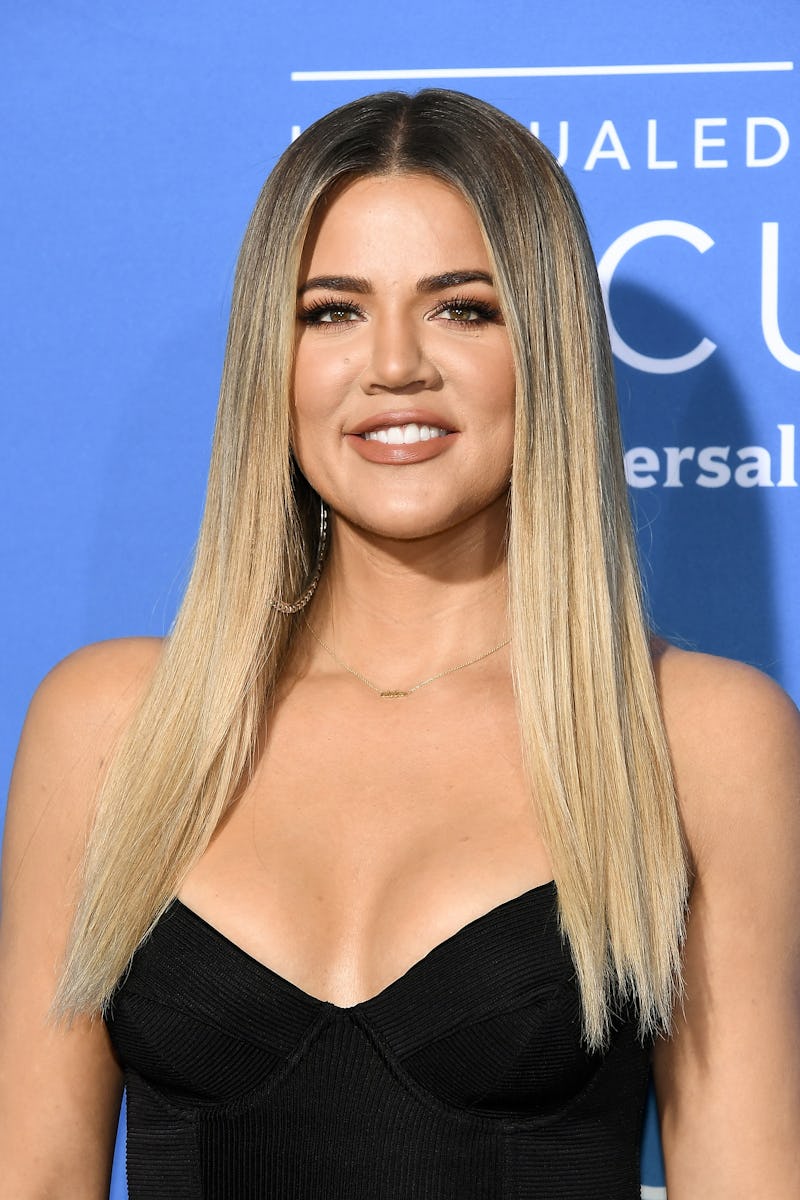 Dia Dipasupil/Getty Images Entertainment/Getty Images
If you're hoping for another Keeping Up With the Kardashians (executive producers: Kris Jenner, Farnaz Farjam) wedding, you're going to have to wait awhile. Khloé Kardashian and Tristan Thompson's marriage plans are pretty much non-existent, she revealed to Ellen DeGeneres for Thursday's episode. After The Ellen DeGeneres Show (director: Liz Patrick) host asked if the 33-year-old reality star would marry the NBA player, Kardashian replied, "I hope so, but I'm not in a rush for any of that." She continued, "As you know, I've rushed quite a few things before. So, right now, I'm so loving the place I'm in my life. I'm just very happy with how things are going."
It makes a lot of sense why the Revenge Body (executive producer: Larissa A.K. Matsson) star isn't in any hurry to marry Thompson. First of all, they have a lot on their plates as it is. They are expecting their first child together, which takes much preparation. By adding a wedding into the mix, well, that would be a lot. Furthermore, Kardashian is absolutely content with how her life is right now. After the daytime TV show host asked if she and Thompson have discussed marriage, Kardashian answered, "Yeah, we talk about it, for sure, but we're both just happy where we are. What's meant to be will be."
When it comes to the professional basketball player, Kardashian has always made her thoughts on marrying him extremely clear. "I'm in the best relationship I've ever been in and it doesn't take a ring for me to feel that way," she told The Mail on Sunday's YOU magazine in August 2017. "I believe in marriage and I want to be married again one day but I don't have a time frame. Why do people think that marriage equates to happiness? There are a lot of people in unhealthy marriages."
While chatting with Evening Standard in April 2017, Kardashian admitted she would accept a proposal from Thompson. However, she clarified that there were no plans for a wedding. She was also sure to add that she's "never been in this type of love." The chances of them one day tying the knot seem likely, but it's understandable why they are taking their time.
Like Kardashian told DeGeneres, she's "rushed quite a few things before," which probably means her marriage to Lamar Odom, for one. They married in September 2009 after only one month of dating. It was definitely a whirlwind romance and one that officially came to an end in December 2016. Seeing how "rushed" their relationship was, no wonder Kardashian wants to take her romance with Thompson slower. Plus, not everyone has to get married, nor do they have to just because they're having a baby. And all that matter is that Kardashian and Thompson are happy.
If you've been following her pregnancy journey on Instagram, then you're well aware of how overjoyed Kardashian is about this part of her life, especially since Thompson is involved. When she finally confirmed her pregnancy in December 2017, she praised her boyfriend by writing:
Tristan, thank you for loving me the way that you do! Thank you for treating me like a Queen! Thank you for making me feel beautiful at all stages! Tristan, most of all, Thank you for making me a MOMMY!!! You have made this experience even more magical than I could have envisioned! I will never forget how wonderful you've been to me during this time! Thank you for making me so happy my love!
It's clear Kardashian loves her life and her man — and she doesn't need a wedding to make her happier.