Oprah Winfrey's 2018 Golden Globes Date Is Likely To Be This Familiar Face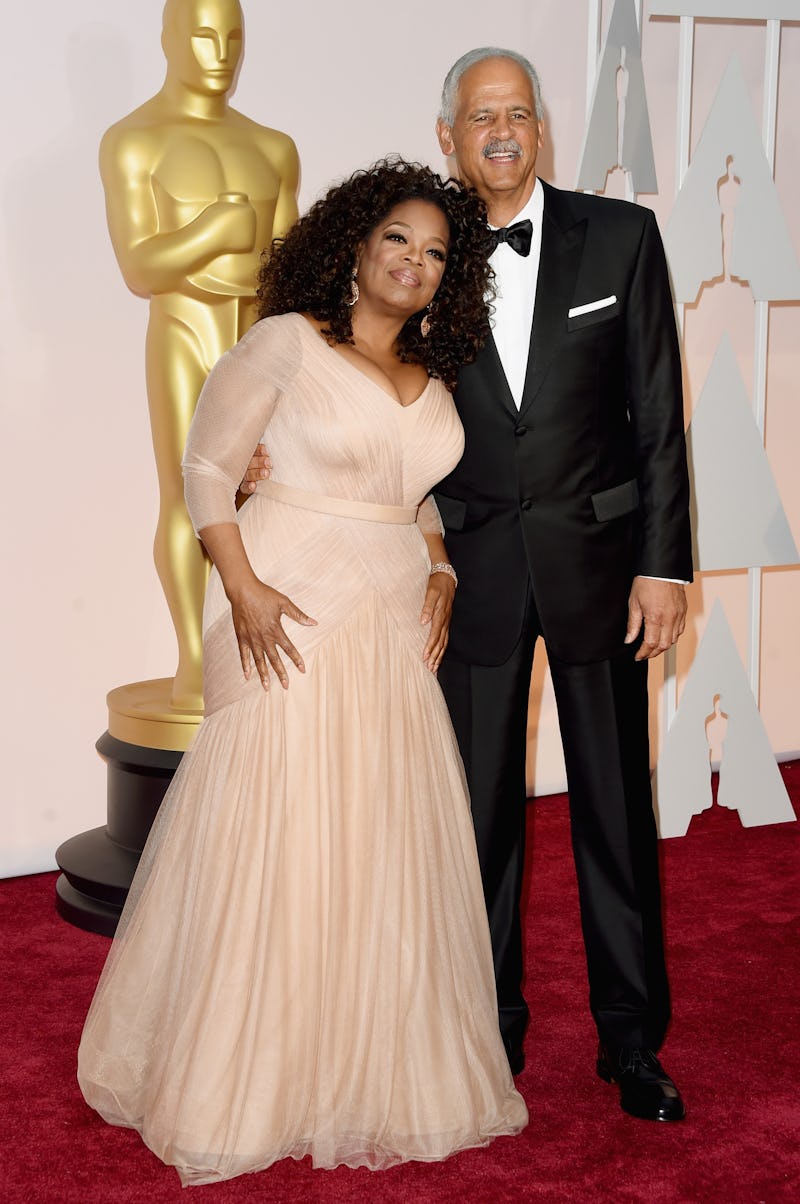 Jason Merritt/TERM/Getty Images Entertainment/Getty Images
When it comes to Oprah Winfrey, it's inaccurate to say that her recent reemergence in the television and movie scene is a comeback. The actor, producer, and former talk show host has an omnipresence about her and her long influence on the entertainment industry will be acknowledged when Oprah is honored at the 2018 Golden Globes with the Cecil B. DeMille Award. Since the Hollywood Foreign Press Association (HFPA) is recognizing her tremendous work during the Jan. 7, 2018, ceremony, you'd think Oprah would bring one of the most important people in her life as her guest. Stedman Graham has been Oprah's longtime partner, but are Stedman and Oprah still together?
Based on their relationship status, you might see him cheering Oprah on in the audience when the 75th Golden Globes ceremony airs. Named after the legendary filmmaker, the Cecil B. DeMille Award goes to someone for his or her "outstanding contributions to the world of entertainment" and there's no denying Oprah's impact. Beyond The Oprah Winfrey Show, she was nominated for a supporting actor Golden Globe and Oscar in 1986 for her role in The Color Purple. More recently, she produced Selma, produced and starred in The Immortal Life Of Henrietta Lacks, and is featured in the upcoming A Wrinkle In Time. And even though the 2018 Golden Globes didn't recognize The Immortal Life Of Henrietta Lacks, the HFPA is giving Oprah its most-esteemed award.
During the 2017 Emmys, Oprah was not nominated for her performance in The Immortal Life Of Henrietta Lacks, but the HBO movie was nominated for Outstanding Television Movie. Yet, Oprah's seating during the Emmys — which led to Stephen Colbert, John Oliver, and Riz Ahmed acknowledging her — was probably because she presented the final award for Outstanding Drama Series. And because she was such a prominent figure of the night, you might have noticed that Stedman was not seated next to her.
However, there's no cause for alarm because Stedman and Oprah are still together. In the September 2017 edition of Vogue (which came out the same month as the Emmys), she spoke about how she never married Stedman and that's the reason they are together today. Oprah said:
"The only time I brought it up was when I said to Stedman, 'What would have happened if we had actually gotten married?' And the answer is: 'We wouldn't be together.' We would not have stayed together, because marriage requires a different way of being in this world. His interpretation of what it means to be a husband and what it would mean for me to be a wife would have been pretty traditional, and I would not have been able to fit into that."
Oprah has stated before that she has no regrets about not being married and not having children and it's obvious her life is full without those things. Her full life also helps explain why Stedman isn't a main fixture of her social media even though Oprah posts frequently. Yet, she usually gives Stedman a shoutout on Valentine's Day, like she did in 2015.
And again in 2016, when she called him "my Valentine of almost 30 yrs."
As for Valentine's Day 2017, she spent it in New Zealand with Reese Witherspoon and Mindy Kaling filming A Wrinkle In Time, so there was understandably no snap of Oprah with Stedman then. Plus, she compensated with an epic photo of the three actors.
Otherwise, Stedman mostly makes his appearances on Oprah's Instagram in the background, so you have to play a Where's Waldo-like game to spot him. For example, Stedman appears in the below Instagram video posted by Oprah on Dec. 29, 2017. In it, Oprah sings "Happy Birthday" to her best friend and fellow TV personality Gayle King and Stedman can be seen sitting at the dinner table.
Based on her social media and the Vogue interview, Stedman is still a major part of Oprah's life — he's just not the defining feature of Oprah's life. But as he has attended major events with her before, like the 2015 Oscars where Selma was nominated for Best Picture, it's safe to think he'll be rooting for her in the audience when she goes up to accept the Cecil B. DeMille Award. And knowing the type of speech Meryl Streep gave last year and the type of person Oprah is, expect Stedman to be giving Oprah a standing O with the rest of the Golden Globes audience after she says her peace.