Kim Kardashian & Paris Hilton May Reunite Again In A Way That'll Make You Nostalgic For The 2000s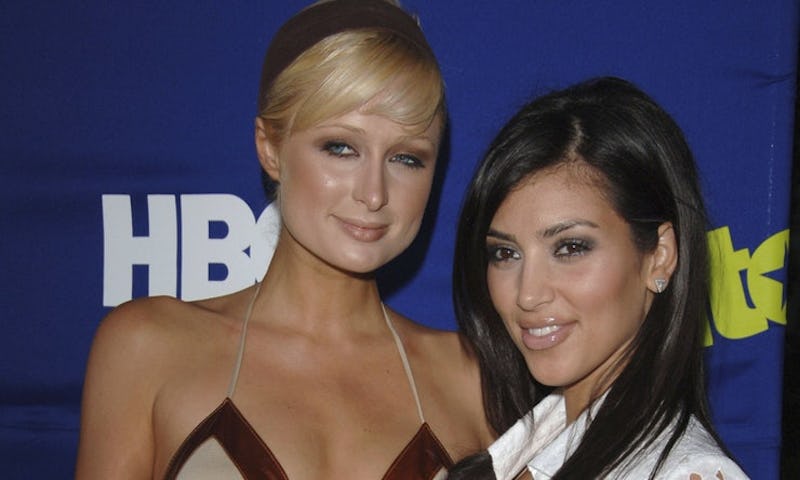 Stephen Shugerman/Getty Images Entertainment/Getty Images
Paris Hilton and Kim Kardashian have been through it all. At one point the reality stars were the best of friends, before unexpectedly becoming frenemies and barely speaking to or about each other for years. But events that have taken place in recent years make it seem as though there's no longer any bad blood between the ladies. So is it safe to assume that Paris Hilton and Kim Kardashian are friends again? Maybe. Maybe not.
In a video published on Sunday, Jan. 7, TMZ recently caught up with Hilton and her fiance Chris Zylka as the couple was leaving Craig's restaurant in West Hollywood on Saturday. For anyone who may have missed it, Hilton and Zylka got engaged earlier this week after the 32-year-old actor popped the question with a massive, pear-shaped ring during a romantic trip to Aspen. Now with some wedding plans in her future, the 36-year-old reality star was asked if Kardashian would be receiving an invite to the ceremony, to which she responded with a simple, "Of course." Her answer leaves many of us to question if the two former friends have finally decided to put the past behind them and continue gracing us with the same shenanigans they were up to over a decade ago, and it would honestly be a dream come true if that were to happen.
Though Paris and Kim were able to rise to fame with a little help from their wildly popular reality shows — The Simple Life and Keeping Up With the Kardashians (executive producer: Kris Jenner), respectively — they were two peas in a pod long before getting their start as television personalities. According to an interview Hilton did with Yahoo! Style, she and Kardashian had been friends since they were "little girls," something that definitely isn't too hard to believe since they had similar upbringings and both come from wealthy, well-known families. Later on in their friendship, Kardashian became Hilton's assistant when she was trying to break into the business. But shortly after that, things went downhill thanks to a whole lot of drama and rumored competition between the two friends.
For years now, it's been rumored that the relationship between the two first became rocky when Kim began to get more media attention than Paris after her sex tape made its rounds right before the debut of KUWTK. In the mid-2000s, Paris Hilton was basically what Kim Kardashian is now — not a day went by that she wasn't in the headlines, even if it was for something trivial like what she wore and where she was seen. So when Kim Kardashian's name had officially started being searched more than her famous BFF's, it became pretty apparent that a rift between the two was beginning to form, culminating in multiple jabs taken at Kim in interviews on radio shows and even on Good Morning America.
Throughout the years Kim appears to have taken the high road, not speaking ill of her former friend, and there seems to have been an awkward grey area for multiple years that saw neither of them acknowledging each other at all. But by 2014, the pair briefly reunited during a trip to Ibiza, and judging by an Instagram photo posted by Kardashian, they made peace.
The old friends came together again in 2016 when they came face to face with one another at Kris Jenner's annual Christmas Eve party, once again leaving fans to believe that there was still no bad blood between them.
Paris Hilton inviting Kim Kardashian to her special day proves that, after almost a decade of the women not being friends, Hilton isn't holding any grudges against her former friend. But even the best of friends can grow apart, so fans probably shouldn't expect the women to ever call themselves BFFs again just yet.