Karlie Kloss Finally Cleared Things Up About Her Friendship With Taylor Swift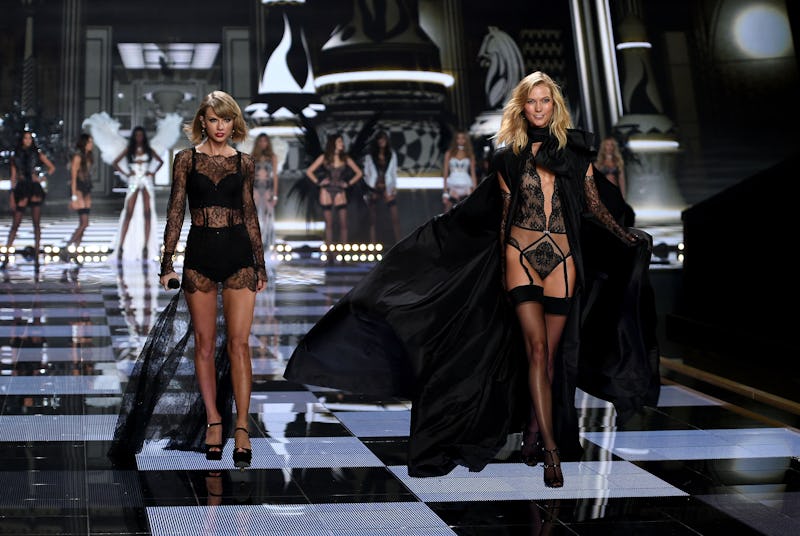 Dimitrios Kambouris/Getty Images Entertainment/Getty Images
If you're a Kaylor fan, what you're about to read may bring you some level of relief. In a new interview with The New York Times published on Friday, Karlie Kloss addressed her rumored feud with Taylor Swift. Are you ready for it? Baby, let the quote begin, the quote begin, the quote begin. When asked about Swift, Kloss said, "Don't believe everything you read." According to the Times, the supermodel also said she and Swift are still friends and talk on a regular basis. So, there you have it. It looks like that "Swish swish" tweet did not sink this best friendship after all.
The ongoing theory that posits that the longtime pals have parted ways started back in January when Kloss tweeted out a video she filmed for Love magazine's advent calendar. In the clip, she dribbled a basketball in a blank space. Now, the video itself was not the thing that got people thinking there might be some drama between Swift and Kloss. Rather, the actual text of the tweet was the part where it went a little Tay-wire. "Swish swish," wrote Kloss. "Love Advent '17 thank you @THELOVEMAGAZINE @kegrand."
Yes, she kicked off her tweet with "Swish swish." You know, like the Katy Perry song. As in, the basketball-themed single by one of Swift's rumored adversaries. As in, the Perry track that may or may not take some jabs at Swift.
Sure, the tweet could've been nothing more than a silly coincidence; people say "swish" while playing and watching basketball all of the time, so it's not like this caption must have something to do with Perry's song. (It's also worth noting that Kloss later changed her Instagram caption of the image to "Nothing but net" instead.) But there sure are a whole bunch of fans who suspected Kloss' tweet was an intentional nod to track number four on 2017's Witness.
And let us not forget about the time Kloss and Perry were spotted hanging out in Los Angeles back in February. Oof, that adds a real swish-teresting layer to the tweet in question.
The state of Kloss and Swift's friendship is such big a deal that even Jennifer Lawrence has commented on it. In a February episode of TimesTalks, J. Law joked that if she had the skills to get to the bottom of any secret, she'd like to figure out the Swift and Kloss situation. Lawrence said,
"I mean, honestly, I'd like to know what's going on between Karlie Kloss and Taylor Swift. Like, that's the honest-to-God truth. Is nobody else curious? It's keeping me up at night. What happened?"
The swish swish-cident of 2018 is not the first time people have suspected Kloss and Swift's friendship might be on the rocks. Back in August 2016, The Times U.K. asked Kloss about the Kim Kardashian, Kanye West, and Swift Snapchat moment heard 'round the world. In what some deemed a shocking twist, Kloss replied, "I think [Kardashian has] been a lovely person to me in the past… Look, I really don't know her that well."
Kloss said something nice about one of Swift's frenemies, fans wondered if Kloss was taking Kardashian's side, and a great deal of speculation regarding what was going on behind the scenes began to brew. But before things could spiral too much, Kloss tweeted a response to all of the raised eyebrows.
A little over an hour later, she added, "And I will never be the girl that you can use to pit women against each other. That isn't me."
Based on what she told NYT, it sounds like Kloss and Swift still have each other's back, "swish swish" be darned. So if you're rooting for Kloss and Swift's friendship, you might just get your wish wish.