These Clues May Reveal The 'Coven' Witches Are The Cooperative On 'AHS'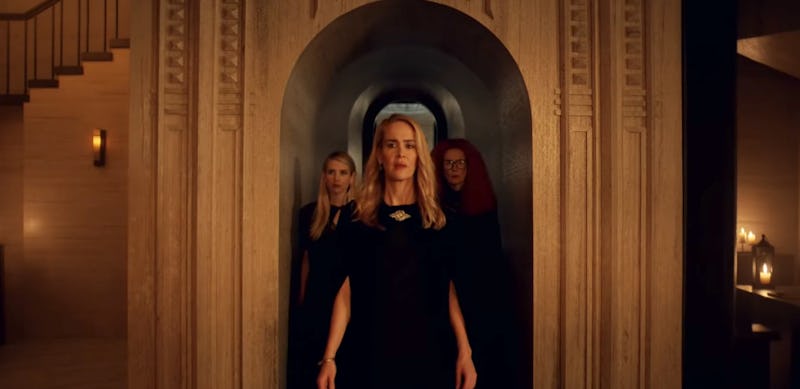 FX
American Horror Story: Apocalypse may only be a handful of episodes in, but fans are already trying to piece together when a certain group of spooky faves will pop back up on-screen. While they haven't appeared yet, there's a possibility that the Coven witches are the Cooperative on AHS: Apocalypse.
As those who've been keeping up with the show should know, the Cooperative is responsible for setting up the outposts and the "Sanctuary" pre-nuclear attack. So far, the mysterious Michael Langdon has served as their spokesperson, but there are a few signs the Coven women could be behind the secret group. First of all, we know they're coming back in some capacity: Ryan Murphy has confirmed that Cordelia (Sarah Paulson), Zoe (Taissa Farmiga), Madison (Emma Roberts), Queenie (Gabourey Sidibe), Misty (Lily Rabe), Myrtle (Frances Conroy), and even Stevie Nicks (who played herself) will all make an appearance this season. And as Paulson's Apocalypse character, Ms. Wilhemina Venable, teased in the premiere, the Cooperative is "a collection of the dozen of the greatest minds mankind has to offer. The visionaries." That could certainly describe a faction of badass magical witches.
Moreover, Cordelia made clear in Coven that she's not just committed to "surviving," but outright thriving. So, maybe in an effort to carry on that mission — even amid the world's collapse — she established the four U.S. compounds, six international outposts, and super-secure Sanctuary the Cooperative now presides over.
That being said, would Cordelia really allow someone like Michael to represent her Cooperative? By the end of Coven, she'd usurped her ruthless, self-obsessed mother as Supreme, paving the way for the academy to become the "place to protect, develop, and celebrate witches" she'd long envisioned it as. So, it would be a sad (and uncharacteristic) development if Cordelia allowed the maybe-Antichrist to play a part in her organization.
Perhaps, then, the Cooperative isn't run by witches, but by warlocks. In the Apocalypse premiere, Ms. Venable explains that Outpost 3 was previously an exclusive boys' school. It's possible it was like Miss Robichaux's Academy, except for men, and they offered up the building as a post-apocalyptic bunker. This would make sense given the trailer for Apocalypse, in which Michael makes it snow while standing in front of a council. It's difficult to tell for sure, but it sure looks like all the people seated at the table are men.
Of course, that doesn't mean that the Coven witches wouldn't have some connection to the warlock-run Cooperative. It's just that they would either have to be at odds with their male counterparts, or have had some evil change of heart. Seeing Cordelia turn dark (well, darker) wouldn't be a total reach for a show as twist-prone as AHS, but it's safe to say Coven fans would probably rather see the kind-hearted Cordelia be the hero, not the villain. And what better way for her to save the day than to go against an all-male Cooperative of warlocks led by the Antichrist himself?