Ariana Grande Fixed Pete Davidson's "Sliced" Finger Without Breaking A Sweat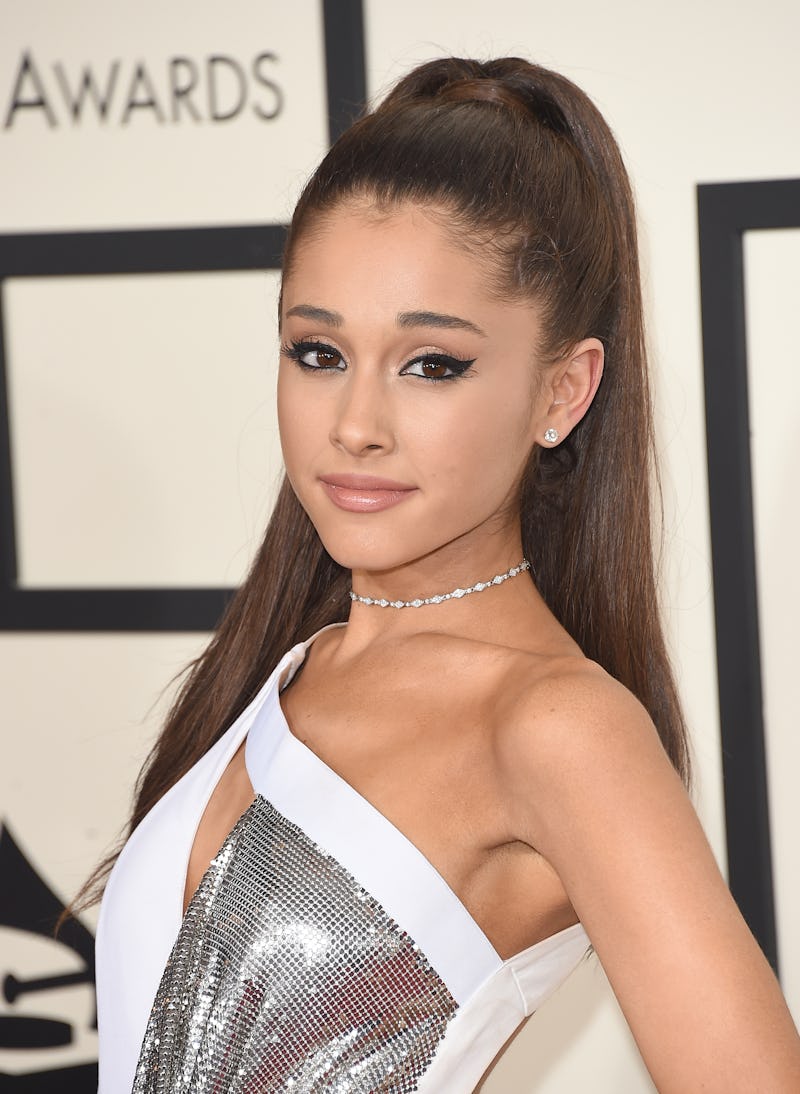 Jason Merritt/Getty Images Entertainment/Getty Images
If you "sliced" your finger on a set, would you: A. stay calm and have your fiancée patch things up, or B. freak the heck out? Personally, I'd distinctly fall into the latter option — I've had to convince myself not to go to urgent care over a simple cut from slicing vegetables improperly. But for Pete Davidson and Ariana Grande, getting "sliced" is just another day on the job. Ariana Grande helped Pete Davidson when he "sliced" his finger on a music video set, because even in injury, the two of them are couple goals.
Grande's photo, which she posted on her Instagram Story on Thursday, shows her and Davidson standing at a counter from what looks like a set. "My baby sliced his finger in Colson's video so I fixed it," Grande wrote atop the picture. Her back is to the camera, but Davidson is seen looking at the camera with a pouty face about the injury.
Based on the rest of Grande's caption, it looks like the injury happened on the set of the "Loco" music video by rapper Machine Gun Kelly, whose given name is Colson Baker, the Daily Mail noted. Grande also wrote in the post, "congrats @machinegunkelly we all love u."
Thankfully, it looks like Davidson's injury wasn't too severe. In the next post on her Story, Grande shared a clip of Davidson smoking a cigarette in the video, and his fingers look perfectly fine in the shot. It seems like the so-called slicing wasn't severe enough to require medical attention.
Still, it's impressive how collected Grande was in the photo and in her caption about the incident. Most people, myself included, would probably have panicked at the sight of blood. But Grande kept calm and did what needed to be done.
Davidson and Grande haven't been together for too long, at least officially, but they really do seem to be each other's perfect match. Between all of their matching tattoos, their cloud-pillow-filled new apartment, and their mutual love of Harry Potter, the two of them have a lot more in common than you might think.
After announcing that they were dating in May, Davidson and Grande revealed their engagement in June. They frequently posted silly photos and videos of each other on Instagram at the start of their relationship, though Davidson has since deleted all of his Instagram posts. Grande still updates her Instagram Story with images and videos of Davidson, so fans can still see a little into their relationship. (Even if it's sometimes less than romantic, with the finger slicing and all.)
Grande's Instagram post shows that she and Davidson will be there for each other in both good times and less-good times. Staying calm in the face of injury is no easy feat, and it's great that Grande has that skill. Whatever ups and downs the two of them face in the future, it looks like they'll be able to handle it together — but hopefully, neither will be sliced again anytime soon.