Ariana Grande Hilariously Trolled Kanye West To Send Pete Davidson An Adorable Message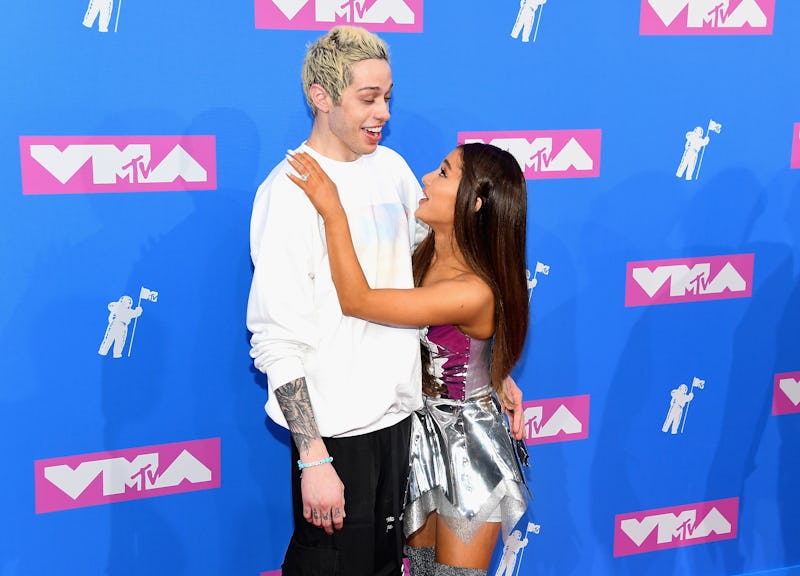 Nicholas Hunt/Getty Images Entertainment/Getty Images
It's no secret that this couple loves to joke around, and in a recent Instagram post, Ariana Grande wrote that she loves Pete Davidson like "Kanye loves Kanye". On Saturday, Oct. 7, Grande shared a picture of Davidson on SNL to her Instagram Story, captioning it with: "I love you like Kanye loves Kanye," and a cute tree emoji. The picture was taken during the show's credits, and references a line from the Kanye West's song "I Love Kanye" off his 2016 release The Life of Pablo. The song quote was especially appropriate, as Davidson took the opportunity to speak out against West's political views during the taping. The rapper created controversy last week after appearing as a musical guest on SNL and giving a speech supporting Donald Trump after the taping.
Grande appeared to be on set watching SNL to support Davidson, and she also posted a picture of her fiancé wearing a suit backstage. The shot shows Davidson smiling, and Grande put several hearts and a smiling cat emoji on the picture.
It was an eventful evening for the comedian, who appeared during the Weekend Update segment of the show wearing a red baseball cap that read "Make Kanye 2006 Again". Davidson criticized West's endorsement of Trump, saying, "Speaking strictly for myself, what Kanye said after we went off the air last week was one of the worst, most awkward things I've ever seen here, and I've seen Chevy Chase speak to an intern," he said. Chase, who is an SNL alumni, has a well-documented history of making racist and sexist comments on set.
Davidson also commented on West's decision to wear a "Make America Great Again" hat during the rehearsals for the show. The rapper claimed that cast members at SNL bullied him back stage for wearing it. "He wore it all week," Davidson said. "Nobody told him not to wear it. I wish I bullied you. I wish I would have suggested that it might upset some people, like your wife or every black person ever." He also joked that he wished people had bullied him out of some of his hat choices, bringing up a picture of himself where he's wearing a lavender bucket hat while out with Grande.
Grande's quote on Instagram suggests that she enjoys West's music, but she is openly anti-Trump. In August, Grande spoke with Elle Magazine about aligning herself with progressive causes and the role to speak out. The "No Tears Left to Cry" singer said,
"There's a lot of noise when you say anything about anything. But if I'm not going to say it, what's the f****** point of being here? Not everyone is going to agree with you, but that doesn't mean I'm just going to shut up and sing my songs. I'm also going to be a human being who cares about other human beings; to be an ally and use my privilege to help educate people."
It's clear that Davidson and Grande are both committed to societal progress, and they disagree with the rapper's stance on the current administration. These shared views are just one more reason why they're so perfect together.