4 Easy & Funny Ways To Dress Up As Ariana Grande & Pete Davidson This Halloween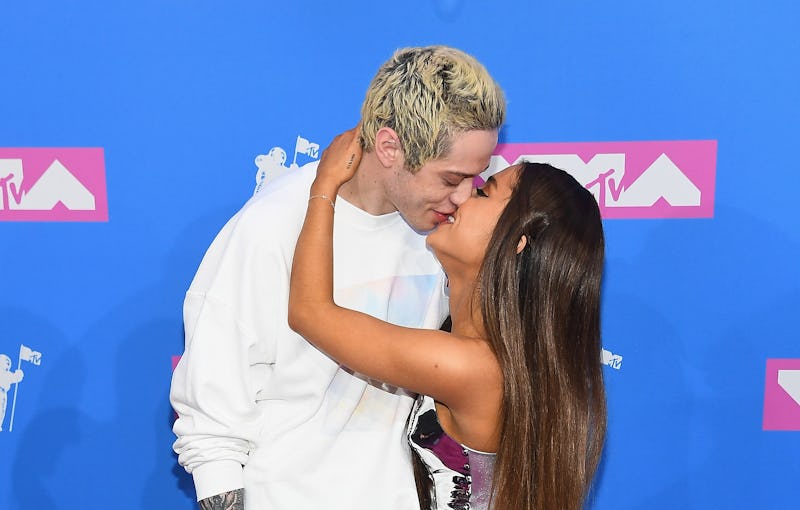 Nicholas Hunt/Getty Images Entertainment/Getty Images
You'll be hard-pressed to find any 2018 celebrity romance that is more purely addicting and obsession-worthy than the love story of Ariana Grande and Pete Davidson. And if you and your significant other are looking for the most relevant couple's costume of the season, pay homage to the millennial lovers with a funny Ariana Grande and Pete Davidson couples Halloween costume. What better way to celebrate your love than by dressing up as the unofficial 2018 celebrity couple of the year? It'll give you a great excuse to let loose on the PDA, too, if you're into that.
Just in case you've been living under a rock, let me fill you in on Grande and Davidson's short but eventful relationship timeline. They made their love public in May of 2018, got engaged by June, and their time since has been very-publicly sprinkled with many heart-eyed Instagram selfies, red carpet PDA, on-stage PDA, slightly TMI interviews, couples tattoos, and so much more. Their union even spawned some epic memes.
Thankfully, Grande and Davidson are somewhat easy to impersonate style-wise. Grande appears to have a devotion to oversized hoodies, high ponytails, and over-the-knee boots, and seems to have an affinity for not wearing pants. Davidson also rocks a lot of hoodies, plus cargo pants, and sneakers. They always look pretty cozy, which is great, but even more important than the costume is that you guys appear deeply in love, just like Grande and Davidson do at all freaking times.
Are you obsessed? Of course you're obsessed. Pair up and do the dang thing with some super-fun Grande/Davidson couple's Halloween costumes that'll make you laugh and probably inspire some Instagram PDA all at once.
Their First Public Meeting On Saturday Night Live
Autumn Men's Striped Sweater, $21, DH Gate | Lace Dress, $99, H&M
This adorable moment apparently happened pre-whirlwind love affair, but we're obsessed nonetheless. Recreate the innocent magic of ~puppy love~ in a simple striped sweater and a black lacy dress.
The Classic Instagram Shot
Talk It Out Crop Top, $4, Nasty Gal | Soft Washed Crew Neck Tee For Men, $12, Old Navy | Hair2Wear Platinum Blonde Clip-In Ponytail Hairpiece, $40, HSN | Contrast Thick Stitch Unstructured Cap, $4, Direct Apparel Wholesale.
This pic, posted by Grande in May 2018, helped to launch the nationwide obsession with the couple. Why not recreate the look using super-simple costume pieces? Just don't forget Grande's classic blonde ponytail.
That Lollipop Moment
Tailgater Insulated Flannel Jacket, $15, Haband | Gildan Heavy Blend Hooded Sweatshirt, $9, Clothing Shop Online | Good Time Men's Premium T-Shirt, $35, Redbubble | Original Gourmet Wild Cherry Lollipops (Pack Of 30), $15, Amazon
Ah, the look that spawned a million memes. Recreate this moment of true pre-marital, sugar-fueled bliss with some hoodies and, of course, an all-night supply of red lollipops.
Ariana & Pete At The MTV VMAs
Alpha Industries Long Sleeve Nasa Tee, $59, END. | WOLF UNITARD Shiny Club Dress, $30, Amazon | Men's Urban Pipeline Cargo Pants, $20, Kohl's | Metallic Over The Knee Boots, $29, Forever 21
Take on the power couple's recent space-age look on the red carpet of MTV's VMAs. All you need to complete the look is some major PDA, which I'm sure you can handle.