Ariana Grande's Break From Performing Is Ending Sooner Than You Think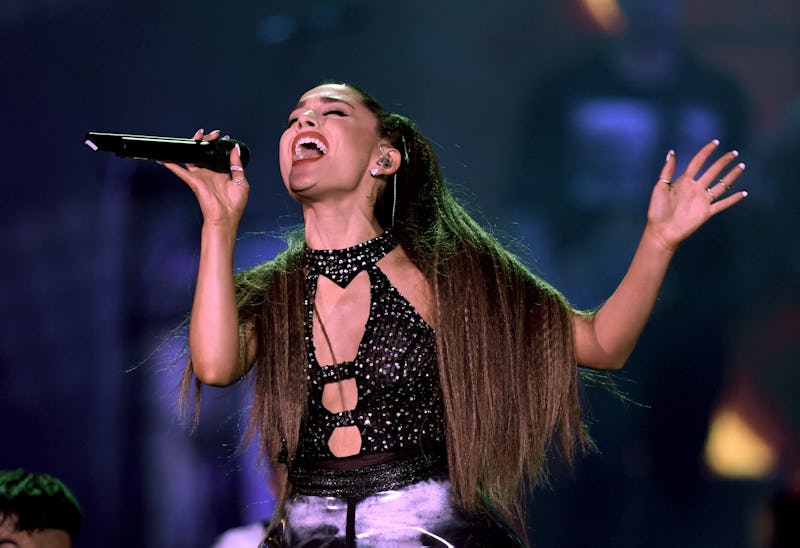 Kevin Winter/Getty Images Entertainment/Getty Images
If you're still on a high from her epic performance of "God Is A Woman" during the MTV Video Music Awards, or even her beautiful rendition of Aretha Franklin's "Natural Woman" at the Queen of Soul's memorial, you'll be pretty stoked once you hear this latest Ariana Grande development. According to Entertainment Tonight, Ariana Grande will perform at a cancer benefit Oct. 13 in honor of the late-Barbara Berlanti, and what better way to bring her hiatus from the main stage to a close?
OK, so it hasn't been confirmed whether or not Grande's upcoming performance will thrust her into a full tour, or anything. And after hearing the singer talk about, both, her love for performing in front of her fans and her anxiety for going on a massive tour again in a 2018 Elle Magazine interview, it's safe to bet that tickets for a stadium-sized appearance won't be going on sale any time soon. Her upcoming performance, however, is still a pretty huge deal, nonetheless.
ET reported that Grande will be joining performers Kristin Chenoweth and Jeff Garlin as they serenade the crowd during the very first Barbara Berlanti Heroes Gala on behalf of the fierce non-profit F*ck Cancer. And in addition to the uber talented lineup, the organization's co-founder Yael Braun and board member Stephen Amell are slated to be the night's honorees. As aforementioned, the magical event will take place Saturday, Oct. 13, and while there's no mention of whether or not it will be televised, fans can still hope that Grande's time on the stage will make its way to the internet somehow.
Grande has been lying low as of late, rejoining the masses on social media recently after taking a small hiatus following the death of her ex-boyfriend and talented artist Mac Miller, Friday, Sept. 7. First going public with their relationship in 2016, Miller and Grande dated for nearly two years before their May 2018 split, and according to Miller and Grande's social media, they both still held each other in high regard. It made a lot of sense for the news of Miller's passing to hit Grande hard, however. And dealing with grieving fan comments blaming her for Miller's death, while also grieving on her own terms, those emotions had to have been escalated even more — ultimately calling for the singer to take some time away from career duties as well.
That, and paired with the traumatic 2017 terrorist attack in Manchester during her Dangerous Woman tour — which took the lives of 22, and injured more than 500 — a possible and lengthy hiatus from tour life should be totally understandable as well. In a 2018 Elle Magazine interview, Grande spoke about her anxiety after the experience, which she also shared about in the final Sweetener track entitled "Get Well Soon," saying,
"When I got home from tour, I had really wild dizzy spells, this feeling like I couldn't breathe. I would be in a good mood, fine and happy, and they would hit me out of nowhere. I've always had anxiety, but it had never been physical before. There were a couple of months straight where I felt so upside down."
With that, it could be quite some time before Grande embarks on huge world tour again, but one thing's for sure — she has a tough time staying away from all of her loyal Arianators. And with the Barbara Berlanti Heroes Gala on the way, fans will have another chance to see the amazing talent do her thing on stage real soon, at the very least.