Ariana Grande's Latest Selfie With Pete Davidson Keeps Things Super Simple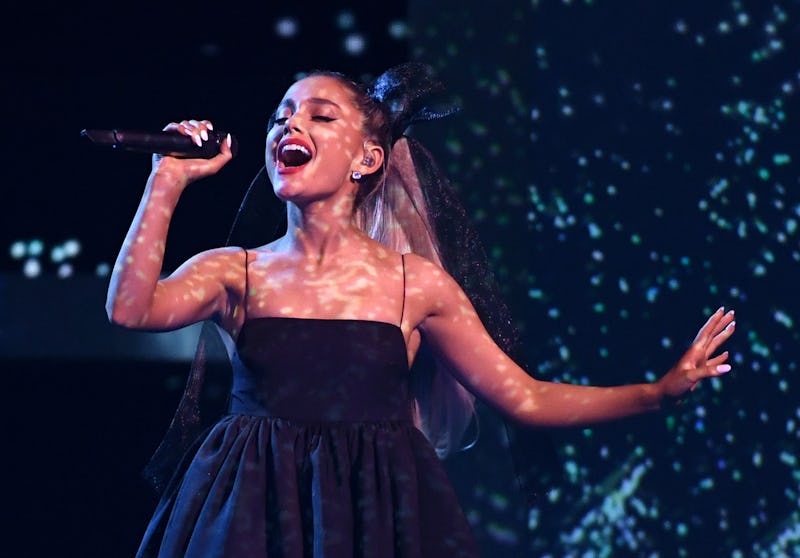 Ethan Miller/Getty Images Entertainment/Getty Images
Their relationship may have started off very public, but Ariana Grande's recent Instagram photo with Pete Davidson shows she's taking a step back from the spotlight — at least a little bit. The picture features the singer sitting with Davidson backstage and was captioned with a simple heart and engagement ring emoji. Comments were turned off for the picture, hinting that Grande is avoiding any unhealthy negativity and criticism.
The decision to disable comments comes after enduring a week of social media drama with her fiancé, and the star is likely trying to keep her feed positive. The choice could also be an act of solidarity with Davidson, who recently announced a temporary departure from social media.
On July 23, Davidson deleted all of his pictures from Instagram. He posted only a message on his IG Story from a film set in Syracuse, New York, and shared a message for fans about the deleted posts, reading:
"no there's nothing wrong. no nothing happened. no there's nothing cryptic about anything. i just don't wanna be on instagram anymore. or on any social media platform. the internet is an evil place and it doesn't make me feel good. why should i spend any time on negative energy when my real life is f*cking lit. the fact that i even have to say this proves my point. i love you all and i'm sure i'll be back at some point :)"
Grande didn't immediately address his decision to step away from social media, and instead posted a cryptic message on Twitter. It read: "the energy u put out is exactly what u get back, please create a beautiful life for yourselves."
However, the next day on July 24, she responded to a fan who tweeted pictures of her return to Snapchat, revealing that she would also be taking a small social media hiatus. Grande wrote:
"yeh ! i'm prolly gonna post on der for a little while & take a breather from twitter & ig for a little. just sometimes can't help but bump into some negative sh*t that really can bum u out and it's not worth it honestly. promised i'd always tell you. i love u sm ! be well & happy"
Grande and Davidson have faced a lot of stressful social media attention since confirming their engagement. In July, Davidson gifted the singer his father's FDNY badge on a necklace. Davidson's father died during the Sept. 11 terrorist attack on New York City. The couple both have "8418" tattoos, which was his father's badge number. According to Marie Claire, the picture of Grande wearing the badge was initially met with backlash, which Davidson shut down, reportedly responding to a comment on the post:
"For ur information that's not just some girl, that's my fiancé. She's the greatest person I know. I gave it to her because she has my heart and that is the most precious thing I own. My dad would be so happy and love her so much."
It wasn't the last time Davidson was forced to defend himself on the social media platform. On July 22, Grande shared a picture of her late grandfather, Frank Grande, on the anniversary of his death. Davidson commented, "omg what a cutie" on the picture, which some fans felt was inappropriate. The comedian reportedly defended the comment, writing: "Are you guys all insane? I was talking about how cute her grandpa is. What's wrong with that? You guys will really look for anything to attack people. It's sad."
The controversy may have tied into Davidson leaving social media, as he deleted his posts on Instagram soon after. Grande also seems to feel it's in her best interest to step away from the platform, and while her account is still active, she turned off her comments and seems to be posting less.
Fans have enjoyed how candid Grande has been on social media in the past, and it doesn't seem like she has plans to leave the online world completely. However, given the high-profile drama around some of her and Davidson's recent posts, it makes total sense that she would need a breather. If turning off the comments is a way to get some healthy distance, it's totally understandable.